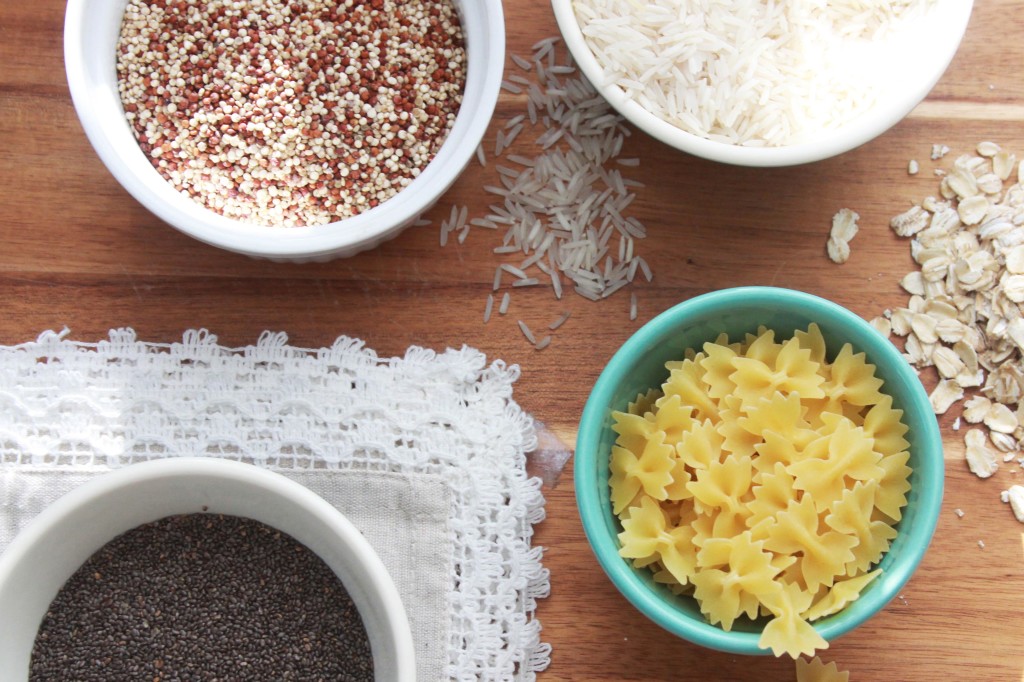 One of the post requests I get most frequently is around the topic of what I keep in my pantry. Having a well-stocked pantry is something I'm still trying to figure out, but I do have a handful of basics you can find in my pantry at any given time that make putting a meal on the table a breeze. I've also included my favorite freezer items, since I think of my freezer as part of my extended pantry.
Instead of stocking your pantry with items from the regular grocery store (which can be $$) I prefer to buy my basics from Costco and the bulk bins at Whole Foods. Sure, it takes us a long time to go through the Costco-sized box of oats, but it's worth storing just for the amazing cost savings of buying in bulk. Stocking your pantry may be a little more expensive on the front end, but you'll gradually see your grocery bill decrease in the weeks and months following.
DRY GOODS
Quinoa
Pasta (I usually have a few different shapes/sizes, including whole wheat spaghetti, bow ties, and penne)
Whole Wheat Couscous (super quick to prepare, great for meals when you don't have time to make rice or quinoa)
Brown Rice (either minute or regular, depending on your cooking style)
Old Fashioned Oats (breakfasts, meatloaf, cookies, etc.)
Oat Bran (you know how much I love oat bran!)
Cornmeal
All-Purpose Flour
Whole Wheat Flour or Whole Wheat Pastry Flour
Sugar
Brown Sugar
Stevia
CANNED ITEMS 
Black Beans
Canned Diced Tomatoes
Coconut Milk (great for curries and quick Indian meals using chickpeas)
Marinara Sauce
Chickpeas/Garbanzo Beans
Crushed Tomatoes
Broth (chicken or vegetable broth)
Diced green chiles
Salsa
Tuna (I buy mine from Costco and always look for a low-mercury, pole-caught variety)
FROZEN 
Peas
Edamame
Chopped spinach
Fish filets (I buy them at Costco, usually Salmon or Halibut)
Ground beef
Butter (I buy butter at Costco and keep what I'm not using in the freezer)
Bread (again, I buy it at Costco and store extra in the freezer)
OTHER ITEMS 
Honey
Chia Seeds
Ground Flax Seeds (store in the fridge or freezer for longer shelf life)
Peanut butter and almond butter (Costco has some great options without added sugars or oils)
Nuts of choice (almonds, walnuts and pecans are my faves)
Olive Oil
Balsamic Vinegar
Eggs (not really a "pantry" item, but they last a long time in the fridge and are a great source of inexpensive protein)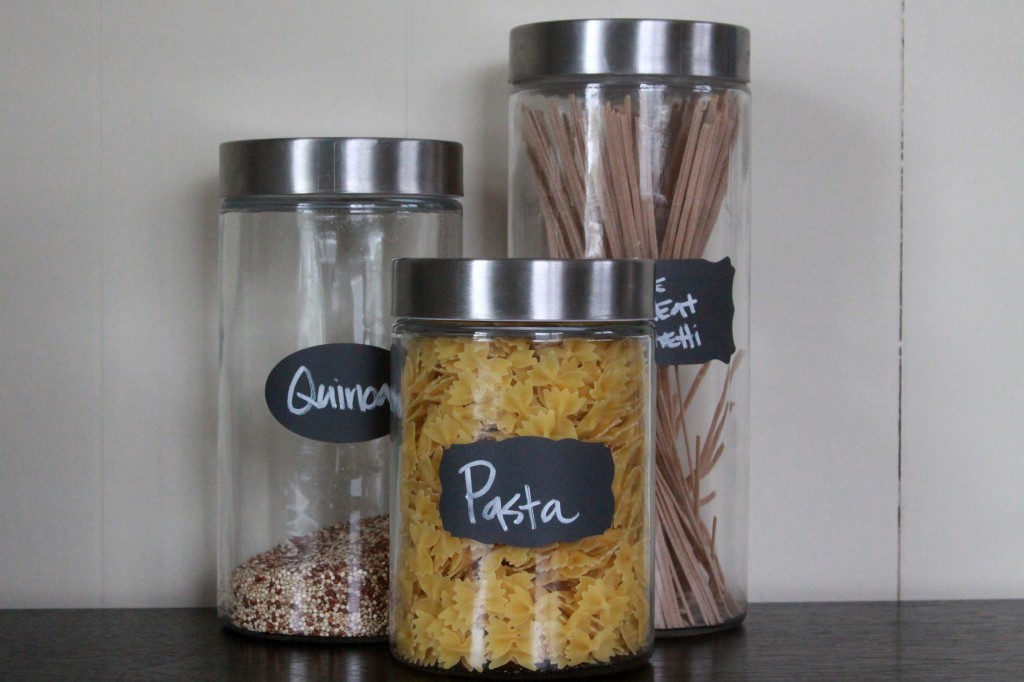 Of course, keeping my pantry organized is always a challenge. Since I buy items in the bulk bins at Whole Foods and the items I buy at Costco usually come in large bags and boxes, I am constantly transferring a small portion of what I buy into storage containers that I keep in my pantry. However, it's not always easy to remember what grain I put in each container and sometimes I'm left guessing and crossing my fingers as the grains cook.
When Dana Decals offered to send me a package of their sticky chalkboard decals to review, I jumped at the chance. Immediately I got to labeling my jars and containers and I have to admit, I love the way they look and the functionality, too. Aren't they cute?
Dana Decals has generously offered a $25 gift card to one E&C reader. Check out their website for a full line-up of products, including wall decals perfect for decorating. There are three ways to enter below!