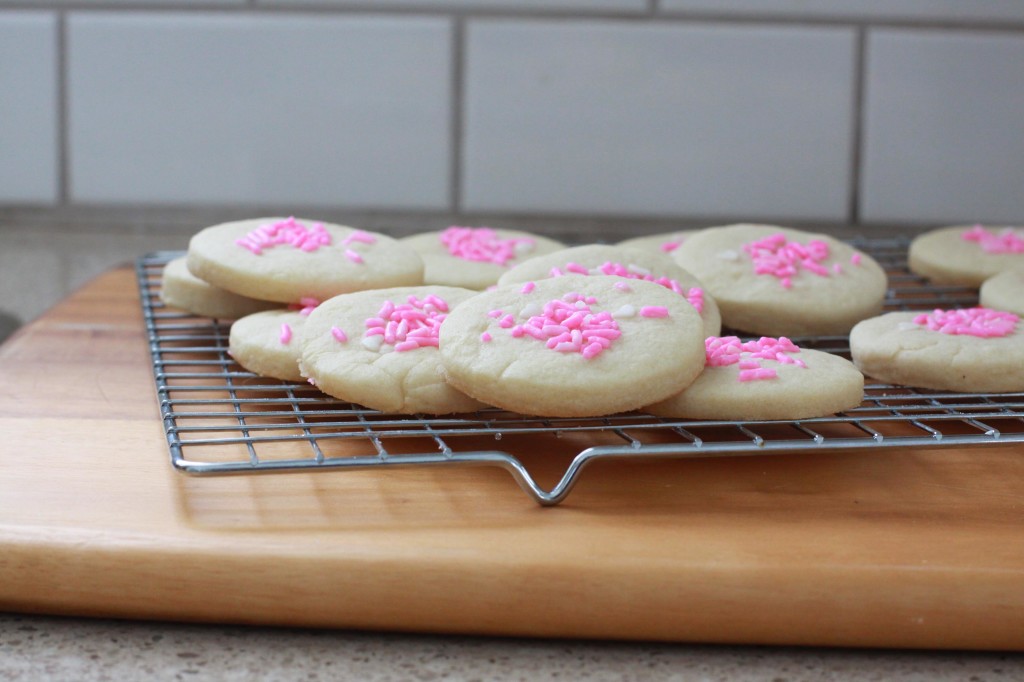 First off, thank you so much for your kind words about our recent miscarriage. I plan on responding to each and every comment and have done my best to stay up-to-date with e-mails. I so greatly appreciate each word you've said to me and cherish each one. This post, a baby shower for my friend Stephanie, was planned months ago. Although the timing feels a bit forced in light of our recent news, I want to be able to celebrate with Stephanie in her time of joy. -Madison
One of my blogging friends turned real life friend, Stephanie of Girl Versus Dough, is having a little baby girl and today I'm getting together with a bunch of other bloggers to throw Stephanie a virtual baby shower. Unfortunately, I wasn't able to attend Stephanie's real-life baby shower since I was out of town but I wouldn't miss getting in on the virtual celebrations!
It's been so great getting to know Stephanie in real life now that we both live up in the cities. She is, without a doubt, one of the sweetest people I know and that little girl is going to be born into such an amazing family!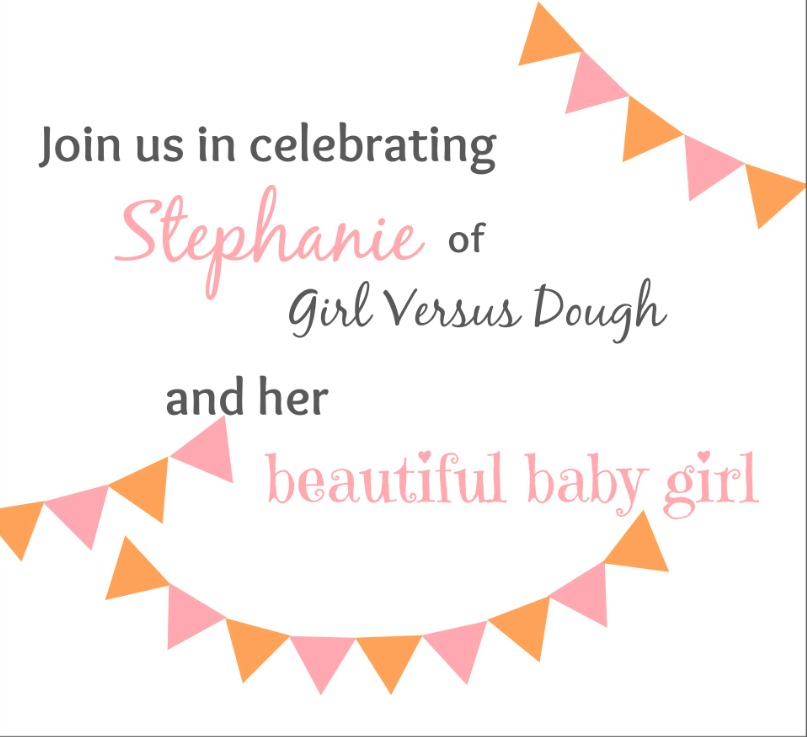 The cookies I made for Stephanie's shower are my new go-to sugar cookie recipe. I love baking that doesn't require a lot of fuss and these cookies certainly fit the bill. One of the things I hate most about sugar cookie dough is the fact that you have to refrigerate the dough before you bake it. I struggle with patience, so refrigerating dough is a challenge for me.
Thankfully, this recipe doesn't require the dough to be refrigerated before you bake it. Major win in my book! And it requires just a handful of ingredients you probably have on hand, which is another major bonus. For those of you out there who don't consider yourself much of a baker, I would suggest starting with a recipe like this. Adding a few colored sprinkles on top gives these cookies a decorative touch without much extra fuss.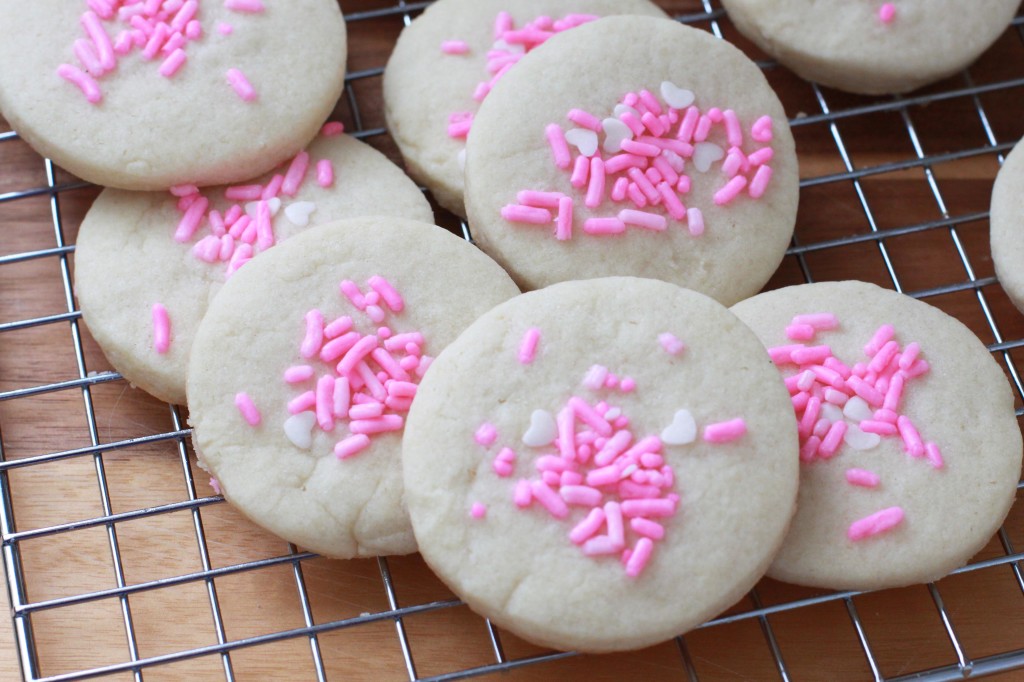 Check out all the other ladies who are participating in the shower:
Mini Strawberry Cheesecakes from Sarcastic Cooking
Lemon Blueberry Coffee Cake with Lemon Drizzle from Greens & Chocolate
Super Chewy M&M Blondies from The Realistic Nutritionist
Strawberry Cinnamon Twist Knots from A Kitchen Addiction
Lemon Shortbread with Salted Chocolate Drizzle from The Lemon Bowl
Chocolate Cherry Ice Cream from A Zesty Bite
Blackberry and Mango Curd Pie from Joanne Eats Well With Others
Pecan Sticky Buns from Warm Vanilla Sugar
Strawberry Rhubarb Muffins from Garnish with Lemon
Chocolate Chip Pancakes from Susie Freaking Homemaker
Super Simple Sugar Cookies from Espresso and Cream
Raspberry Acai Frozen Margarita from Nutmeg Nanny
Berry Coconut Frozen Yogurt from The Law Student's Wife
Pretty in Pink Buttercream Cups from Keep it Sweet Desserts
Broccoli Salad with Honey Toasted Walnuts from The Roasted Root
Neapolitan Baked Doughnuts from Climbing Grier Mountain
Giant Pink M&M and Raisinette Cookies from Steph's Bite by Bite
No-Bake Rhubarb Cheesecake Parfait Cups from Hungry Girl Por Vida
Strawberry Rhubarb Crisp from A Cedar Spoon
Freckled Strawberry Rhubarb Lemonade from Take a Megabite
Vanilla Anise Cupcakes from Blahnik Baker
Mini Vanilla Bean Layer Cakes from The Baker Chick
Mini Blackberry Hazelnut Meringue Cakes from Eat Your Heart Out
Super Simple Sugar Cookies
Prep time:
Cook time:
Total time:
This sugar cookies come together quickly and don't need to be refrigerated before you slice and bake them. That's a major win in my book! This makes about two dozen small cookies, but feel free to double if you want a bigger batch!
Ingredients
1 cup butter (2 sticks), softened
¾ cup sugar
1 egg
1 teaspoon vanilla
½ teaspoon salt
2 teaspoons baking powder
2½ cups all-purpose flour
Colored sprinkles, if desired
Instructions
Heat oven to 350°F. Spray a large cookie sheet with cooking spray. Set aside.
In bowl of an electric mixer, cream together butter and sugar until fluffy, about 1 to 2 minutes. Add egg and beat until just combined. Add in the vanilla, salt and baking powder and beat until combined.
Add flour to butter mixture and beat until just combined. Transfer dough to floured work surface. Roll dough to ¼ inch thickness. Use cookie cutter to cut shapes from dough, rolling and re-rolling as necessary to use up dough. Top dough with colored sprinkles, if desired.
Place cookies on baking sheet, about 1 inch apart. Bake 8 minutes or just until light golden brown around the edges. Do not over bake. Remove immediately and transfer to wire rack to cool completely.