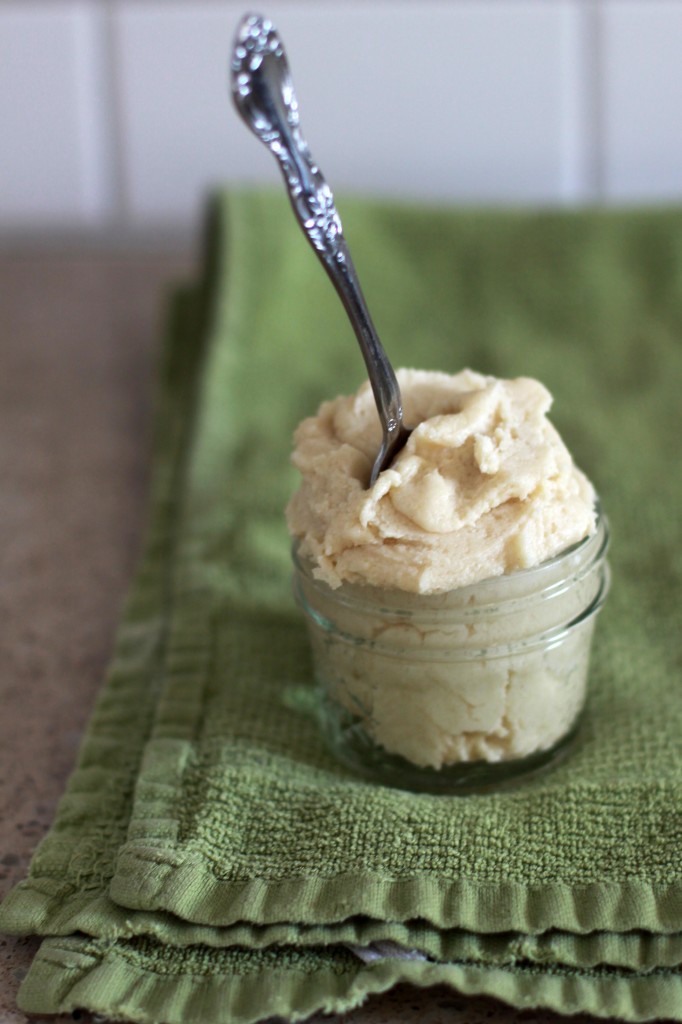 By the time Friday rolls around, Joe and I are both in the mood for a low key night, which means a workout together at the gym, eating Chipotle and watching something on TV. Maybe not the most exciting routine around, but I love it so much. Last week when were were watching Shark Tank on ABC, one of our favorite shows, I was drawn to a particular business idea that was being pitched to the sharks on the show. The company, Cookie Dough Cafe, was talking about their line of edible raw cookie dough in a jar. Um, yum!
Although I loved the business idea, one thing that struck me as strange was the fact that they went on and on about the fact that this product was safe because it didn't contain eggs, meaning no risk of salmonella. However, they didn't say a thing about the flour that was being used in the cookie dough. What a lot of people don't know is that eggs aren't the only source of contamination and that raw flour can also pose a risk of E. coli. I'm assuming that the ladies who own The Cookie Dough Cafe have this figured out and are just not mentioning it, but I thought that I would talk about it briefly. Better safe than sorry, right?
Well, friends, be prepared to have your world rocked by this recipe. If it's not one of the best recipes to date on E&C, I don't know what is. To make this Raw Sugar Cookie Dough in a Jar, you start by toasting your flour on a baking sheet in the oven. Doing so makes it safe to use your flour in any manner of raw forms, including this recipe. It takes about 10 minutes and doesn't impact the taste but will give you peace of mind when serving this treat to your friends, kiddos and when you eat it yourself.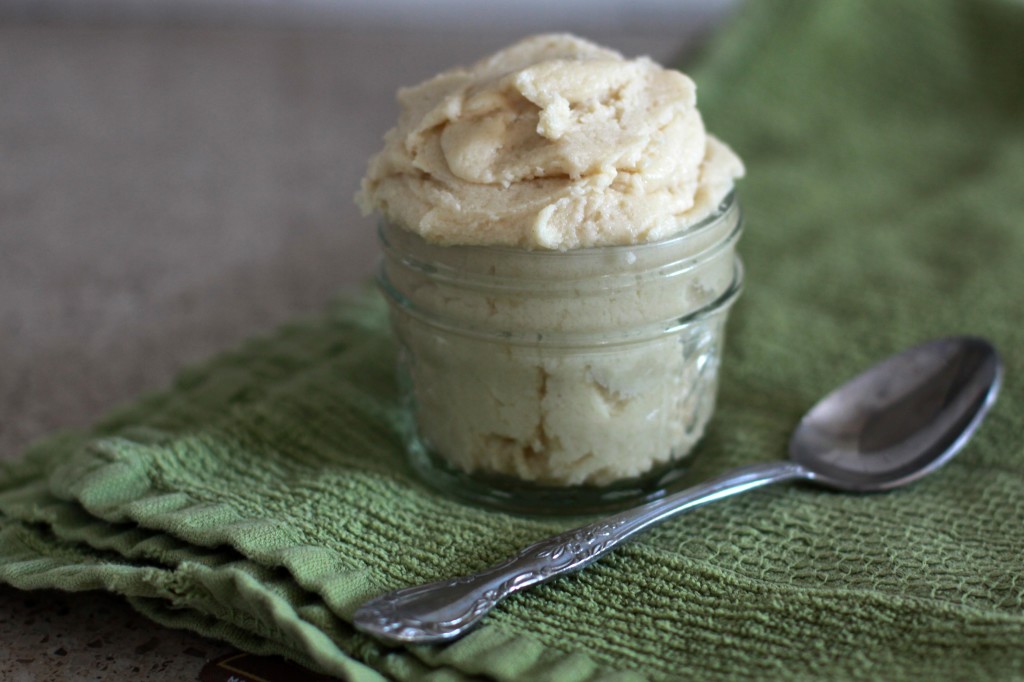 This recipe makes a small batch of cookie dough, about a cup. It's just enough to keep in the fridge when the craving strikes but not too much that you'll make yourself sick eating a huge batch at one time. I would suggest, for the sake of your stomach and your waistline, to stick to a spoonful of this magical mixture, then return it to the fridge for safe keeping. For someone who always has to end the night on something sweet, this has proven to be the perfect solution!
Edible Raw Sugar Cookie Dough
What most people don't know is that uncooked flour can be a source of E.coli. To make this cookie dough safe to eat raw, toasting the flour is key.
Ingredients
¾ cup all-purpose flour
¼ cup butter, softened
⅓ cup sugar
2 tablespoons milk
½ teaspoon high-quality vanilla
⅛ teaspoon salt
Instructions
Heat oven to 300°F. Place flour on ungreased cookie sheet. Toast flour in oven for 10 minutes, stirring twice during baking.
Meanwhile, with an electric mixer, cream together butter and sugar 2 to 3 minutes or until well combined and fluffy. Beat in the milk, vanilla and salt until well combined.
Cool flour 10 minutes after toasting. Add to butter mixture and beat until well combined. Spoon into a jar with lid. Cover and store in the refrigerator until ready to eat.