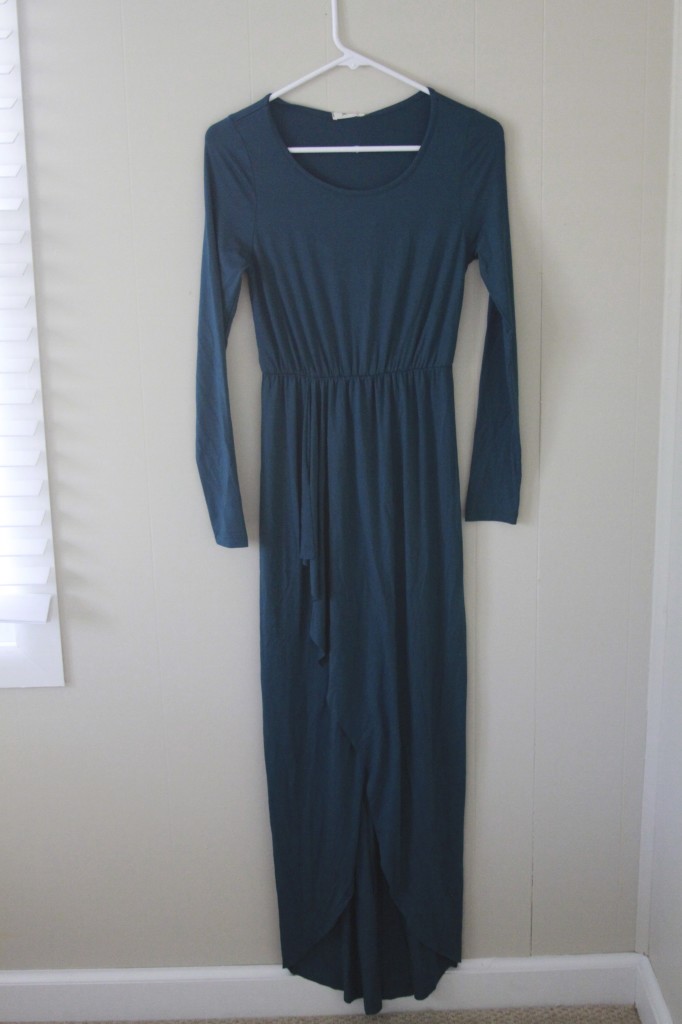 Another month and it's high time I did another Stitch Fix Review! I slacked on documenting my fix last month and returned my items before I had a chance to document what I kept and returned. I'm back on the ball for November.
This month's fix was a bit of a mixed bag. There were a couple items I really liked and a few that left me scratching my head. By far, my most successful fix was the box I received in August, but in each of the boxes I have been sent, I've found at least one item I genuinely love. All in all, I would call that a win, and I'm still totally loving the service. If you haven't signed up, you can do so HERE (affiliate link!).
Also, I've gotten a lot of questions about how much items in a Stitch Fix box cost, so I've included prices for each item I received this month. I have selected a specific price point for my items. However, you can select a cheaper option or a more expensive option if you so desire. I opted for the middle of the road option.
Item #1: Teal Green "Everly" Hi-Low Long Sleeved Dress
Price: $68
Observations: This dress was a beautiful shade of teal. I loved that it had long sleeves (a big bonus for me is when a dress has long or 3/4 length sleeves) but the material was super thin and I couldn't really see myself wearing a maxi hi-low dress in the late fall and winter months.
Keep or Return: Definitely return!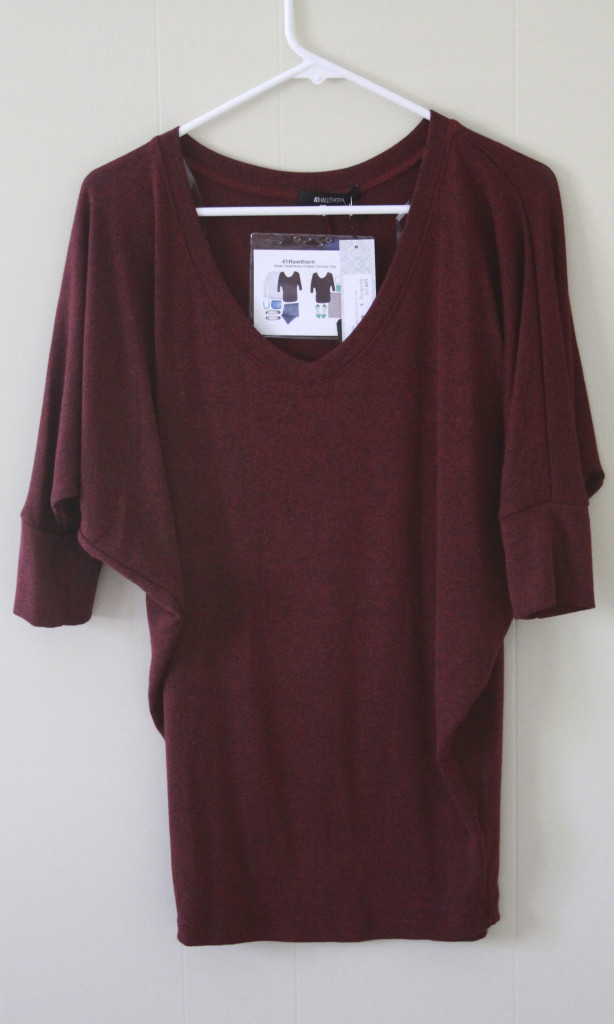 Item #2: Burgundy 41 Hawthorne V-Neck Dolman Top
Price: $48
Observations: I had a really hard time with this top! It fit really well and the shade of burgundy was really nice. It seemed like a great top for wearing around the holidays and throughout the winter under jackets and cardigans. However, I was unsure about the style. It was fitted at the bottom around the hips and loose around the midsection and had looser arms. Usually, I prefer tops with a bit more structure since they seem to wear better and last longer.
Keep or Return: I debated for a long time but ended up returning it.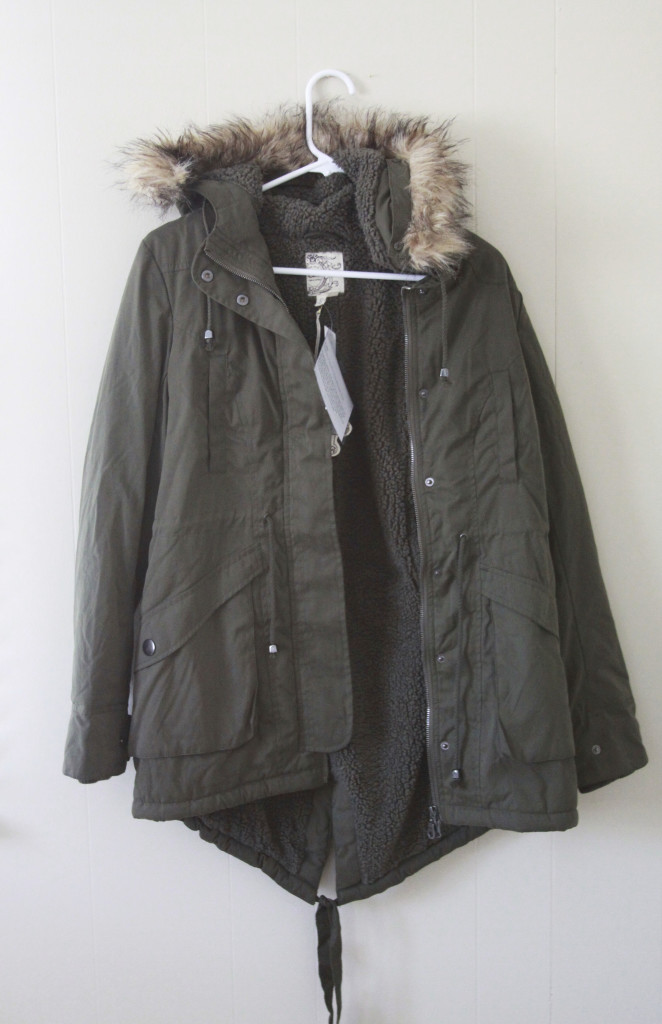 Item #3: Green Tulle Faux Fur Hooded Jacket
Price: $108
Observations: This jacket was a major disappointment for me. I think I'm going to specify in the future that I don't really want my fixes to include outerwear. When I buy a coat or jacket I usually take a long time to decide on the perfect, high-quality piece. It's a splurge item that I really make an investment in for the long term. Although this jacket was a nice weight, the way it fit was pretty horrible (baggy and frumpy looking) and I couldn't really see myself getting much use out of it.
Keep or Return: Return!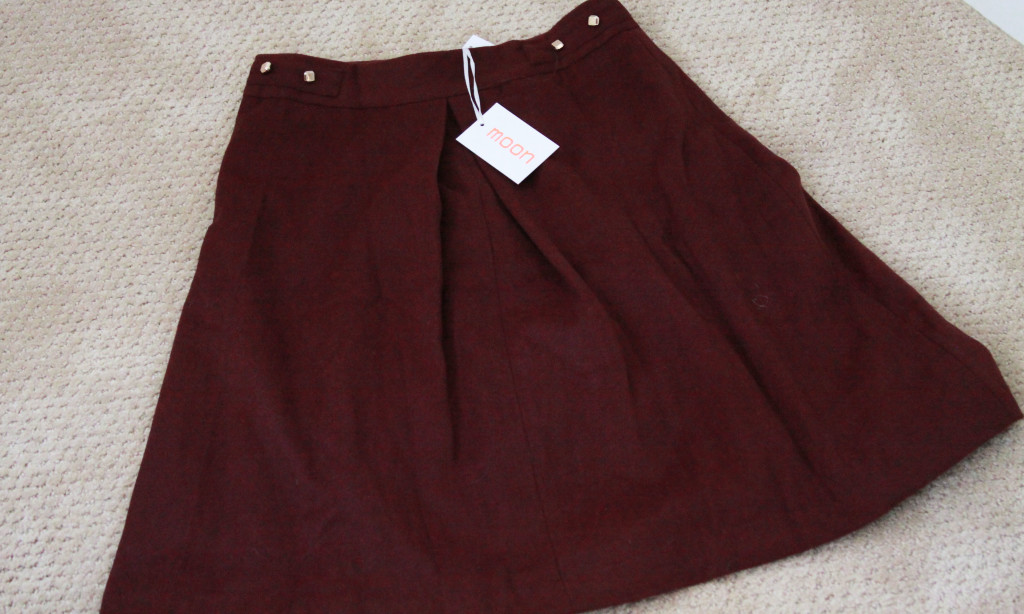 Item #4: Burgundy Moon Collection Stud Detail Skirt
Price: $78
Observations: I feel in love with this skirt right away! The material was thick and heavy, which I felt was perfect for fall/winter, especially in Minnesota. And I really liked the fitted waist and a-line shape. I was so bummed when the skirt turned out to be way too big on me. I've requested this skirt for my next fix in hopes that the size down will fit better.
Keep or Return: Sadly, I returned it.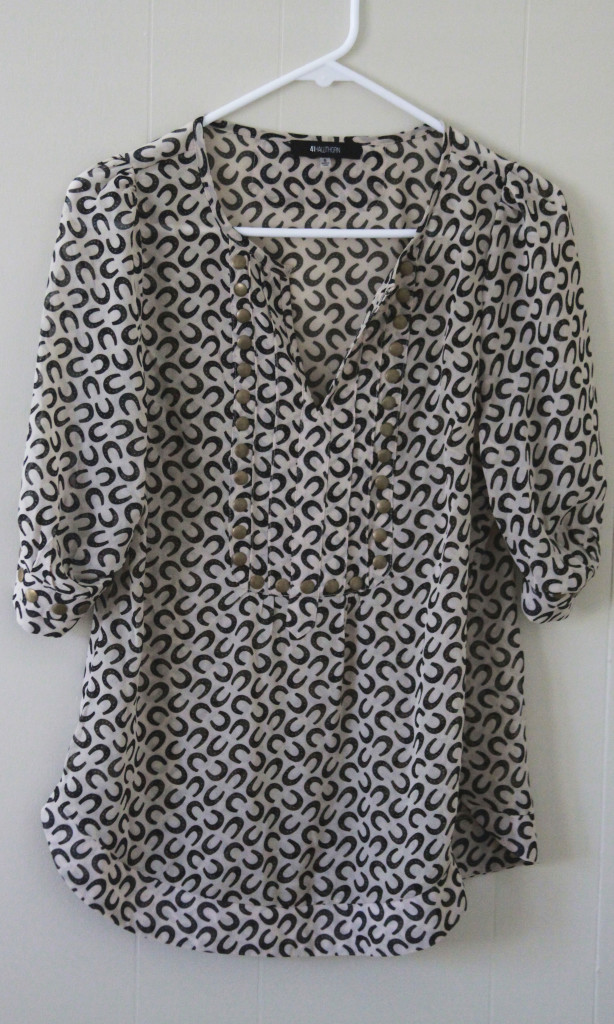 Item #5: Off-White 41 Hawthorne Horseshoe Stud Detail Top
Price: $58
Observations: This top was love at first sight! I typically gravitate to items that have interesting or unique details and patterns that are different neutral shades. Although the material is thinner, I like that it makes a great layering piece and the sleeves hit right above the elbow. Another thing I love? The little metal studs around the neckline and on the sleeves. I've already worn this top 4 or 5 times since I got it.
Keep or Return: Keep!
Have you tried Stitch Fix? What have you thought about your fixes?
Madison