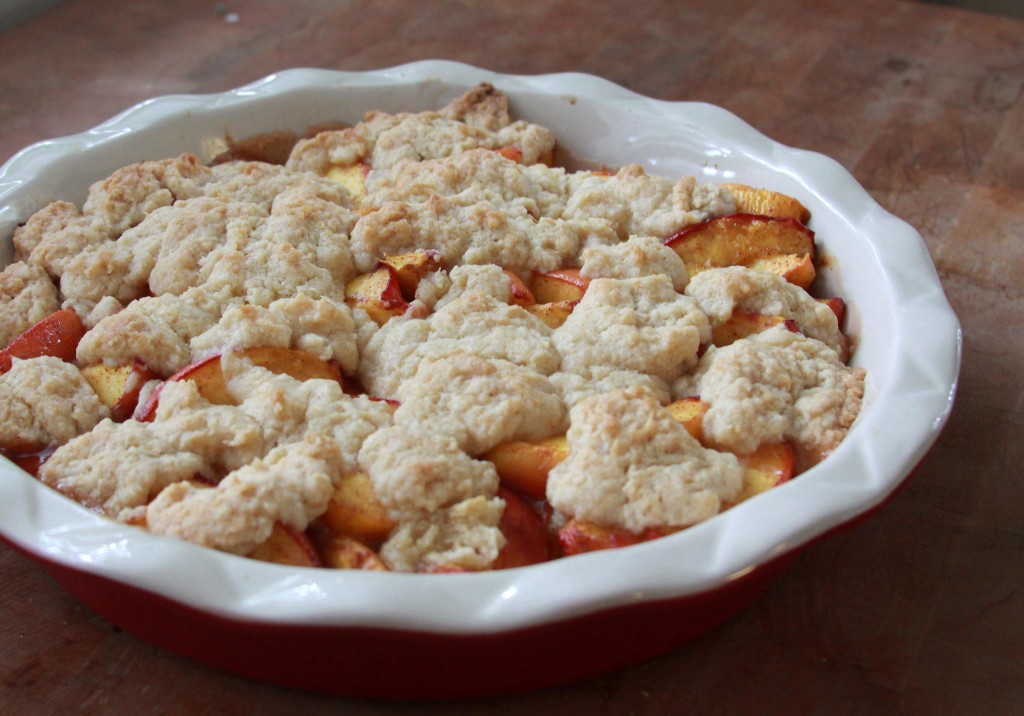 This week Espresso and Cream celebrates another birthday. It's really hard to believe that I've been blogging for four years this August. When I started this blog as a college intern at Better Homes and Gardens magazine I had no clue I would be blogging and documenting my life in and out of the kitchen four years later. This site has come along for a crazy ride and lots of changes over the past four years, including a college graduation, the start of a new relationship, an engagement, welcoming little Nutmeg into our family, a marriage, two apartments, buying our first home. You get the idea.
If you've followed along since the early days of this site, thank you, thank you! I appreciate being able to swap comments, e-mails and share stories about life with you all. And if you're a newer reader, welcome and thanks for stopping by. I hope you'll visit often and take some time to say hello. Sometimes I wonder if this little hobby of mine is even worth it, or if it's all a big waste of time that could be better spent elsewhere. But when I am able to share something close to my heart and have others express similar sentiments, it makes it all worth it. Can I say thank you again?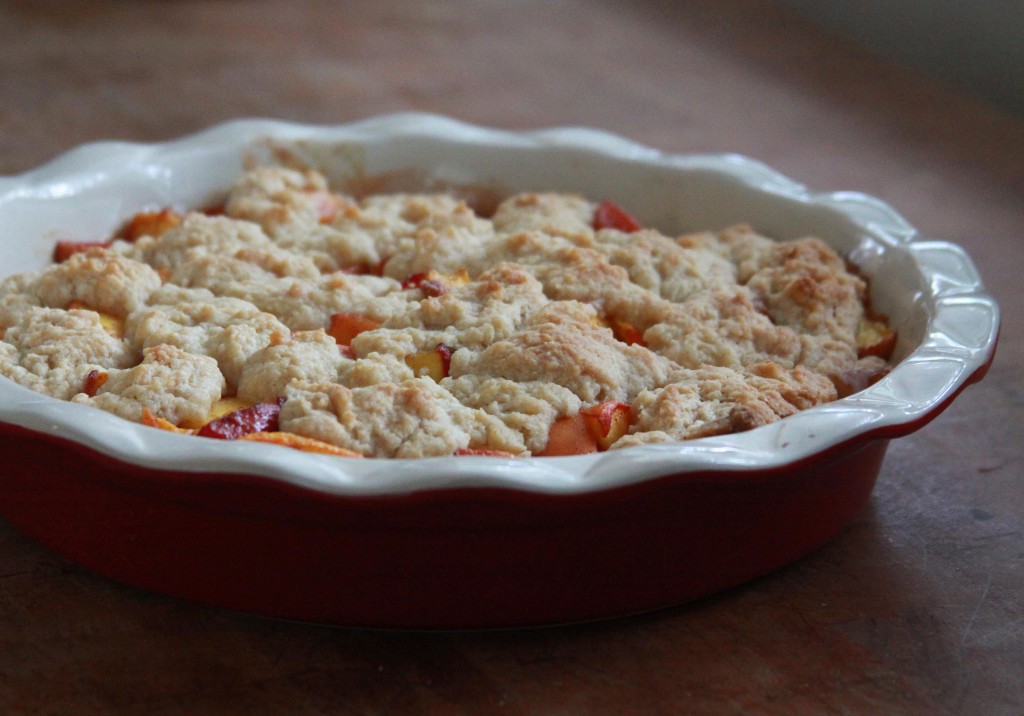 To celebrate Espresso and Cream turning four I made this peach cobbler. And I have a fun little giveaway in store for you, too. Joe's mom brought us a big bag of peaches a few weeks ago and they've been sitting in our fridge ever since. I've been dying to make a peach cobbler, but the idea of peeling peaches kept me from getting into the kitchen. I finally decided to say heck with peeling peaches and just threw them in there with the skin on. Since neither of us really mind peach skin, it suited us just fine. But you might want to consider peeling them if you feel differently.
Although I typically gravitate to making crisps with a buttery, crispy topping for fruit desserts, this biscuit-like dish with a cobbler topping was outstanding. We're talking seriously good here, folks. I was initially thrown off by the fact that you add boiling water to the cobbler topping, but don't worry, the results are incredible. It's flaky, soft and melt-in-your-mouth good. It's certainly good enough to serve for a fourth birthday celebration.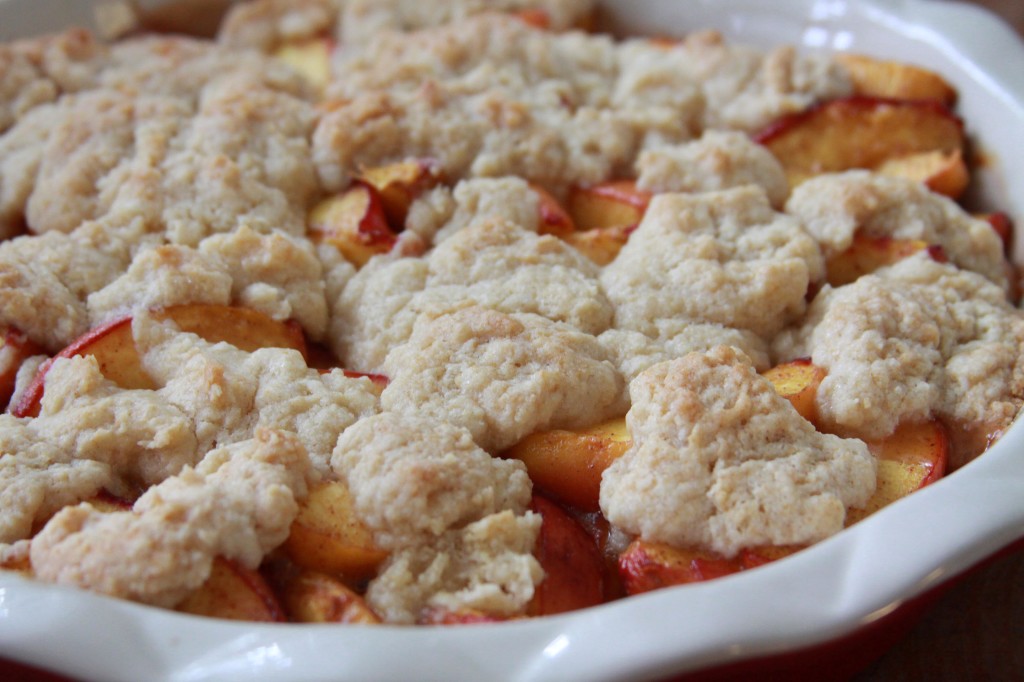 If you're still reading, it's giveaway time! Since this giveaway is in celebration of a birthday, I'm going to be sending one lucky reader a birthday box filled with some of my favorite beauty products, snack foods and other goodies I've been loving lately. But since it's a birthday gift of sorts, the actual contents of the box will remain a secret until you receive the gift. Pretty fun, right? To enter, leave a comment below letting me know your favorite summer dessert. We had a patio party with root beer floats last night at our house and it was just the taste of summer I needed! I'll announce a winner on Wednesday, August 14th!
Traditional Peach Cobbler
Makes 4 generous servings or 6 smaller servings
Recipe adapted from AllRecipes.com
Ingredients
Peach Filling
8 fresh peaches, pitted and sliced (you could peel them, but I opted not to and thought it tasted great
1/4 cup sugar
2 tablespoons brown sugar
1/2 teaspoon cinnamon
2 teaspoons cornstarch
Biscuit Topper
1 cup all-purpose flour
1/4 cup sugar
1/4 cup brown sugar
1 teaspoon baking powder
1/2 teaspoon salt
6 tablespoons butter, cut into small pieces
1/4 cup boiling water
Directions
Heat oven to 425°F.
In large bowl, combine all the peach filling ingredients. Pour mixture into a 9-inch deep dish pie plate or 2 quart baking dish. Bake filling without topping for 10 minutes.
Meanwhile, in a large bowl, combine flour, sugars, baking powder, salt and butter. Use pastry cutter or fingers to blend butter into the flour until a coarse meal forms. Stir in boiling water until just combined.
Remove filling from oven. Drop spoonfuls of biscuit topping on top of peach filling. Bake until topping is golden, about 30 to 35 minutes. Cool 5 minutes before serving.
Happy Baking!
Madison