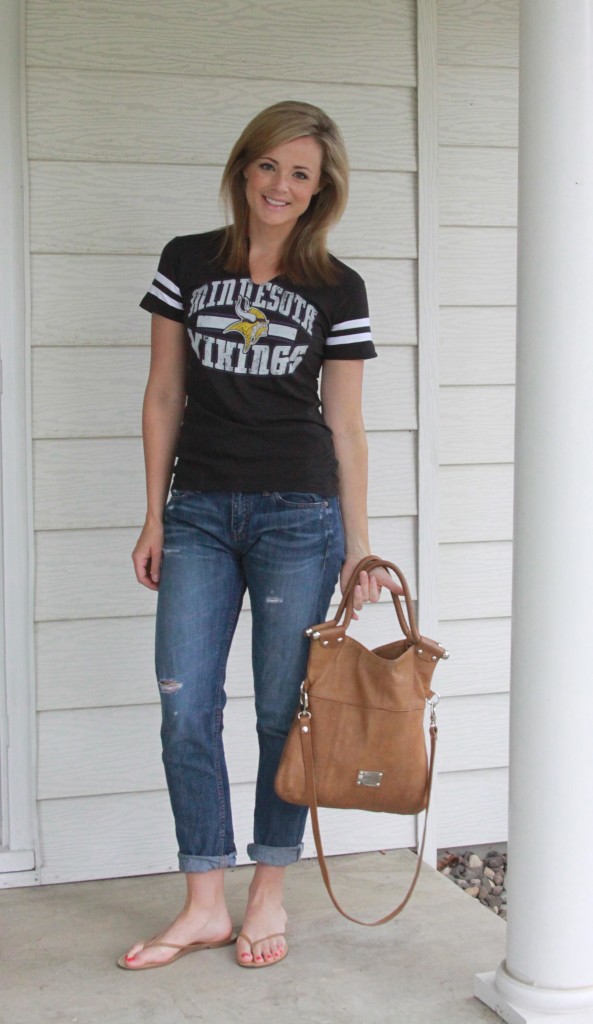 Do you ever suffer from that thing where you face is a little puffy for the first two hours after you wake up? Please don't tell me that I'm the only one who suffers from this, because that's totally what I've got going on in these pictures. This past weekend Joe and I woke up bright and early on Saturday to get to Mankato, Minnesota, for the first weekend of Vikings training camp. By now you're well aware of our mutual obsession with football, so is it really any surprise that's how we would choose to spend a Saturday in late July? I'm getting way too anxious for the season to start.
One of the biggest problems I've had in the past with football games is deciding what to wear. It's really hard to find cute t-shirts that are made to fit girls instead of bulky shirts made for guys. So when the people over at t-shirts.com contacted me asking if I would like to sample some of their NFL apparel, I jumped on the opportunity! I received a t-shirt, shown in these photos, as well as a cute wide-neck sweatshirt, which can be seen here.
I was really impressed with how soft the shirt and sweatshirt were, making them totally comfortable for game day. And the fit was super feminine, no boxy fit in sight! Since I'm always curious about how different brands do sizing, here's what you should know if you are interested in ordering one of their shirts: I usually fit comfortably into a small t-shirt. However, I really wish I would have ordered a medium in both the shirt and the sweatshirt. They ran a little smaller than other brands I've come in contact with, and I was really hoping for the sweatshirt to be a little roomier for that slouchy look. I've got my eye on this vintage shirt next, and I'll definitely order a medium!