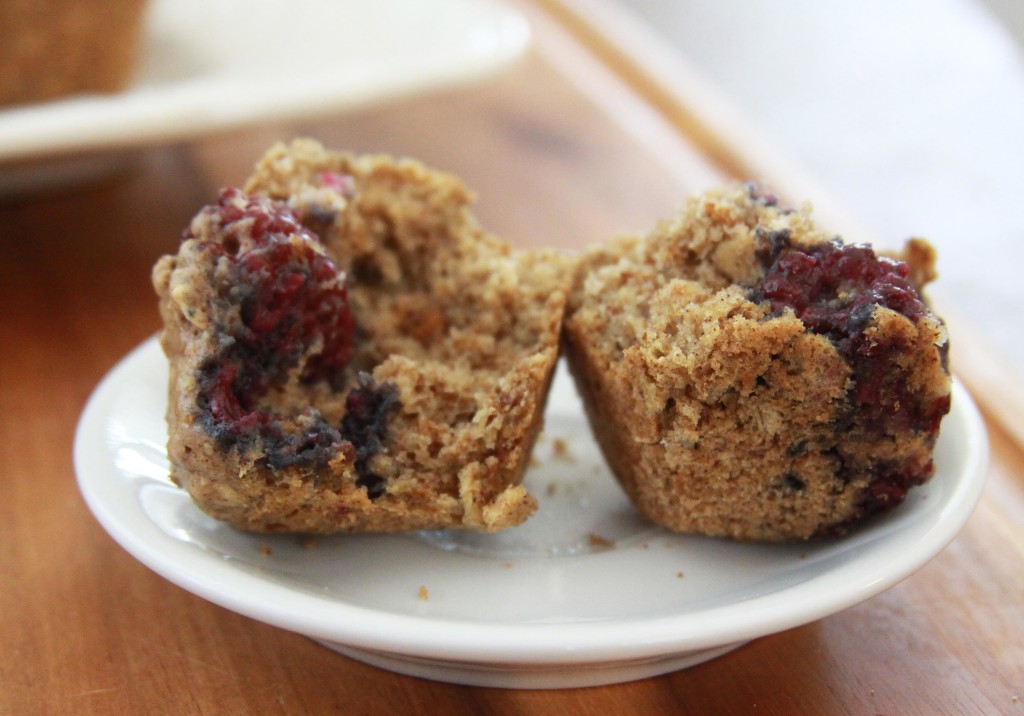 One of my favorite subjects to talk about on Espresso and Cream is breakfast. Probably because breakfast is my favorite meal of the day. No other meal really compares in my opinion, and although I typically eat the same breakfast (oatmeal, peanut butter, banana) I love mixing it up now and again. Since it's been incredibly hot and looks like this week is going to be even warmer, I've been trading in my bowl of oats for colder breakfasts like yogurt with chia seeds and smoothies.
Last fall I shared with you one of my favorite muffin recipes, these Breakfast Bran Muffins. Today, I'm following up those muffins with another bran muffin recipe that's equally delicious. It's made with bran cereal, almond butter and stuffed with fresh blackberries. Blackberries were on sale at my grocery store this week, but you could easily substitute another berry like blueberries or raspberries if that suits your style better.
I've been crumbling these muffins atop a bowl of yogurt-chia pudding and it makes an incredibly tasty and filling breakfast. Each muffin contains around 200 calories, so it's enough to satisfy without being overly indulgent. When I make a batch, I find that it works well to freeze half the muffins in zip top backs and keep them on hand for quick breakfasts or snacks. All you need to do is zap them in the microwave for a few seconds when you're ready to eat!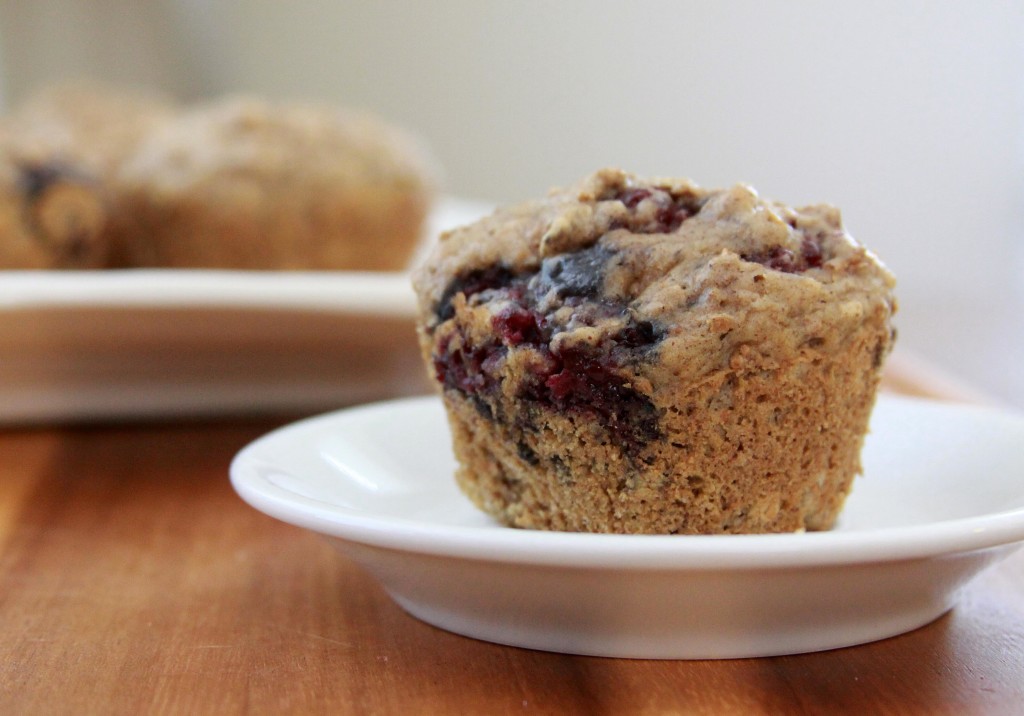 Almond Butter Bran Muffins with Blackberries
Adapted from this recipe
Makes 12 muffins
Ingredients
1 1/3 cups all-purpose flour or whole wheat pastry flour
1/2 cup sugar
2 teaspoons baking powder
1 teaspoon baking soda
1/4 teaspoon salt
1 1/2 teaspoons ground cinnamon
1 1/3 cups almond milk or milk of your choice
1 cup bran cereal
1 large egg, lightly beaten
1/3 cup almond butter
1 cup fresh blackberries
Directions
Heat oven to 375°F. Lightly grease 12 muffin cups. Set aside.
In large bowl, combine flour, sugar, baking powder, baking soda, salt and cinnamon until well combined. In second smaller bowl, combine milk, cereal, egg and almond butter. Stir until smooth. If your almond butter is thicker, you may need to beat with an electric mixer to get it fully combined.
Add wet ingredients to the dry ingredients and stir until just combined. Fold in blackberries until just combined. Spoon batter into muffin cups. Bake 16 to 18 minutes or until muffins are puffed up and a toothpick inserted in the center comes out clean. Cool in pan 5 minutes. Remove from pan and cool on wire rack.
Happy Baking!
Madison