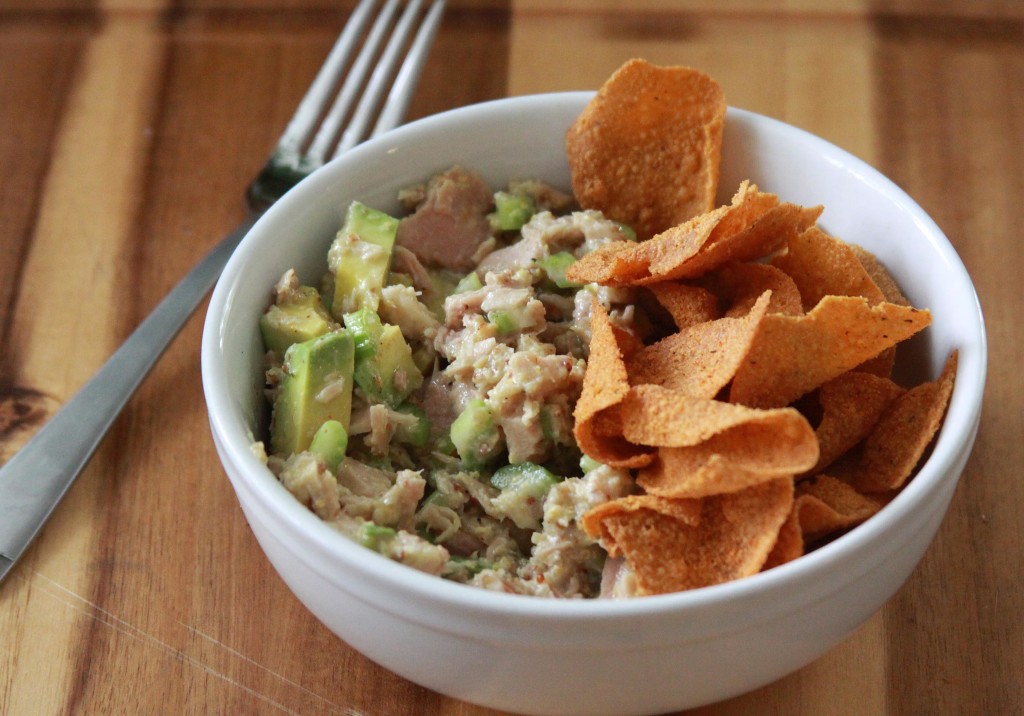 If we're being totally honest, Tuesdays are one of my least favorite days of the week. Mondays have been redeemed by the fact that The Bachelorette is on TV, though I think this season is incredibly lame and am struggling to get into it. Anyone with me? By Wednesday you can say "the week is halfway over" and Thursday and Friday are filled with anticipation of the weekend to come. I'm still searching for something to love about Tuesdays.
I guess that really has nothing to do with tuna salad, other than the fact that on Tuesday I'm usually ready for an easy weeknight meal that I can throw together in just a couple minutes. When Joe and I get home from working out we're both starving and need food now, so dishes like this are the perfect solution.
Up until a couple weeks ago, I was not a fan of tuna salad in any form. Since I hate mayonnaise with a passion, most tuna salads were out by process of elimination. And the idea of using yogurt in place of mayo in tuna salad really grosses me out. So what's a girl to do? Consult my favorite cookbook, of course!
A couple months ago our book club at work went through Sprouted Kitchen Cookbook. I've talked about my love for Sprouted Kitchen blog many times on this site, and the cookbook did not disappoint, either. I was so impressed by the book at book club that I bought my own copy a few days later. I've been cooking my way through ever since, adapting the recipes to suit our tastes and the ingredients we have on hand. I'm pretty sure I made at least one recipe a week from the cookbook.
Anyway, back to the tuna salad! This recipe doesn't contain any mayo and instead gets its flavor from coarse grain mustard and olive oil, a combination that I love. The original recipe doesn't include avocados or tomatoes (I photographed sans tomatoes but added them in after) but I really liked the flavor and increased volume that they added to this dish. Joe and I have been eating this every week, usually with tortilla chips of some sort for dipping.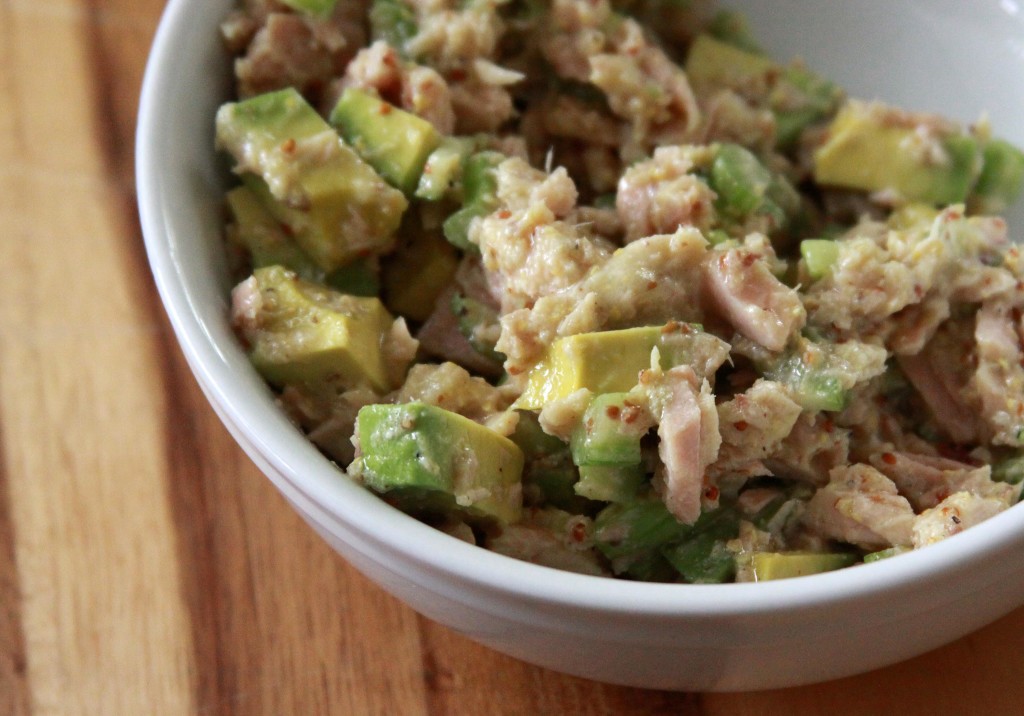 California Style Tuna Salad (Mayo-Free!)
Makes 2 servings
Recipe adapted from Sprouted Kitchen Cookbook
Ingredients
2 cans (5 oz each) water-packed white tuna
2 tablespoons coarse grain mustard
2 tablespoons olive oil
1/4 cup golden raisins
2 stalks celery, finely chopped
1 medium ripe avocado, pitted, peeled and chopped
1/2 cup sliced cherry or grape tomatoes (optional)
Juice from 1/2 of a lime
Salt and pepper to taste
Directions
Combine all of  the above ingredients. Stir until well combined. Season to taste with salt and pepper. Serve with tortilla chips, if desired. The tortilla chips pictured above are the new Green Giant Veggie Chips I scored at work. They are fantastic!
Happy Cooking!
Madison