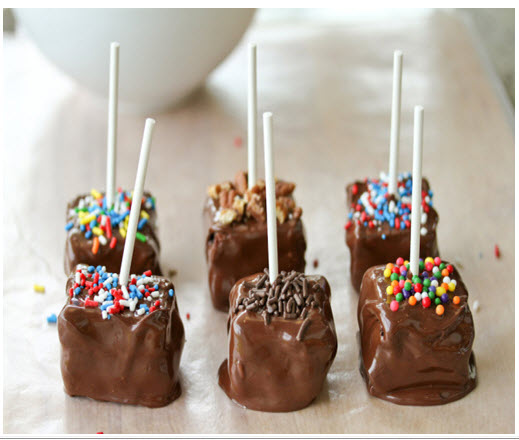 Tasteseekers Kitchen // I've been working on a really fun project at work! We recently launched a new blog called Tasteseekers Kitchen, which is published by the General Mills Test Kitchen. And yes, that means I get to blog at work. My post this week was a little decadent and totally delicious: Chocolate Chip Cookie Dough Brownie Pops (pictured above) which are perfect for 4th of July! Stop on over and share some love!
Summer Fitness Challenge on Mommy's Me Time // My sister-in-law is hosting a summer fitness challenge on her blog, Mommy's Me Time. If you are in need of a little extra motivation to log some miles this summer, sign up and join along with the group on Daily Mile! Don't let the name fool you, it's not just for moms. Hey, I'm participating!
Blood Orange + Moscato Float // I'm not a huge fan of calorie-laden drinks but this might be my exception this summer. Sweet moscato, blood orange soda and vanilla ice cream? It's like a grown-up root beer foat.
Creature Comforts Blog // This blog is new to me and absolutely beautiful. I've pinned a whole bunch of ideas. Now I just need to find the time to get my craft on.
Coming up next week // I was inpsired by chocolate chip cookie dough and brownies and made my own adaptation of the recipe above to bring to a friend's house.