Lately I've felt incredibly distant from Espresso and Cream. I can honestly say that in the 3 1/2 years that I have been blogging, I have never felt my passion and excitement for blogging trail off in the least bit. Until recently. That's not to say that I'm going to stop blogging, it's just something I've been thinking and feeling for the last couple weeks. More than anything, it seems that my life is so full of food that at the end of the day I feel creatively tapped out. My job, which I love, has me in the kitchen constantly, creating new recipes and developing new ideas. And to top things off, Joe and I embarked on a cleanse that has made every day eating and cooking more of a creative challenge than I had anticipated.
I've loved our cleanse and enjoyed being forced out of my comfort zone in the kitchen. Reading labels is a new (not so favorite) pastime and I have a new found appreciation for anyone who has to live with a food allergy, especially a gluten or dairy allergy since it is in everything.
That said, I've also had a lot of my creative juices zapped since planning for and preparing three cleanse-friendly meals a day takes a lot of time, effort and energy. Already I can see how things are starting to get easier and I'm sure that if Joe and I were to stick to this diet longer term it would become second nature to me, but for now it is uncharted territory.
All of that is really just me saying thank you for understanding if I've seemed a bit distant and removed from E&C over the past couple weeks. We are now on our last week of the cleanse and feeling great, but I'm also looking forward to adding some foods back into the regular rotation, mainly eggs since they are so useful in the kitchen.
In the meantime, I thought I would share with you this dish I made for lunch on Sunday. It's incredibly simple to pull together and also super tasty. I should also note that it is husband-approved, meaning it feels hearty and satisfying, without weighing you down after. The "meat sauce" is made with a mixture of lentils, mushrooms, onions and sweet peppers. The combination is flavorful and packed with protein and vitamins. And if, like me, you are seeking ultimate convenience, there is no shame in purchasing pre-cooked lentils to cut down on time in the kitchen.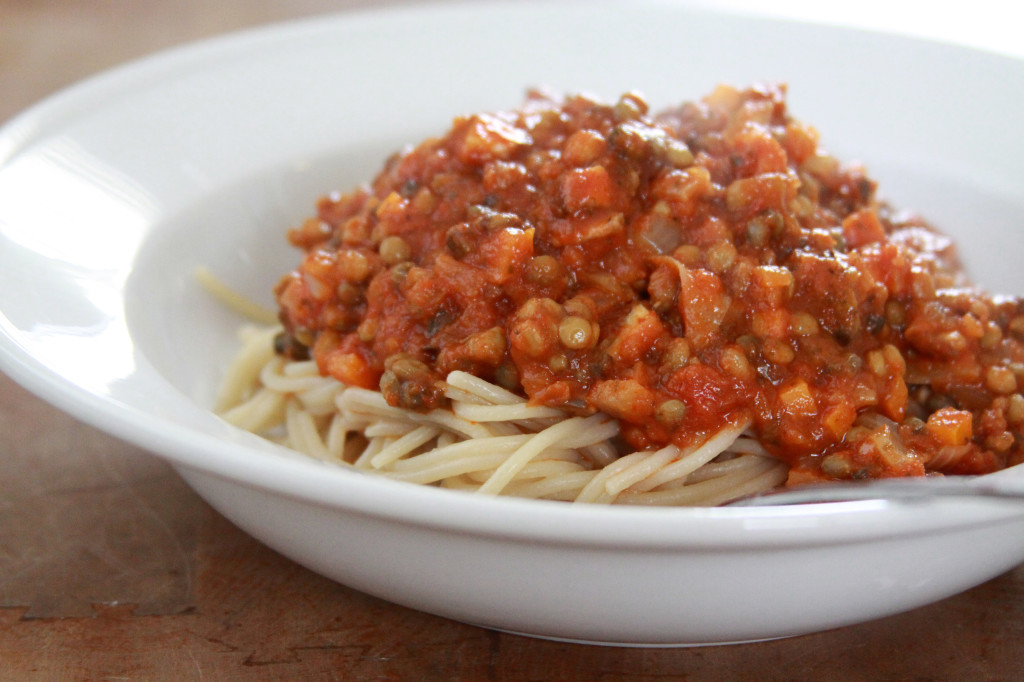 Spaghetti with Lentil-Vegetable Marinara
Makes 4 servings
Ingredients
*4 servings of gluten-free brown rice spaghetti
*1 tablespoon olive oil
*1 medium onion, chopped
*1 clove garlic, minced
*1 medium orange or red sweet pepper, chopped
*1 cup chopped mushrooms
*1 1/2 to 2 cups cooked brown or green lentils (to make things quicker/easier this week, we bought lentils pre-cooked at Trader Joe's)
*1/2 to 3/4 teaspoon salt
*1/4 teaspoon ground black pepper
*1 jar (25 to 28 oz) gluten-free marinara sauce of choice (I used a roasted garlic variety)
Directions
*Cook pasta in salted water according to package directions. While pasta cooks, you can throw together the rest of this dish.
*Heat oil in a large skillet over medium high heat. Add in the onion and cook for 3 to 4 minutes or until onion is softened and opaque. Add in the garlic, sweet pepper and mushrooms and continue to cook for 3 to 4 minutes more or until pepper and mushrooms are cooked through and tender. Add in the lentils, salt and black pepper. Stir until well combined.
*Pour sauce into skillet and reduce heat to low. Cook for 2 to 3 minutes more or until sauce is warmed through and flavors are mixed together.
*Serve mixture atop cooked pasta.
Happy Cooking!
Madison