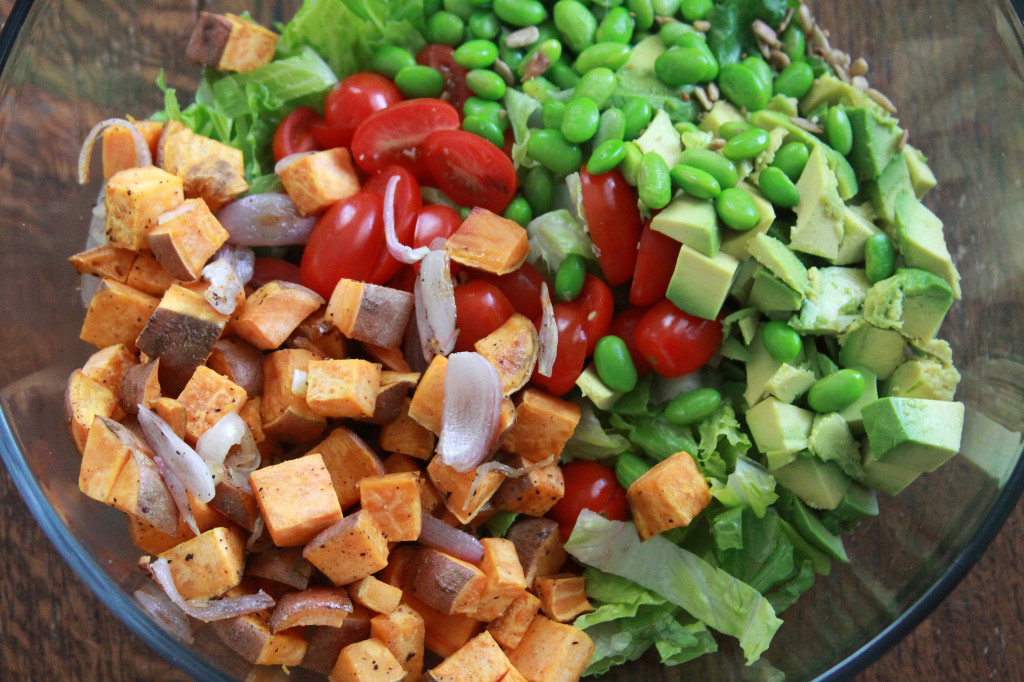 Lately, I've been trying to do a little bit more "organic" blogging and a little less blogging for the sake of blogging. Can we make the phrase "organic blogging" a thing? What I mean is this: Joe and I keep a pretty busy schedule. I don't mean to say we are too busy to enjoy life. In fact, a lot of the things that keep us occupied and busy are actually related to enjoying life and packing a lot of different things into a short amount of time.
A typical day consists of waking up and eating breakfast together, taking Nutmeg out and packing lunches to take to work. After work we both head straight to the gym and meet up there. I work closer to our gym so typically I get done before Joe gets done, giving me time to head home, shower and prep dinner. When Joe gets home he lets Nutmeg out and showers while I finish dinner. If we have dinner leftovers, I pack them up for our lunches the next day and Joe loads the dishes in the dishwasher. Then, we crash on the couch for a bit for some cuddle time with Nutmeg and a little bit of TV time before we head to bed. Some nights we have friends over for dinner, maybe once a week,
As you can see, our days are full of great stuff. And while I love blogging more than a lot of other things, it doesn't take precedence over my job, my hubby or getting in a good sweat session. So in the name of juggling it all I've been trying to find ways to integrate blogging into daily life. This salad is a great example of just that.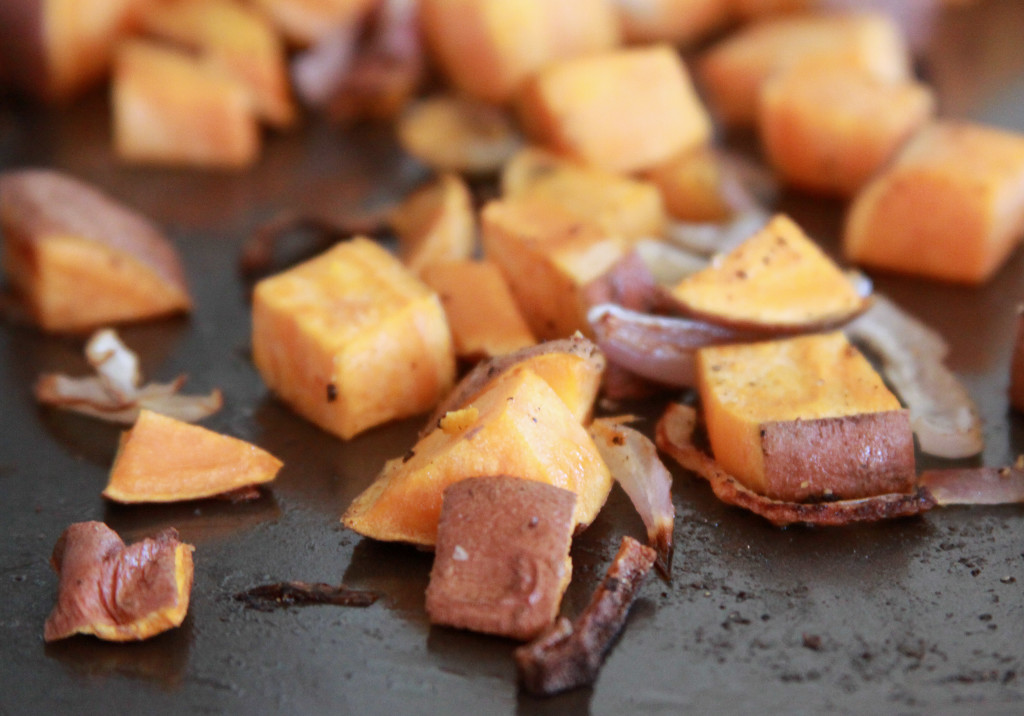 Last night when I got home from the gym, I pulled together this salad for dinner. It was incredibly easy and truly made sense for a weeknight meal. Since the days are getting longer and the temps are slowly rising, I've started to crave foods that are more summer-like in nature: salads, smoothies and chilled grain and pasta dishes. But since it's still not exactly balmy outside, my hankering for foods like roasted sweet potatoes hasn't completely disappeared.
The minute I walked in the door, I preheated the oven to 375F. I chopped the lettuce and tossed it in a bowl with avocado, sliced grape tomatoes, and edamame. Then, I chopped the sweet potatoes and shallots and put them in an oven with a little olive oil and salt. While they roasted, I jumped in the shower and unpacked my gym bag. Multi-tasking while making dinner? Major win in my book.
Joe and I fell in love with this dish from the first bite. Something about the crispy bits of onion and the charred ends of the sweet potato paired with the crisp lettuce, tomatoes and other toppings just hit the spot and made it hearty enough to serve as a main meal for dinner on a Tuesday night.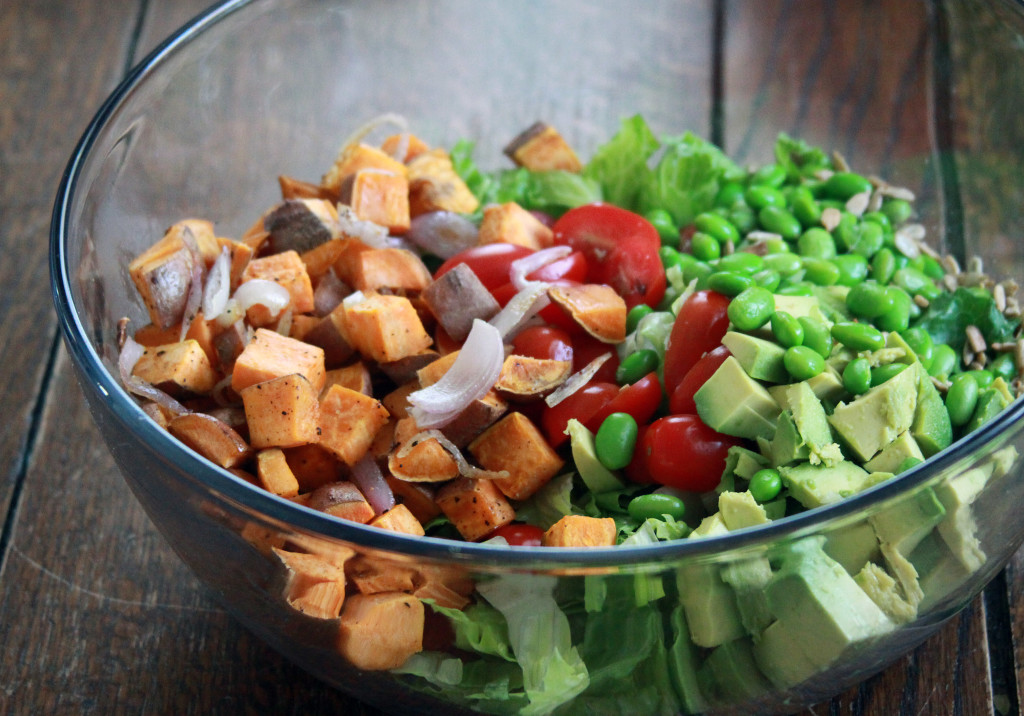 Roasted Sweet Potato Salad
Makes 2 to 3 large servings
Ingredients
*2 medium sweet potatoes, cubed
*2 medium shallots, sliced
*1 tablespoon olive oil
*1/2 teaspoon salt
*1/4 teaspoon ground black pepper
*1 head Romaine lettuce, chopped
*1 cup sliced grape tomatoes
*1 medium avocado, pitted, peeled and chopped
*1/2 cup shelled edamame
*1/4 cup sesame seeds
*Your favorite dressing to toss (we prefer Trader Joe's Spicy Asian Peanut Vinaigrette in this salad)
Instructions
*Preheat oven to 375F. Lightly toss sweet potatoes and shallots with onion and sprinkle with the salt and ground black pepper. Roast for 15 to 20 minutes, turning occasionally, until sweet potatoes and crisp on the outside and tender inside.
*Combine remaining ingredients in a large bowl. Once sweet potatoes are finished cooking, add them to the salad mixture and toss with dressing before serving.
Happy cooking!
Madison