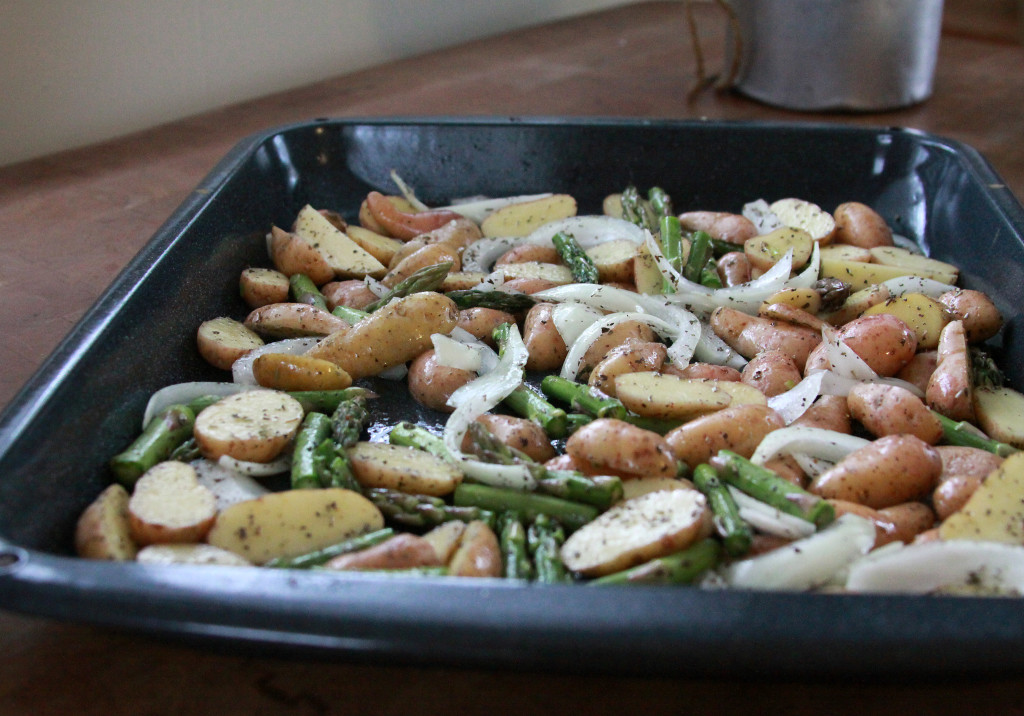 Well friends, Joe and I officially made it through an entire week of our yoga cleanse! I know I created an entire blog for the sole purpose of not talking at length about the cleanse on Espresso and Cream, but that's becoming more difficult than I had expected. Since our new way of eating (no gluten, animal products, processed sugar, alcohol or caffeine) is permeating everything we do and all the food I make, the recipes that I share on Espresso and Cream over the next two weeks will most likely reflect the meals that Joe and I have been enjoying on the cleanse.
At this point, I can't imagine baking up treats that we can't enjoy. I'm afraid the temptation would be a little too much to handle at this point. Although I don't miss gluten or animal products much at all, I would kill for a piece of dark chocolate right about now. And maybe a cup of coffee, too!
This roasted potato and asparagus dish Joe and I ate for dinner last week was one of my favorite meals of the week! Probably because it was incredibly easy, but also because it was filling and satisfying, too. In order to make it a little more balanced, I added in some cubed seasoned and marinated tofu before serving. And although Joe is still not a huge fan of tofu, he still ate it when it was mixed with all these other flavorful roasted veggies.
My mom has been in town this weekend and we haven't stopped going all weekend! I think that may be why it's 8 pm and I'm already about to crash and head to bed. I hope you all had a wonderful weekend and are ready for a great week to come!
Roasted Potatoes, Asparagus and Onion with Rosemary 
Makes 2 to 3 servings
Ingredients
2 pounds Trader Joe's Teeny Tiny Potatoes (you could also use fingerling potatoes)
1 bunch asparagus spears, ends trimmed
1/2 medium yellow onion, thinly sliced
2 to 3 tablespoons olive oil
2 teaspoons dried rosemary
1/2 to 3/4 teaspoon salt
1/4 teaspoon ground black pepper
Directions
Preheat oven to 400°F. Cut potatoes in half lengthwise; cut asparagus into bite-sized pieces.  Place potatoes, asparagus and onion in a large roasting pan. Drizzle with the olive oil and sprinkle with the rosemary, salt and pepper. Toss to coat evenly.
Roast for 15 to 25 minutes or until potatoes and onions are golden brown and asparagus are tender. Serve immediately. (Also: highly recommended to serve this dish with a little salsa on the side.)
Happy Cooking!
Madison