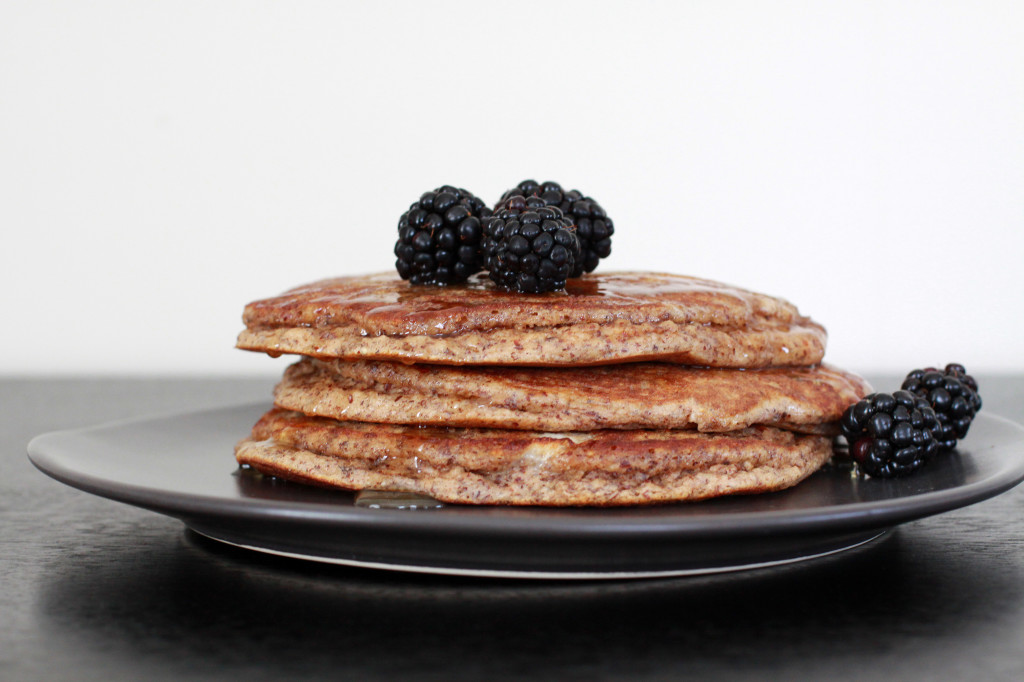 Breakfast is my carb meal. Most mornings I find myself plopped down at my kitchen table with a bowl of oatmeal, breakfast farro, or toast with peanut butter and bananas. Aside from a short and very dark period in high school when I cut out all carbohydrates and ate nothing but meat and vegetables (no butter, oil, condiments, or sauces allowed!) until I almost passed out at band camp (don't judge, band was cool), I've always believed that healthy carbohydrates have a place at the table.
Despite my best attempts, I have never been able to develop a love for eating eggs, especially not first thing in the morning. Now and again I'll order eggs while eating out, but I hardly ever eat eggs for breakfast at home. From a nutritional perspective I love what eggs have to offer and the fact that they are packed with protein. So when I finally settled on a recipe for almond flour pancakes that suited my carb-loving breakfast style while being packed with eggs, I feel in love. I believe that, technically, these pancakes would also be considered paleo (paleo friends, correct me if I am mistaken!) though that wasn't my mission in creating these pancakes. What I was going for was a hearty, filling and protein-packed breakfast that would leave me full and satisfied for hours. Mission accomplished.
A few notes about the pancakes:
-The flavor of the pancakes is pretty spot-on with traditional pancakes. The almond meal does not give much almond flavor to the end product. However, the texture is a bit different. The almond meal (and lack of gluten) prevents the pancakes from having very much chew to them. They stay quite soft no matter how long you cook them.
-I was pleased with the way they held together in the pan while cooking. I didn't have any issues with the pancakes falling apart while I was cooking and flipping the pancakes.
-A single pancake (about 1/3 cup of batter) seemed to be enough for me for breakfast when topped with some peanut butter and banana. However, if you want a very decadent and large breakfast for multiple people, I would plan on two pancakes per person.
-It's important to spread the pancake batter out slightly when you first pour the batter into the pan. The batter won't spread much on its own like a typical pancake might.
Almond Meal Pancakes
Makes 3 Pancakes
Ingredients
2 large eggs, lightly beaten
3 packets stevia natural sweetener or 1/4 cup granulated sugar
1/4 cup non-dairy milk or milk (I use almond milk)
1/2 teaspoon cinnamon
1/2 teaspoon baking soda
1 cup almond meal (I buy mine from Trader Joe's)
Directions
1. In large bowl, whisk together the eggs, stevia, milk, cinnamon and baking soda until well combined. Stir in the eggs and beat until well combined.
2. Heat a little butter in a large nonstick skillet over medium heat. Spoon batter, 1/3 cup at a time, into skillet. Spread the batter out slightly to form a 5-inch circle. Cook for 2 to 3 minutes or until edges are set and the center bubbles slightly. Flip and cook 2 to 3 minutes more.
3. Serve with butter, syrup, fruit or peanut butter.
Happy Cooking!
Madison