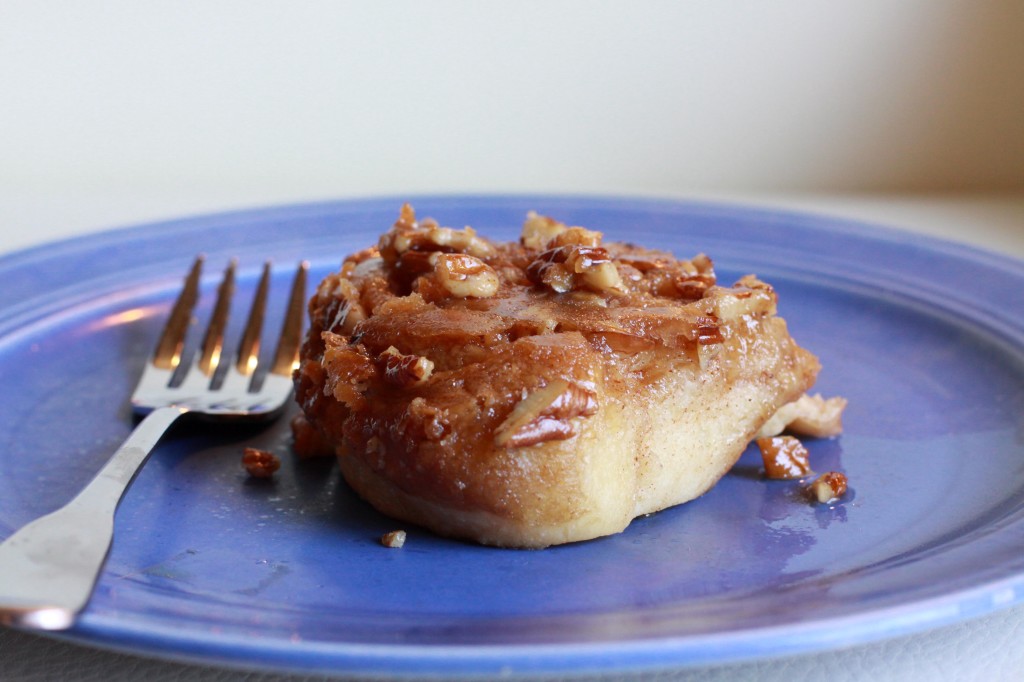 One of the recipes I've most wanted to master over the past couple years has been a gooey, caramel sticky roll. Everything from the way they look coming out of the oven to the amazing, gooey texture and caramel flavor pulls me in. It's not exactly a post-holiday detox recipe, but my husband loves them and he's not one for detoxes of any sort.
For years, I've heard wonderful things about The Pioneer Woman's recipe for cinnamon rolls. I've watched her step-by-step instructions and felt excited to make the rolls, only to realize that the recipe makes a whole lot of cinnamon rolls. We are talking dozens upon dozens of rolls. Since I don't live on a ranch with a bunch of hungry cowboys, I really have no need for dozens of cinnamon rolls. Which is what deterred me from ever giving the recipe a go. But a couple weeks ago, I decided not to let the large recipe drive me away anymore.
I scaled back the recipe to serve half as many rolls as the original recipe served, and instead of topping the rolls with maple frosting, I turned these beauties into caramel rolls with a gooey caramel-pecan topping that is as close to heaven on a plate as you can get.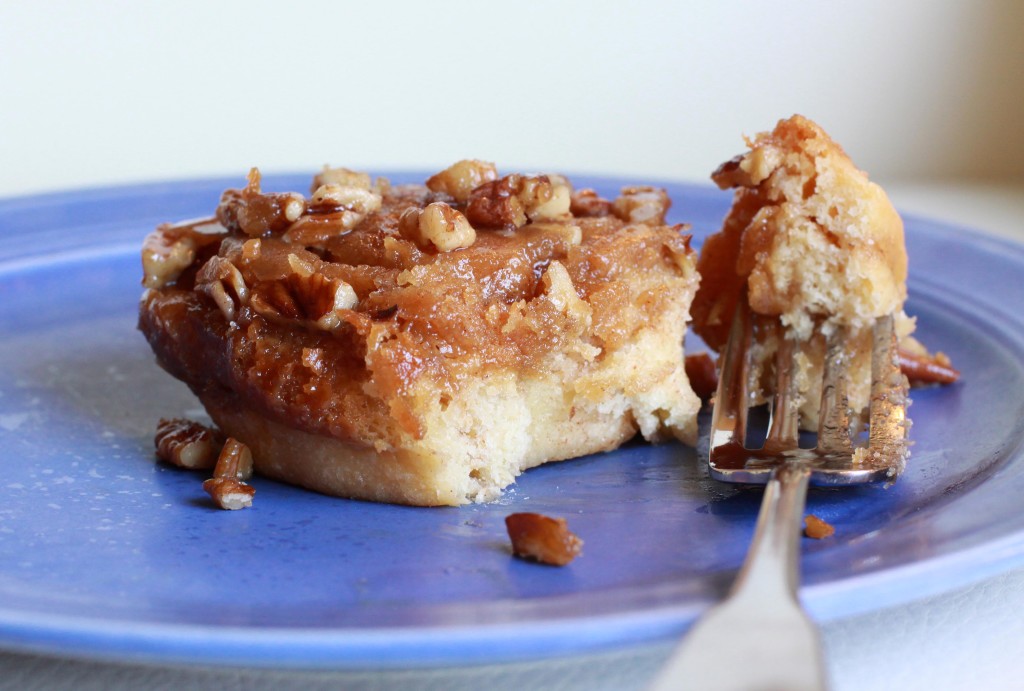 Joe said that these rolls were the best he has ever had. And coming from Joe, that is saying quite a bit. On Sunday, he at 5 (!!) in a single day. And while the nutritional analysis of this recipe isn't going to impress anyone, the flavor and ease of the recipe certainly will.
Caramel-Pecan Sticky Rolls
Recipe adapted slightly from The Pioneer Woman's Cinnamon Rolls
Ingredients
*1 cup milk
*1 cup heavy cream
*1/2 cup vegetable oil
*1/2 cup granulated sugar
*1 packet instant yeast (such as Red Star Platinum Yeast)
*5 to 6 cups all-purpose flour
*1/2 teaspoon baking powder
*1/2 teaspoon baking soda
*1 teaspoon salt
Filling
*1/2 cup (1 stick) butter
*1 cup granulated sugar
*2 tablespoons ground cinnamon
Caramel-Pecan Topper
*1/3 cup butter, melted
*1/2 cup brown sugar
*1/2 cup pecans
*1 tablespoon corn syrup
Instructions
*In a large nonstick stock pot over medium heat, combine the milk, cream and vegetable oil, stirring frequently. Bring to just below a simmer and remove from heat. Cool until the mixture is warm but not hot (120°F to 130°F). Sprinkle the yeast atop the mixture and allow the yeast to dissolve for 1 minute. Stir the yeast in with a wooden spoon. Stir in 4 cups of the flour with the wooden spoon until the mixture forms a sticky dough. Cover with a towel and allow to rise in a warm, draft-free place for 1 hour.
*Once dough has risen for 1 hour, remove towel and add in an additional 1 cup of the flour, the baking soda, baking powder and salt. Stir in with the wooden spoon and work remaining flour in with your hands. Transfer dough onto a work surface and knead with your hands for 3 to 4 minutes, adding additional flour (up to 1 cup) as needed to reach a smooth, elastic consistency. The dough should still be soft but just shy of sticky.
*Roll dough onto a lightly floured surface into a very large rectangle. The dough should be thin (about 1/3-inch thick).
*Spread rectangle with the melted butter, leaving a 1-inch border around all the edges. Combine the sugar and cinnamon and sprinkle evenly atop the butter. Roll the dough up from one long side until the dough forms one large log. Seal the long edge with your fingers.
*Cut dough into rolls, about 1-inch thick. Should make 18 to 22 rolls.
*Preheat oven to 350°F.
*In a small bowl, combine the butter, brown sugar, pecans and corn syrup for the filling. Stir until well combined. Spoon mixture into a large 13×9-inch baking pan, spreading evenly to coat the surface. Place rolls (fairly close together) in the baking pan atop the pecan mixture. Cover rolls and allow them to rise for 30 minutes more.
*Bake in the oven for 18 to 20 minutes (you don't want the rolls to brown very much but want the centers of the rolls to be cooked). Remove from oven and cool slightly before serving.
Happy Baking!
Madison