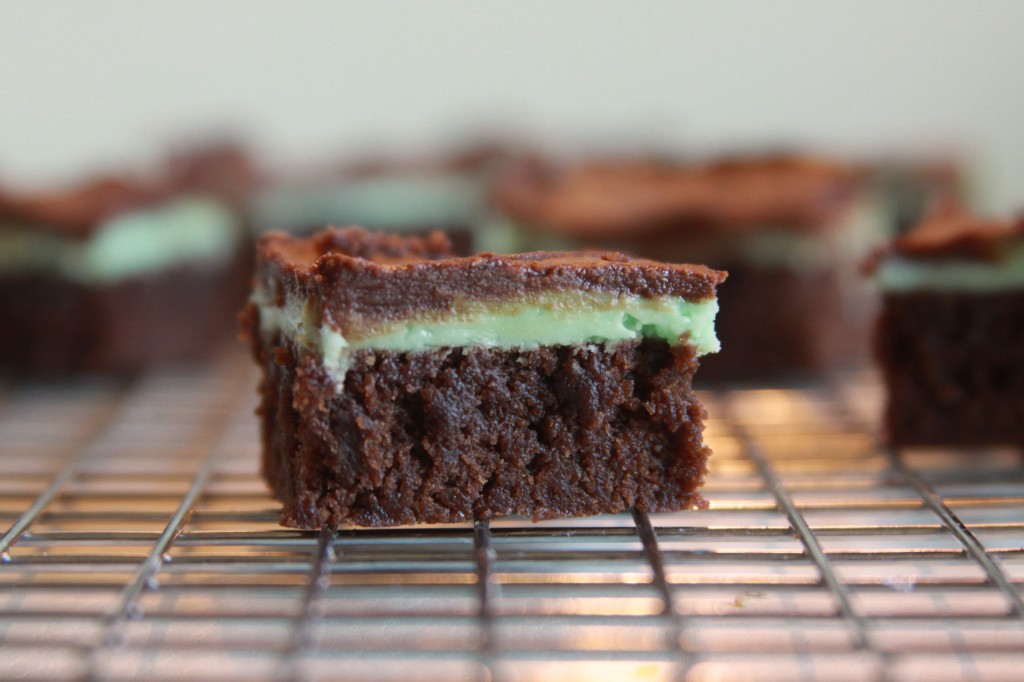 If you guys are anything like me. you have probably been waiting to do your Christmas baking until a few days before Christmas. I waited until Christmas break began before I really started any Christmas baking, meaning yesterday morning my kitchen was in complete disarray. The bonus of all this mess was the fact that I had a lot of tasty sweets to show for my efforts. So if you are anything like me and are looking for some super tasty treats to prepare for friends and family, I've got you covered.
These Chocolate-Mint Layer Squares were my absolute favorite new recipe I tried. I've had them before on cookie trays prepared by others, but have never made them myself. Don't be intimidated by the fact that you have to make three separate layers in the process. The squares are actually incredibly easy to make and worth the effort.
Chocolate-Mint Layer Squares
Recipe from Christmas Cookies by Oxmoor House
Ingredients
*2 (1-ounce) squares unsweetened chocolate
*1/2 cup butter
*2 large eggs
*1 cup sugar
*1/2 cup all-purpose flour
*1/2 cup chopped walnuts or pecans (optional)
*1 1/2 cups sifted powdered sugar
*3 tablespoons butter, melted
*3 to 4 tablespoons whipping cream
*3/4 teaspoon peppermint extract
*2 drops green food coloring
*2 ounces milk chocolate chips
*2 tablespoons butter
*1 teaspoon vanilla extract
Instructions
*Melt unsweetened chocolate and 1/2 cup butter in top of a double boiler over simmering water; cool.
*Combine eggs and 1 cup sugar, beating until light and fluffy; stir in flour, walnuts or pecans, and cooled chocolate. Spread mixture in a greased 9-inch square baking pan. Bake at 350°F for 25 minutes. Cool in pan on wire rack.
*Combine powdered sugar, 3 tablespoons butter, whipping cream, peppermint extract and green food coloring. Beat until smooth. Spread evenly over baked brownie layer. Cover and chill until firm.
*Melt milk chocolate and 2 tablespoons butter in top of a double boiler over simmering water; stir in vanilla and spread over peppermint layer in a thin even layer of chocolate. Cover and chill 1 hour until firm. Cut into 1-inch squares. Makes 2 dozen squares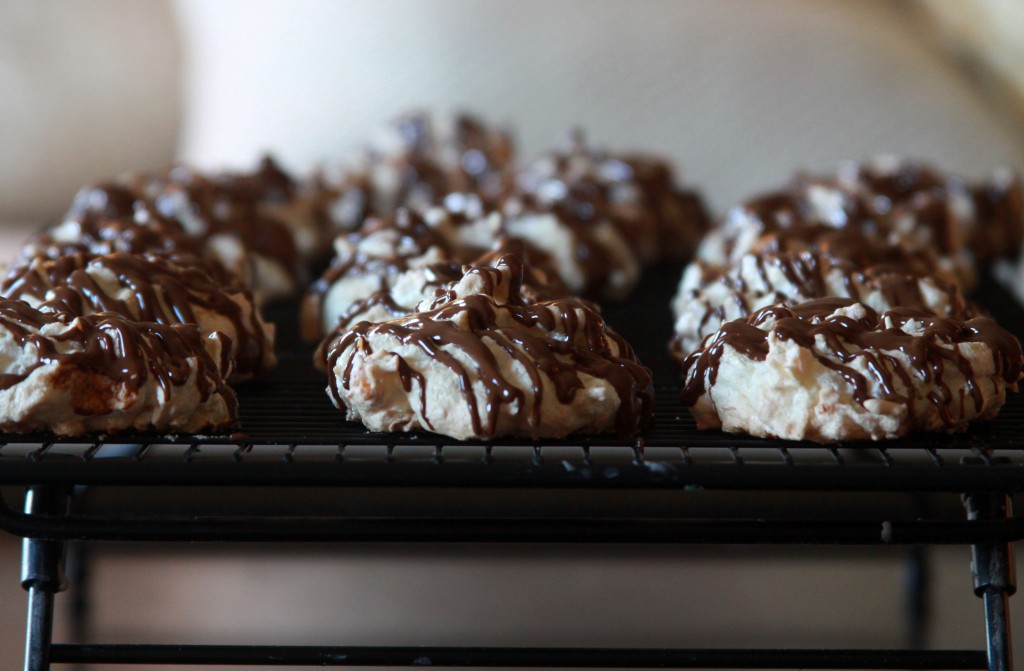 I also attempted homemade Coconut Macaroons for the first time this Christmas. Coconut Macaroons have always been a favorite of mine because I can't get enough coconut in all shapes and forms. These cookies are a combination of chewy and sweet and don't weigh you down too much, even if you eat a couple. Not that I would know.
Coconut Macaroons
Ingredients
*4 egg whites at room temperature
*Dash of salt
*1 cup sugar
*1 teaspoon vanilla extract
*3 cups flaked coconut
*1/2 cup milk chocolate chips, melted
Instructions
*Beat egg whites and salt in a medium mixing bowl until foamy and tripled in size. With the electric mixer running, gradually add sugar and vanilla, beating until stiff peaks form. Fold in coconut.
*Drop mixture by heaping tablespoons 2 inches apart onto parchment lined cookie sheets. Bake at 350°F for 15 to 20 minutes. Remove from oven and place cookie sheets on a damp cloth or a few seconds. Remove macaroons to wire racks to cool. Drizzle with the melted milk chocolate. Makes 2 dozen
Merry Christmas, friends!
Madison