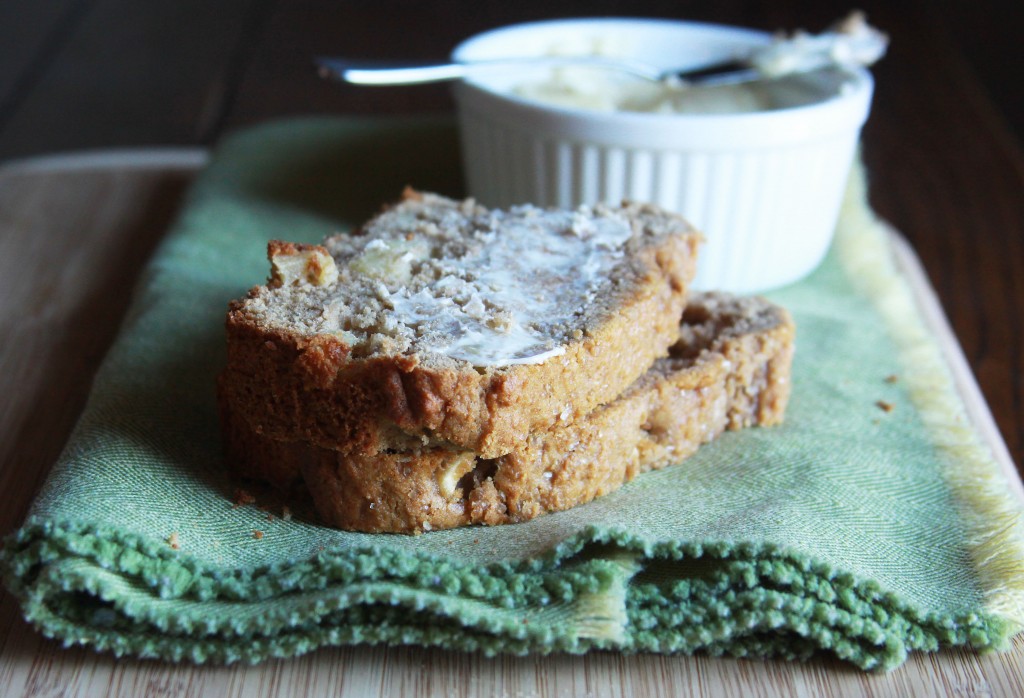 I'm back with yet another recipe for quick bread. But this time I've mixed things up and used something other than pumpkin or banana. Since apples are as good as they get around this time, I figured it was overdue to make a cake with applesauce and chunks of fresh apple. It's almost as good as enjoying a slice of apple pie, only a lot healthier and a whole lot easier.
I based this recipe off Jenna's recipe for Whole Wheat Applesauce Loaf Cake. Her version looked amazing, and I've had it pinned on Pinterest for the longest time. But since I was hoping to enjoy this for breakfast, I decided to cut back on the sugar and leave off the cream cheese frosting. But if you're looking to make things a little sweeter and more decadent, hop on over to Jenna's site for the frosting recipe. I also added in a bunch of chopped apples, which gives this bread a rustic, hearty texture and appeal.
Like all quick breads in our house, this one didn't last long. I ate it every morning for breakfast until it was gone, and I think I'll be making another loaf this weekend, it's just that good.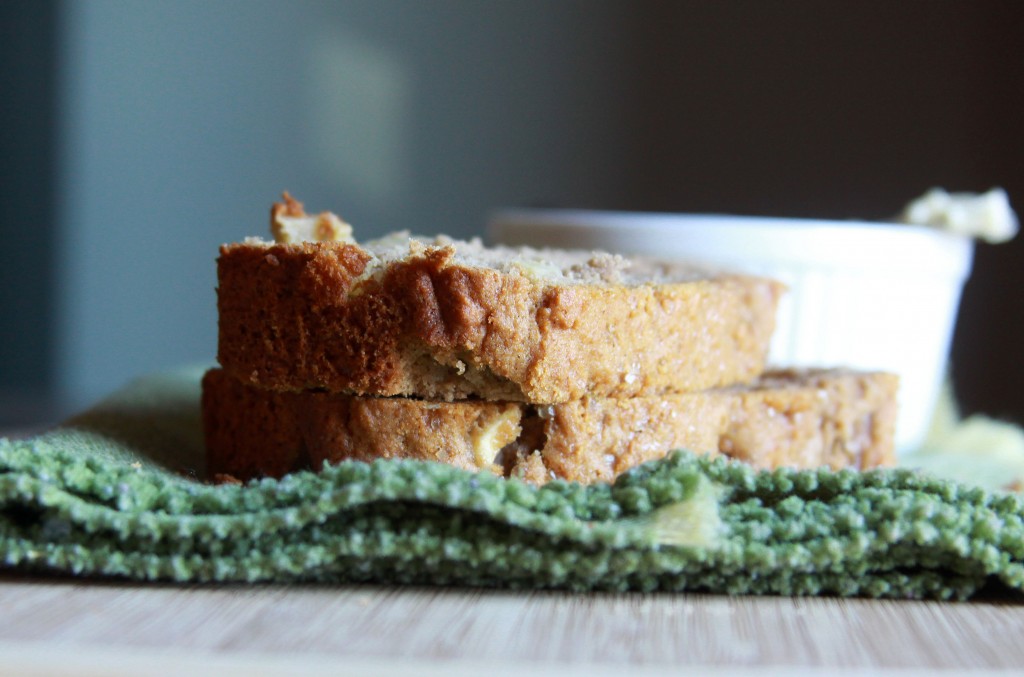 Whole Wheat Cinnamon Applesauce Bread
Adapted slightly from Eat Live Run's Whole Wheat Applesauce Loaf Cake
Ingredients
*1/2 cup sugar
*1 stick butter, softened
*1 large egg
*2 cups whole wheat flour or whole wheat pastry flour
* 1/2 teaspoon salt
*1/2 teaspoon baking soda
*3 teaspoons baking powder
*1 1/2 teaspoons ground cinnamon
*1 cup applesauce, unsweetened
*1/2 cup peeled, chopped apples
*1 tablespoon coarse sugar
Instructions
*Preheat oven to 350°F. Lightly grease and flour a 9×5-inch loaf pan. Set aside.
*In the bowl of an electric mixer, beat together the sugar and butter and cream together until smooth and fluffy, about 2 to 3 minutes. Add in the egg and beat until well combined.
*In a second bowl, combine the flour, salt, baking soda, baking powder and cinnamon. Stir until well combined. Add the flour to the wet ingredients, along with the applesauce. Beat until just combined. Stir in the chopped apples by hand. Transfer batter into prepared loaf pan and top with the coarse sugar. Bake for 1 hour, or until a toothpick inserted in the center comes out clean. Cool for 5 minutes in the loaf pan. Transfer to wire rack and cool completely.
Happy Baking!
Madison