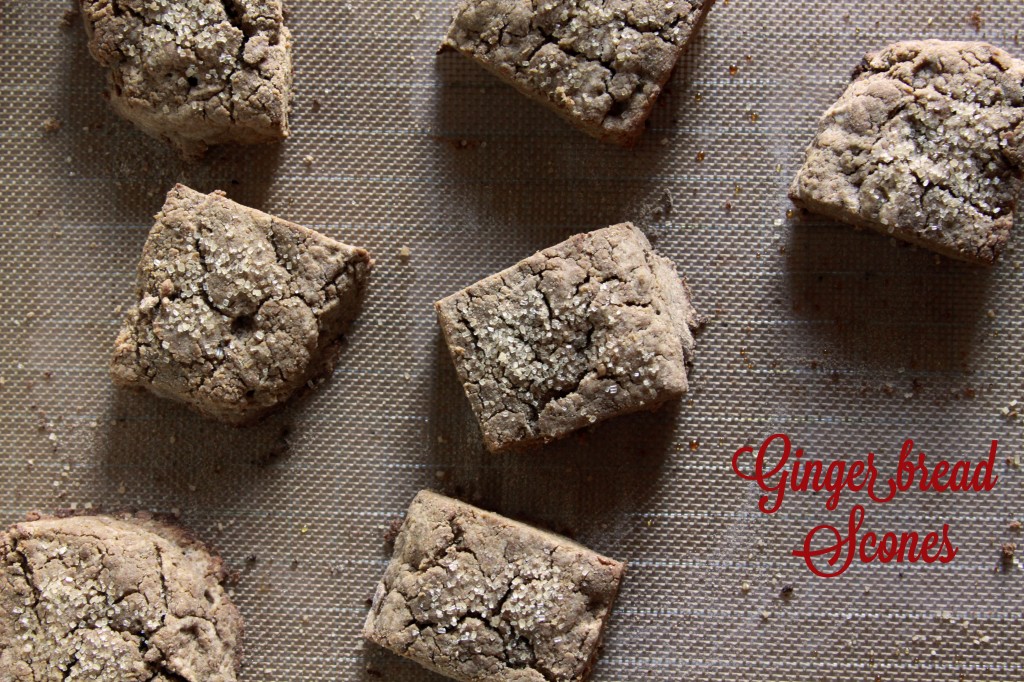 I'm back! I hope you all had a wonderful Thanksgiving and did not count a single calorie over the last four days. It felt good to take a little break from blogging and enjoy some much needed down time with family over the Thanksgiving weekend. Joe and I headed home on Wednesday afternoon and split our time between his parent's house and my mom's house. And aside from making two pies (Chocolate Tofu and Pumpkin) I did very little cooking and a lot of eating.
Now that Thanksgiving is behind us, I think it's safe to introduce a few recipes that incorporate Christmas flavors, like gingerbread, right? I made these amazing Gingerbread Scones a few weeks before the Thanksgiving break and can't wait to make another batch now that we are back at home. I consulted none other than my favorite cookbook, The Ultimate Southern Living Cookbook, for a recipe. Once again, my trusty cookbook came through big time. These scones are bursting with holiday flavor thanks to a hefty dose of cinnamon, ginger and molasses without being overpoweringly sweet. And the extra sprinkle of coarse sugar on top adds a festive sparkle.
If you're planning on having friends over for brunch or coffee this month, these scones would be the perfect treat to serve. Perhaps alongside a homemade eggnog latte? I have yet to find a recipe that I'm in love with, but I'm hoping to find one to share in the weeks to come!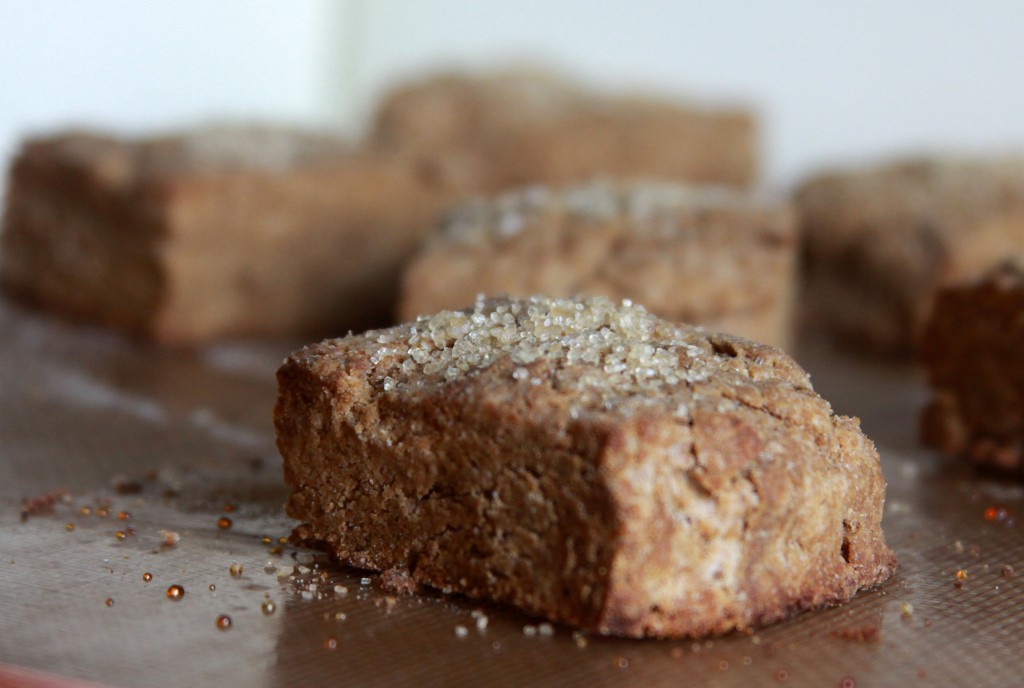 Gingerbread Scones
Recipe just slightly adapted from The Ultimate Southern Living Cookbook
Ingredients
*2 cups whole wheat flour
*2 teaspoons baking powder
*1/4 teaspoon baking soda
*1 teaspoon ground ginger
*1 teaspoon ground cinnamon
*1/2 cup unsalted butter, cut into pieces
*1/3 cup molasses
*1/3 cup milk
*1/4 cup coarse sugar (optional)
Instructions
*Preheat oven to 425°F. Line a baking sheet with parchment or a nonstick baking mat, such as a Silpat. Set aside.
*In a large bowl, combine the flour, baking powder, baking soda, ginger and cinnamon. Stir until well combined.  Add butter to flour mixture and blend with a pastry blender until a coarse meal forms and butter pieces are the size of peas.
*In a smaller bowl, combine the molasses and milk. Stir until well combined. Add the wet ingredients to the dry ingredients and stir until combined. Knead mixture with your hands 4 or 5 times. Mixture will be fairly dry/crumbly. Turn onto the counter and shape into a rectangle about 1/2 to 3/4 inch thick. Cut into 8 squares. Place on baking sheet and sprinkle with the sugar. Bake for 10 to 12 minutes, until the scones are cracked on top and golden brown around the edges. Cool slightly on baking sheet.
Happy Baking!
Madison