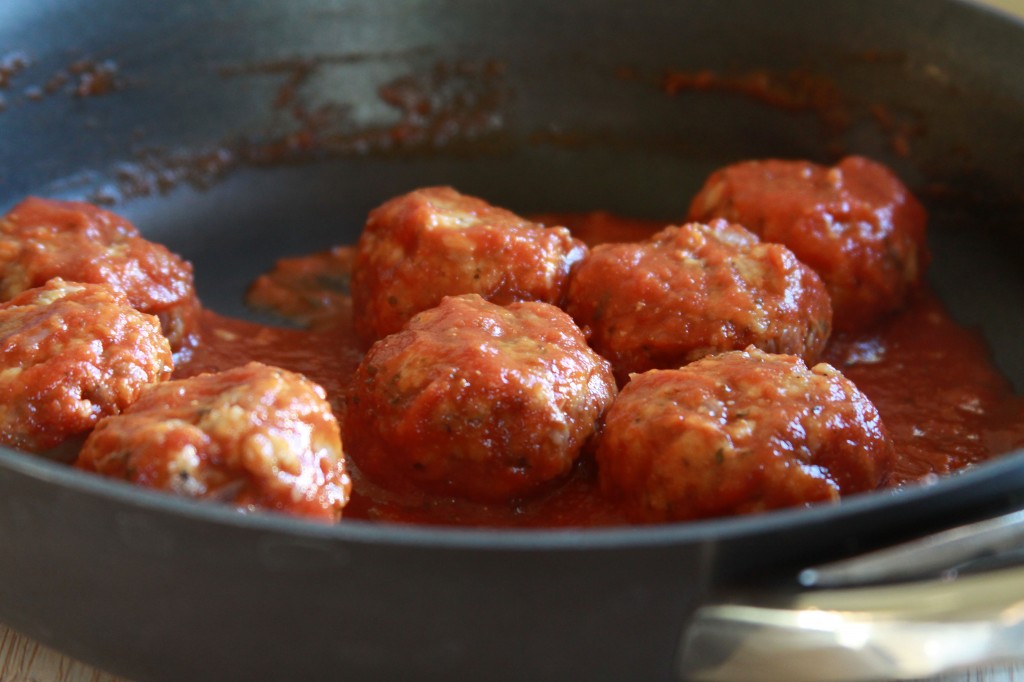 Lately, I've fallen into a bit of a cooking rut. It's not that Joe and I have been eating takeout every night, but I haven't really been cooking anything interesting. Most nights, I find myself falling back on easy staples like roasted veggies, baked chicken breasts for Joe, and some whole grain, such as quinoa, whole wheat pasta or brown rice. Tasty? Sure. But I've hardly been pushing myself out of my culinary comfort zone.
This week, I set out on a mission to get back on my cooking game by making our meals from real, actual recipes. Beef stew and biscuits one night, sweet potato and black bean enchiladas another. It's amazing how putting a little extra effort into meal planning can have incredibly tasty results. But the recipe I was most excited to try was a recipe I found on Cooking Canuck's site for Cannellini Bean "Meatballs" made with beans, bread crumbs and Italian herbs.
I tweaked the recipe slightly to suit the ingredients I had in my pantry, and added a little bit of grated Parmesan cheese to the mix, too, since I don't think adding cheese is ever a bad decision. And although Joe was pretty skeptical of the recipe while it was cooking, he was pleasantly surprised with the end product. I don't think anyone will be fooled into thinking these are actual meatballs, but once they are tossed with marinara sauce and served over whole wheat pasta it creates an incredibly satisfying, flavorful dinner that will keep you full for hours.
We had quite a few leftover "meatballs" and I found that they heat well in the microwave for lunch the next day or dinnertime leftovers. The second time around, I served them alongside a bowl of roasted Brussels sprouts. So tasty!
Vegetarian "Meatballs" with Spaghetti
Inspired by Cooking Canuck's Bean Balls
Ingredients
*2 1/2 cups canned white beans, drained or cooked dried beans (such as cannellini beans or my new favorite, cranberry beans)
*3 cloves garlic, minced
*1/2 medium yellow onion, grated
*1 1/2 teaspoons dried Italian seasoning
*1/2 cup Panko bread crumbs
*1 large egg, lightly beaten
*1/8 cup grated Parmesan cheese
*1/2 teaspoon kosher salt
*1/4 teaspoon ground black pepper
*1 1/2 cups marinara sauce
*Whole wheat angel hair pasta (enough to serve 4)
Instructions
*In the bowl of a food processor, combine the beans and garlic and process with on-off turns until beans are broken up and begin to hold together but are not so processed that they form a paste. Transfer bean mixture to a mixing bowl and add in the onion, Italian seasoning, bread crumbs, egg, Parm, salt and pepper. Stir until well combined.
*Preheat oven to 375°F. Line a baking sheet with parchment or lightly grease with nonstick cooking spray. Scoop bean balls by heaping tablespoons and shape into circles with your hands, about 2-inches in diameter. Place balls on the baking sheet and bake for 12 to 15 minutes, until golden brown and crisp around the outside. Remove from oven. Toss with warmed marinara sauce and serve atop whole wheat angel hair pasta. Makes 4 servings
Happy Cooking!
Madison