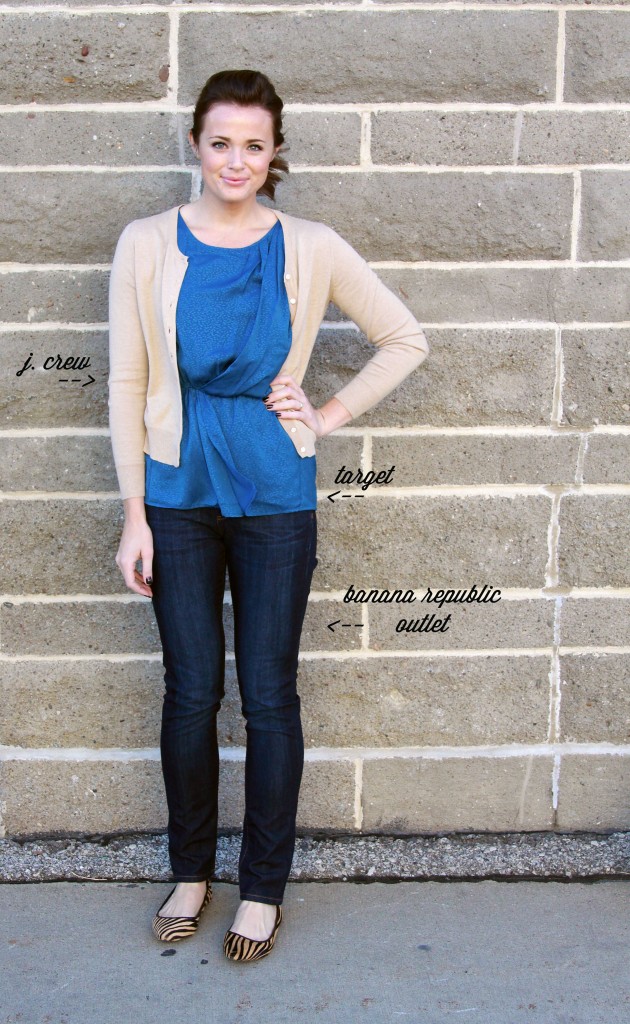 jeans: banana republic outlet premium denim skinnies | shoes: banana republic outlet | shirt: target | cardigan: j. crew
Ladies, let's talk about shopping for jeans. I know, some of you might be groaning at the thought of shopping for new jeans after wearing skirts and dresses all summer, but I've got good news. Last weekend I discovered flattering, comfortable and affordable jeans. I think Banana Republic Outlet should start sponsoring my posts (the don't, just to be clear) with the number of times I talk about clothes I've purchased there, and these jeans are no exception.
I've never been a huge fan of Banana Republic denim, but the Premium Denim Skinny Jeans at the BR Outlet are my new favorite find. They're flattering for us women with athletic thighs and aren't too skinny at the bottom. But the best part is that they only set me back about $40. Crazy, right? Finding good jeans for under $50 counts as a major deal in my book.
Another great find this past weekend came from Target. Since the nearest Target is now an hour away from our house (a great thing for my bank account) I don't get there often. Browsing the clothing section last week was like Christmas morning. I had my eye on a similar style top from J. Crew a few weeks back, so when I found this similar version at Target for $20, I couldn't resist.
Madison