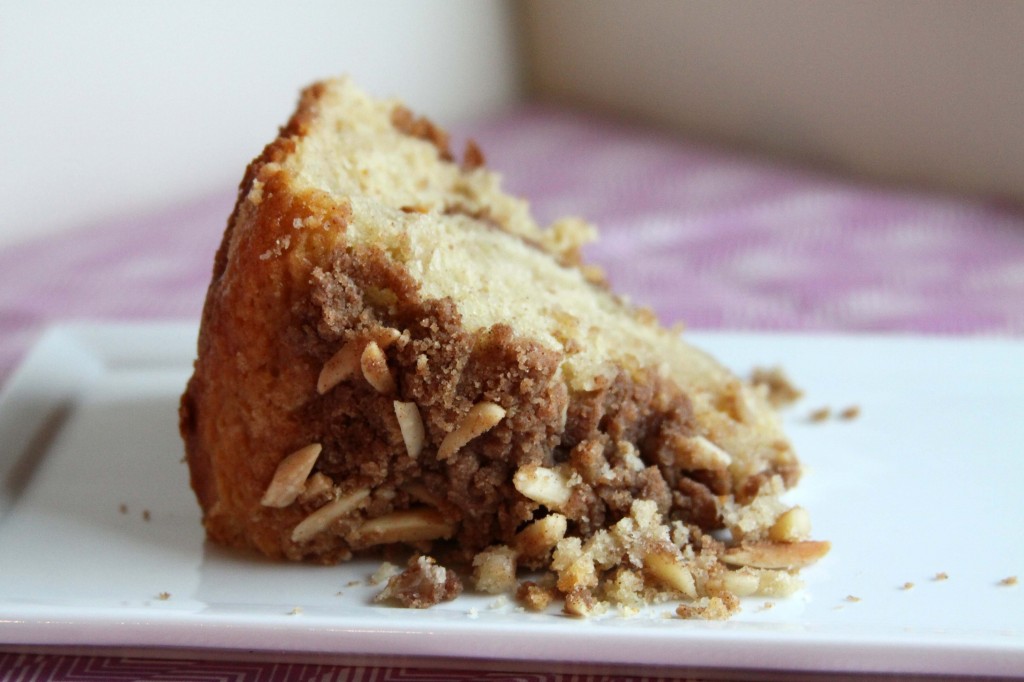 I can't believe I'm writing this, but this week, Espresso and Cream turns 3! It's amazing (and a little cringe-worthy) to look back at posts from three years ago and think about all the life that has been lived and documented on these pages in the past three years. When I started writing this little blog, I was getting ready to enter my senior year in college and unsure what I was going to do after graduation. I've since graduated, gone through a season of uncertainty with my career, landed a full time job, dated and married my husband, added a furry member to our family and eaten a lot of amazing food along the way. To all of you who have been reading, especially those who were reading when I didn't think anyone was during those beginning months, thank you! Your e-mails, tweets and comments make blogging so much fun and I've made so many great friends along the way.
In celebration of three years of blogging, I've baked you a cake. A coffee cake to be exact. And what goes better with coffee cake than a $100 J. Crew gift card, right? It probably comes as a surprise to no one that I have an undying love for J. Crew, and as fall approaches I thought some of you might be looking to add a few new items to your wardrobe. The giveaway is open between now and Thursday, August 16th at 10 p.m. and I'll be announcing the winner on Friday.
You have two chances to enter:
1. Leave a comment below telling me what you're looking forward to most about this fall.
2. Tweet about the giveaway (and leave a separate comment telling me that you Tweeted about it)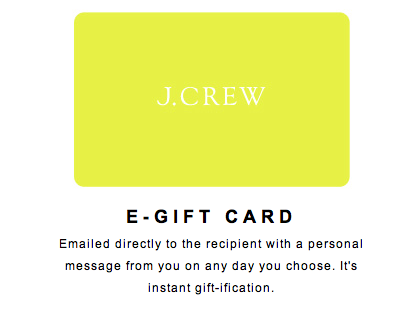 A week ago, Joe asked if I would mind making a coffee cake for him to have with breakfast sometime soon. I couldn't remember the last time I made a coffee cake, and I don't think there is a recipe on the site, so I was more than happy to oblige. Turns out, I found it incredibly hard to find a basic coffee cake recipe in any of the cookbooks I own. Eventually, I found this recipe from Ina Garten for her sour cream coffee cake. It's a basic recipe, which is exactly what Joe requested, with a cinnamon sugar streusel in the center and atop a moist sour cream cake. I would make this cake again in a heartbeat, as a casual treat for Joe or to share with company. Though if it were up to me, I might stir some fresh raspberries into the batter for an extra kick.
The Barefoot Contessa's Sour Cream Coffee Cake
From All Cakes Considered by Melissa Gray
Ingredients
For the Cake:
*1 1/2 sticks unsalted butter, softened
*1 1/2 cups sugar
*3 extra-large eggs
*1 1/2 teaspoons vanilla extract
*1 1/4 cups sour cream
*2 1/2 cups cake flour
*2 teaspoons baking powder
*1/2 teaspoon baking soda
*1/2 teaspoon salt
For the Streusel
*1/4 cup light brown sugar
*1/2 cup all-purpose flour
*1 1/2 teaspoons ground cinnamon
*1/4 teaspoon salt
*3 tablespoons butter, cut into pieces
*3/4 cup chopped almonds, walnuts or pecans
Instructions
*Preheat oven to 325°F. Grease and flour a 10-inch tube pan. Set aside.
*Cream together the butter and sugar in the bowl of an electric mixer with the paddle attachment for 4 to 5 minutes, until light and fluffy.
*Add the eggs, one at a time, then add the vanilla and sour cream.
*In a separate bowl, sift together the flour, baking powder, baking soda and salt. With the mixer on low, add the flour mixture to the batter until just combined. Finish stirring with a spatula to be sure batter is completely mixed.
*For the streusel, place the brown sugar, flour, cinnamon, salt and butter in a bowl and pinch together with your fingers until it forms crumbs. Mix in the nuts, if desired.
*Spoon half the batter into the pan and spread it out with a spatula. Sprinkle with 3/4 cup streusel. Spoon the rest of the batter in the pan, spread it out and scatter the remaining streusel on top. Bake for 50 to 60 minutes, until a cake tester comes out clean.
Madison's Note: I didn't have a 10-inch tube pan so I used a 9-inch deep-sided springform pan. I had to bake it for a little longer (maybe 70 to 75 minutes) and the center sunk a bit, but it still tasted great!
Happy Baking!
Madison