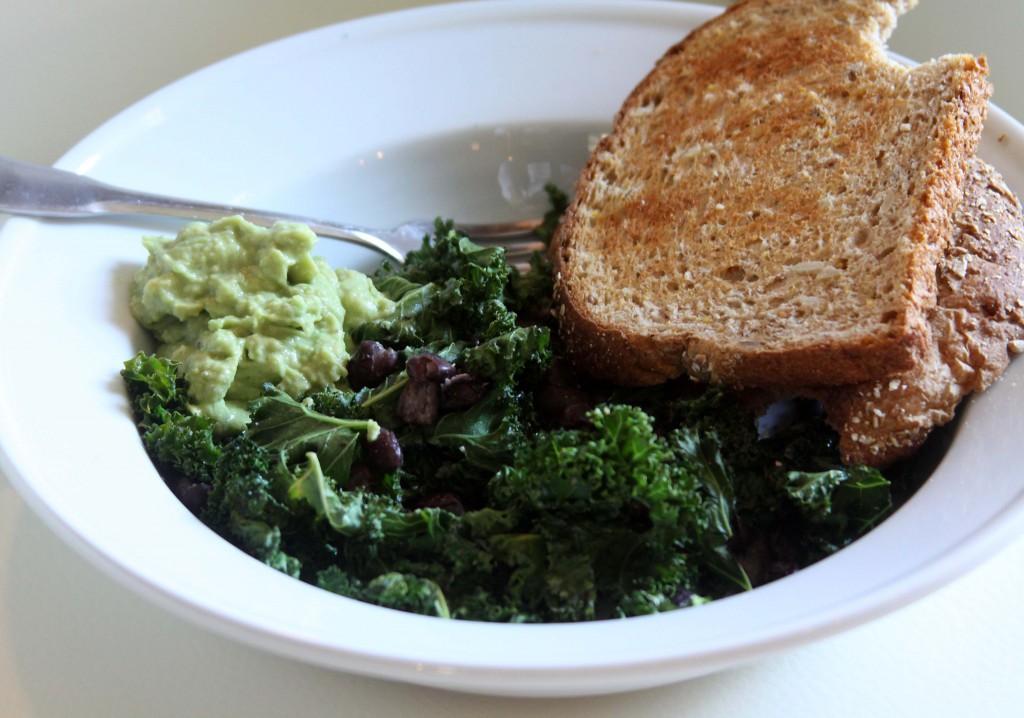 On the weekends or during the weekdays when I work from home, I try to put just a bit more effort into what I eat for lunch. Although lunch isn't my favorite meal of the day, it's most certainly the best time to pack a bunch of vegetables at one sitting. Since I'm 100% obsessed with kale these days (along with everyone else in the food world), we always have plenty on hand. Somewhere along the line, I convinced Joe of the beauties of kale, too. Hooray!
Although I like kale chips, I've found that in recent months I've grown fond of cooking it for a slightly shorter amount of time. The sweet spot, in my opinion, seems to be when the edges are just slightly crispy but the center still has a bit of chew to it. When it's cooked this way, it's amazing how easy it is to eat two or three cups of kale in a single sitting.
As far as nutritious lunches go, I'm not sure what's not to love about this bowl. Protein from the black beans, healthy fat from the creamy avocado dressing, and vitamins K, A, C and a host of flavonoids from the kale. For a full list of kale's nutritional properties, I've found this site to be helpful. And after reading more about kale, I'm pretty sure you won't be able to avoid eating this magical veg.
Kale and Black Bean Salad with Avocado-Caesar Dressing
Ingredients
*2 to 3 cups kale leaves, chopped and stems removed
*1/2 tablespoon extra virgin olive oil
*Kosher salt and ground black pepper
*1/2 cup black beans, rinsed and drained
*1/2 of a medium avocado
*Squeeze of lime juice
*1 tablespoon light Caesar dressing
*1 teaspoon Dijon mustard
*Buttered toast, optional but highly recommended
Instructions
*Preheat oven to 375°F. Toss the kale with the olive oil. Place on a baking sheet and sprinkle with salt and ground black pepper. Cook in the oven, stirring occasionally, for 5 to 8 minutes or until kale is softened and crispy around the edges but not crisp all the way through. During the last few minutes of cooking, add the black beans to the pan to warm them through.
*Meanwhile, in the bowl of a food processor, combine the avocado, lime juice, Caesar dressing and Dijon together and blend until nearly smooth. If you want the mixture to be of drizzling consistency, add olive oil until it reaches your desired consistency. I preferred to keep mine more spreadable, so I didn't add the olive oil. Serve the dressing with the kale and black beans. Serve with toast, if desired.
Happy Cooking!
Madison