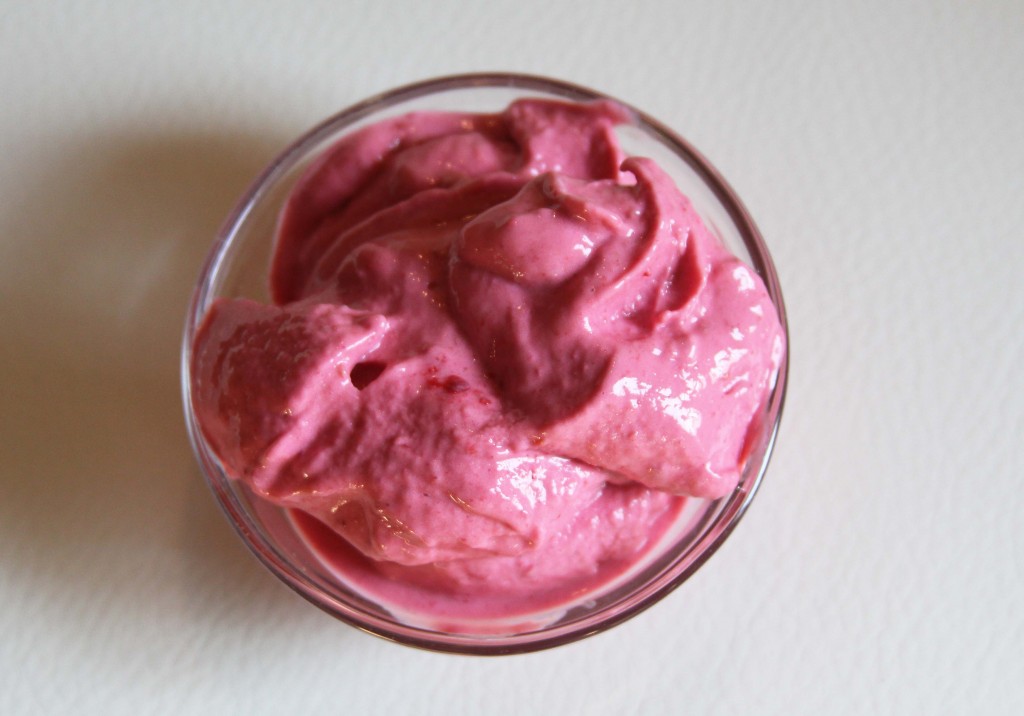 Has this week thrown anyone else off? Taking two days of vacation in the middle of the week seriously threw me for a loop. Yesterday, I spent most of the day thinking it was Monday. It got so bad that I missed my regular Thursday conference call because I truly thought it was Monday. Every time I remembered it was Thursday, it was a happy surprise. Since it's Friday, that means that Ice Cream Week on Espresso and Cream is coming to an end. Thank you all so much for your enthusiastic response and great feedback. Maybe we can have a comfort food week this fall? Mmmm.
While I love ice cream more than almost any dessert, sometimes I find portion control difficult. The typical 1/2 cup serving size just seems so small doesn't it? So when I want a big bowl of ice cream (I think the real question is when don't I want a big bowl of ice ream), I go with a recipe like this one.  Made with just three healthy ingredients, this recipe comes together in only a few minutes and doesn't require an ice cream maker. And while it's not as rich or decadent as cream-based ice creams, it's ultra refreshing and doesn't leave you with a sugar crash afterward.
A heads-up to those who want to serve this treat for a party or gathering: this mixture doesn't freeze well like traditional ice cream. When you first make the frozen yogurt, it's ultra creamy and smooth. You can place the fro yo in the freezer in an airtight container for 30 minutes to an hour and still maintain the smooth consistency, but after that the texture begins to change and get slightly icy. All the more reason to eat the entire batch on the spot, right? And with nutritional stats like those below, you totally can!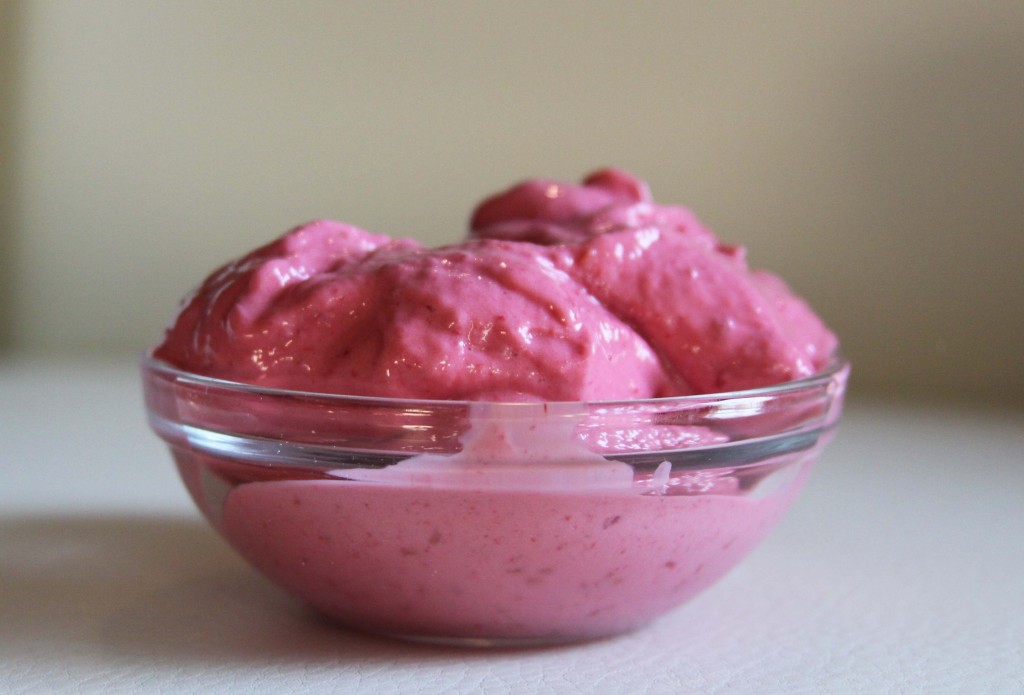 Healthy Raspberry Frozen Yogurt
Ingredients
*1 1/2 cups frozen raspberries (not thawed)
*1 cup 0% plain Greek yogurt (I used 0% Plain Chobani)
* 1 tablespoon granulated stevia (I used Truvia brand) natural sugar substitute
Instructions
*Place raspberries in the bowl of a food processor and blend for 30 seconds, until raspberries are blended into small even pieces. Add in the Greek yogurt and stevia. Blend for another minute, scraping down the sides a couple times, until mixture is smooth and creamy. Serve immediately. You can also place in an airtight container and freeze until you're ready to serve, but after 30 or so minutes, it won't maintain the same creamy consistency that it has when you first make it.  Makes 2 generous servings
Nutrition Facts per serving: 115 cal., 0.5 g fat (0 g sat. fat), 0 mg chol., 15.2 g carb., 6.3 g dietary fiber, 4.5 g sugar, 12.3 g protein
Happy Cooking!
Madison