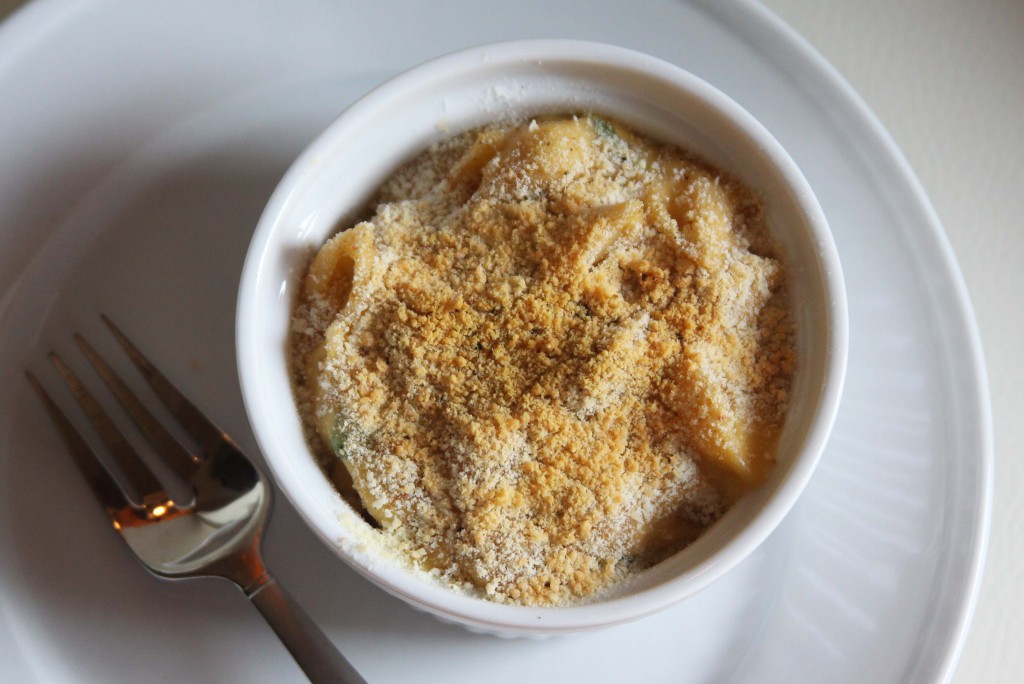 Last week, I took a day off from work to catch up on things around the house, work on the blog and take a little bit of time for me. It was blissfully relaxing, and since I have a few more vacation days than Joe does, it made sense. Joe happened to be having an office day on my day off, so I made lunch for him at the house. Joe is the ultra-sport when it comes to lunches. I'll admit that I often just throw a bunch of stuff together in a lunch box most days, and it's hardly a gourmet experience. Lots of sandwiches and leftovers. So as a little treat, I decided to make him homemade mac and cheese.
I don't usually indulge in rich, creamy mac and cheese on the weekdays, so I came up with a recipe made for one. It was ultra-simple to prepare, and if you're cooking for more, you could easily double or triple the recipe based on your needs. The amount of rich cheddar sauce is plentiful and generously coats the pasta. But to keep the flavor bright and interesting, I added a little bit of fresh sliced basil to the mix. The result is subtle but makes a huge difference and prevents the dish from being too rich.
So, next time you think about resorting to Easy Mac, please, please give this recipe a try. By the time the pasta is finished cooking, the sauce is already pulled together. It honestly couldn't be any easier, so don't fear the homemade mac.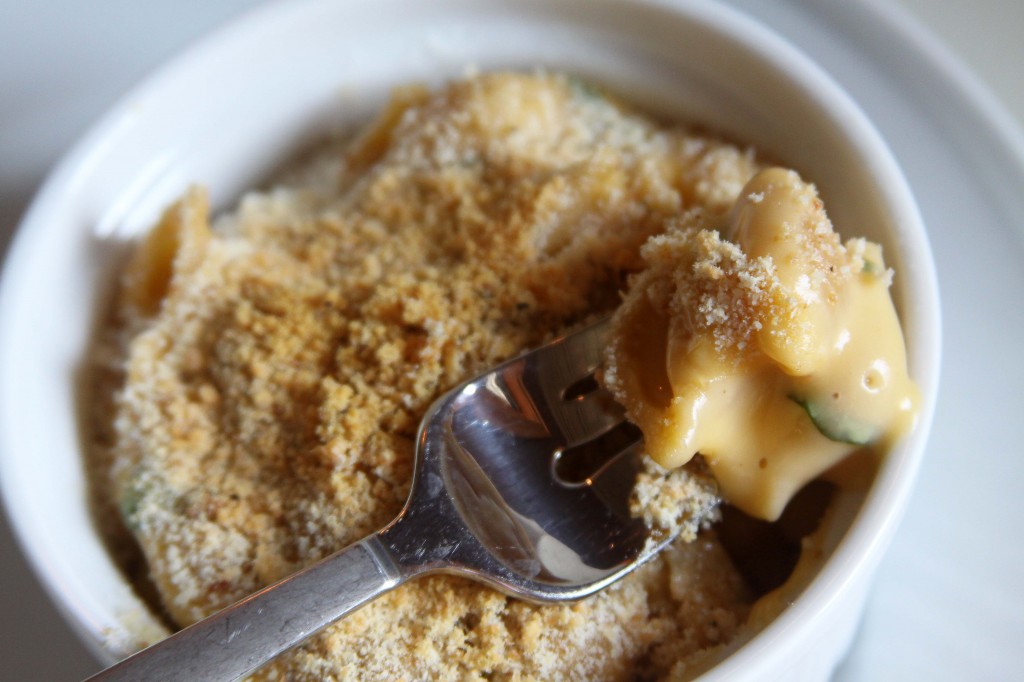 Basil-Cheddar Mac and Cheese for One
Ingredients
*1/2 cup medium-sized shell pasta, cooked according to package instructions
*1/3 cup milk (I used 1%)
*1 tablespoon all-purpose flour
*1/4 teaspoon kosher salt
*Pinch of nutmeg
*Pinch of ground black pepper
*1/2 cup shredded sharp cheddar cheese
*2 basil leaves, thinly sliced
*1 teaspoon dry plain bread crumbs
*1 teaspoon grated Parmesan cheese
Instructions
*Preheat broiler. Meanwhile, in a small saucepan, whisk together the flour and milk until smooth. Cook over medium heat, stirring frequently, until mixture is smooth and thickened. This should take a couple minutes. Reduce heat to low. Add in the salt, nutmeg, black pepper and cheese. Whisk over low heat until cheese is melted and sauce is smooth.
*Fold pasta into the cheese mixture along with the basil. Transfer mixture to a small oven-going ramekin or crock. Top with the bread crumbs and Parmesan cheese. Place under the broiler for 1 to 2 minutes, until top is golden brown. Serve immediately.
Happy Cooking!
Madison