Happy Memorial Day, everyone! I hope you're enjoying the long weekend and taking some time to reflect on the sacrifices made by the amazing men and women who serve and have served our country.
I wanted to take a little time to introduce you to the shiny new look of Espresso and Cream! If you typically read posts in Google Reader, take a minute to hop on over to the site and check it out. This re-design has been a long time coming. In the past, most of the updates I did on the site were simple changes I made myself, which weren't all that complex or impressive. As the site grew, it was time for the look to grow-up, too. A big shout-out to Brad over at Imagination Green for helping to execute the dream I had for the site's appearance. He was incredibly easy to work with, spot-on with his design, and was patient in explaining tech-based things to someone who knows very little about site design and all things tech. He does all sorts of projects, so give him a call if you're in need of a great web designer.
Let's take a little tour of the site, shall we?
I wanted to maintain the clean, sleek look that Espresso and Cream has always had, but dress it up a little. The header and navigation bar are two of the biggest changes. The header is still very minimal, but slightly playful. And the navigation bar has been moved from the right hand side of the site to directly under the header. Hopefully this makes it a little easier to find what you're looking for. There is a page for No Fat Talk Tuesday posts, as well as a new Fashion page. Although I don't post a ton of fashion photos, when I do, they will be archived there.
As always, my Recipage (where all the recipes are located and easily printable) is also found in the navigation bar. I'm working on being better at updating my Recipage more often, which means recipes will be easier to print.

I'm also in love with the new format of the right hand column on the site. The tabs look a little like a recipe binder of sorts for a fun detailed touch. In the right hand column, you'll find a "subscribe" tab, which allows you to follow along via RSS, become a fan of Espresso and Cream on Facebook, follow me on Pinterest, or follow along on Twitter. That way we can chat beyond just this site. If you're looking for something specific, there's also a "search this blog" function.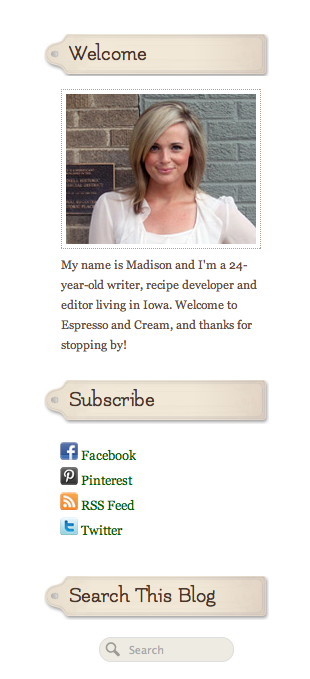 On the actual posts, there aren't any major changes. The post title font has been dressed up a bit, and if you're looking to comment on a post (which I love!), you can find that right below the post title.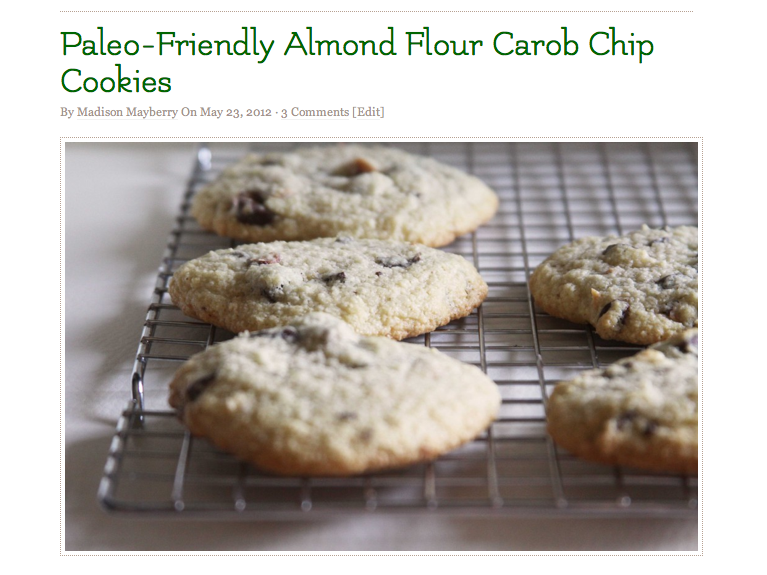 Perhaps this is crazy, but I'm really head-over-heels about the very bottom of my site. Perhaps because previously I never had anything at the bottom of the page, and now there's an actual end to the page that makes it feel more complete. In addition to a repeat of the navigation bar up top, there's a little message from me, a list of some of my most recent tweets, and a smaller repeat of my header.

I think that's it for the tour! I'm hoping to continue to play around with the site in the weeks and months to come. I'm new to the WordPress platform and the ins and outs of self-hosting, but already I can tell I'm going to love it!  Questions? Ask away!
Madison