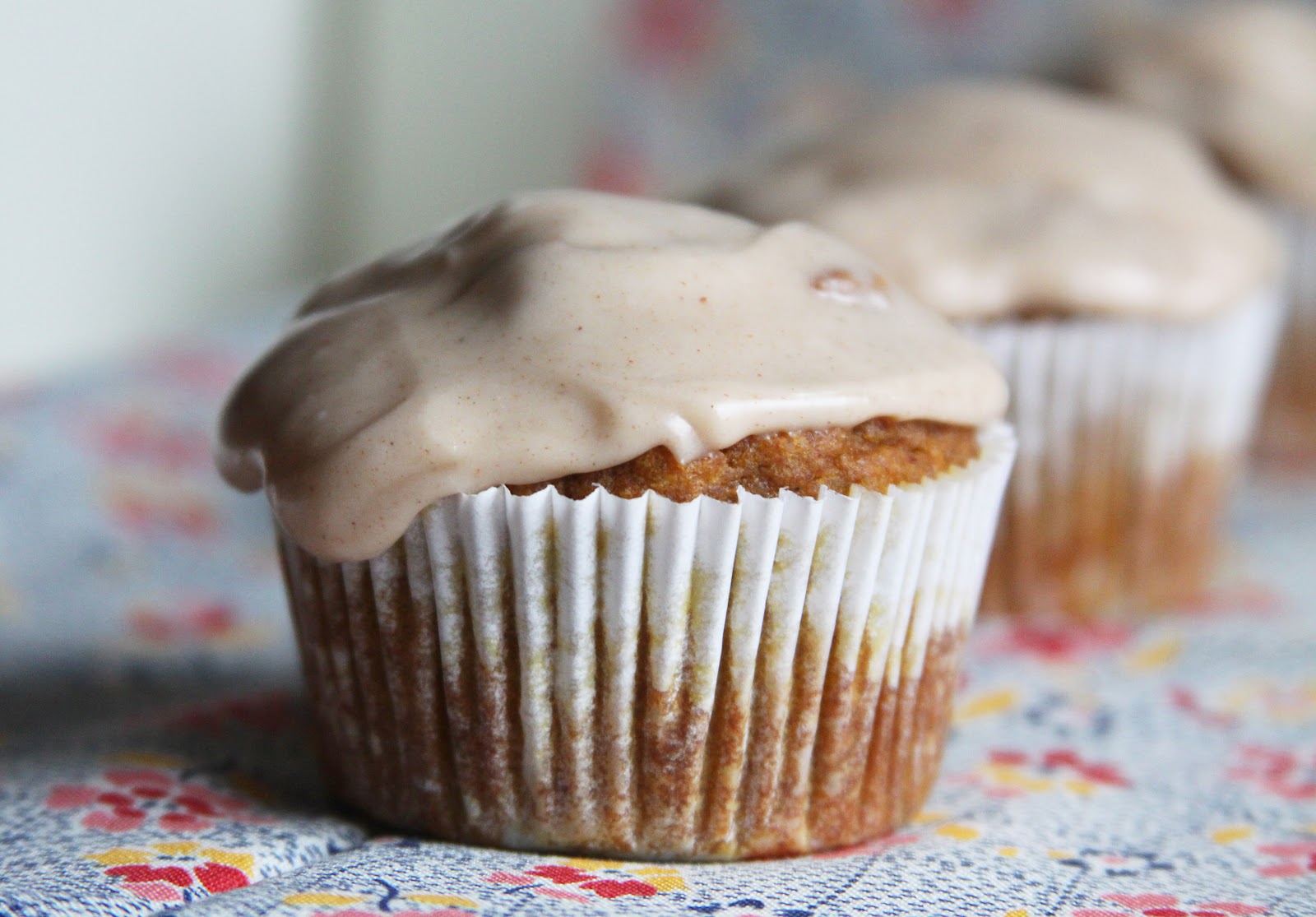 Happy Sunday, friends! How have your weekends gone thus far? Besides watching my March Madness bracket get torn to shreds, our weekend has been pretty relaxing and blissful.
I'm gearing up for a pretty crazy week, which I'll fill you in about later. So before things get busy, let's finish the weekend up with cupcakes, shall we? Most of the time I avoid doing any serious baking unless I know that I'll have a place to bring the baked goods I make. I mean, do two people really need an entire cake sitting around, begging to be eaten? I would argue no.
Thankfully Christina over at Dessert For Two has those of us baking for two covered. Christina has made a wonderful blog based on scaled-back desserts that taste just as delicious as their larger counterparts, so when a craving for cupcakes hit a while back, I knew where to go. Of course, I couldn't help but tweak the recipe to make it a little healthier – swapping out whole wheat flour for all-purpose and cutting back a bit on the sugar. Since I made the 'cream cheese' frosting vegan, I also included an option to make the cupcakes vegan as well. Though in my version (pictured above) real eggs were used.
And while I know that pumpkin desserts don't exactly go hand in hand with the month of March, I'm guessing a few of you out there have some leftover canned pumpkin that could stand to be used before summer hits. Not that I'm saying you need a reason to eat canned pumpkin. Personally, I could eat it all year round.
Whole Wheat Pumpkin Cupcakes
Adapted slightly from Dessert for Two
*7 tablespoons whole wheat flour
*1/2 teaspoon baking powder
*1/8 teaspoon baking soda
*1/4 teaspoon salt
*1/2 teaspoon ground cinnamon
*1/4 teaspoon ginger
*1/4 teaspoon nutmeg
*1 large egg (make this recipe vegan by substituting a flax egg: 1 Tbsp. ground flax and 3 Tbsp. water mixed together)
*1/2 cup pumpkin puree
*2 tablespoons brown sugar
*2 packets stevia
*3 tablespoons vegetable oil
Instructions
*Preheat oven to 350°F. Line a muffin tin with four paper liners. Spray lightly with nonstick cooking spray. Set aside.
*In a medium bowl, mix together the flour, baking powder, baking soda, salt, cinnamon, ginger and nutmeg.
*In a second bowl, combined the egg, brown sugar, stevia and oil. Stir to combine.
*Add wet ingredients to dry ingredients and stir until just combined. Spoon batter into prepared muffin tins. Bake for 24 to 26 minutes, until toothpick inserted in the center comes out almost completely clean (small crumbs are okay). Cool completely. Frost with Vegan Cream Cheese Frosting. Makes 4 servings
Vegan Cream Cheese Frosting
*2 tablespoons vegan cream cheese (I use Trader Joe's Non-Dairy Spread)
*1/4 teaspoon vanilla extract
*2/3 to 3/4 cup powdered sugar
*In a small bowl, combine all the above ingredients. Stir until well combined and smooth. Add additional powdered sugar if necessary to reach desired consistency (if you aren't using vegan cream cheese, you may need to add a splash or two of milk). Spread atop cupcakes.
Happy Baking!
Madison