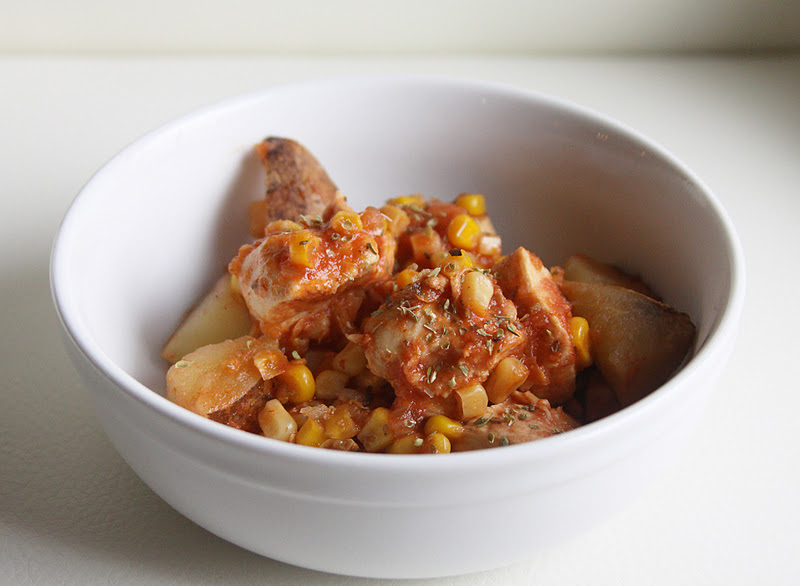 Hi again! How was your weekend? Joey and I spend a bunch of time watching football, like four games worth. Since it's the playoffs and all, we figure we're justified spending hours on the couch for the next few weekends knowing the dreadful stretch of football-less weekends is coming up quickly.
A tried and true Florida Gators fan, I am still basking in the glow of the Denver Broncos-Pittsburgh Steelers game and the glory that is watching Tim Tebow pass for 316 (!!) yards. Call me obsessed and color me blue and orange.
Since we were watching so much football and entirely too absorbed to cook real meals, I did a little dump-and-stir meal for Sunday lunch that actually turned out to taste fantastic. Or so says my husband, who ate it in front of the television. The chicken was fall-apart tender and the potatoes were soft and spicy. Just the way a no-fuss stew should be.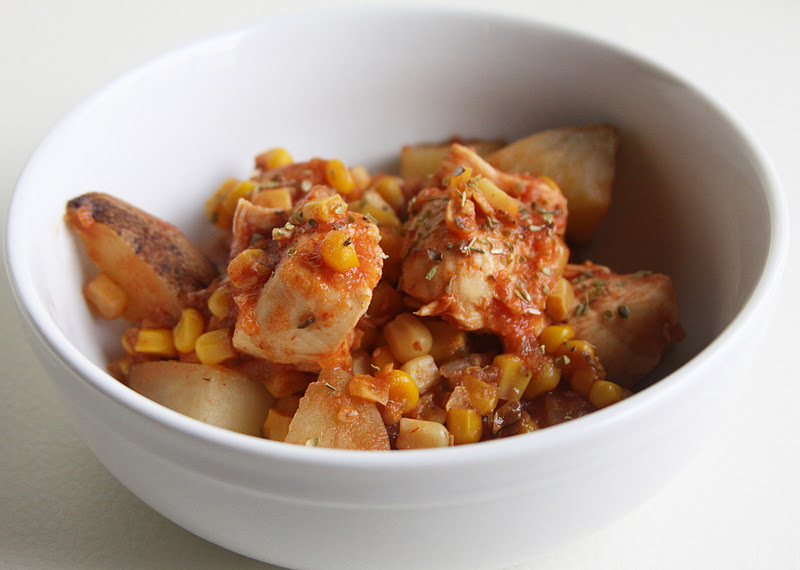 Slow Cooker Mexican Chicken
Serves 2 to 3
Ingredients
*2 large boneless, skinless chicken breasts, cut into 1-inch cubes
*1 standard-size jar of medium salsa
*1 (8- to 9- ounce) cans corn kernels, drained
*1 large baking potato (russet) cut into cubes
*1/2 cup water
*1/2 tsp. salt
*1 tsp. dried oregano
*Shredded cheddar cheese (optional)
*Additional oregano (optional)
Instructions
*In a 4- to 5-quart slow cooker, combine all the above ingredients except for the cheese and additional dried oregano. Cook on low heat for 2 to 2 1/2 hours, or until the chicken pulls apart easily with a fork and the potatoes are tender.
*Spoon mixture into bowls with a slotted spoon and sprinkle with shredded cheese and additional dried oregano, if desired.
Happy Cooking!
Madison