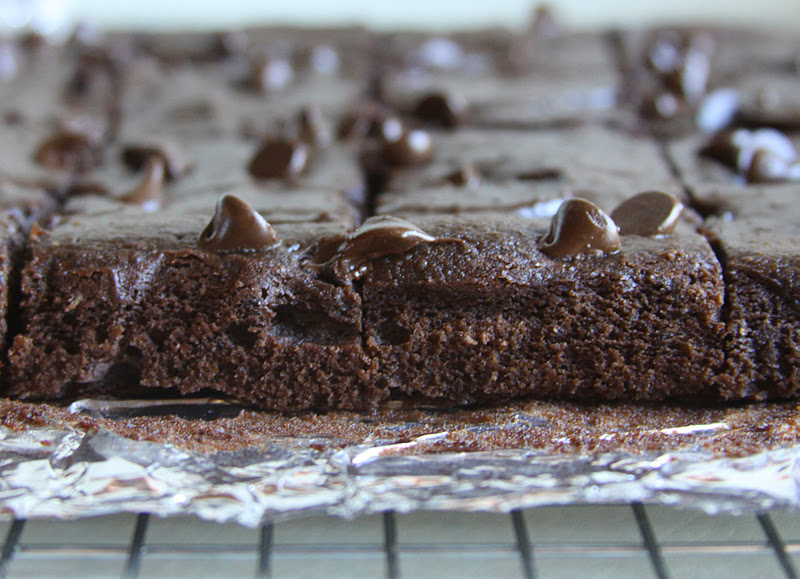 Three months ago I took a trip to the Wednesday Farmer's Market in downtown Des Moines over our lunch hour. The day was beautiful and I was impressed with the selection of tasty lunch items the small farmer's market had to offer. But what really drew me in was a small whole foods stand selling, among other things, black bean brownies. As you can probably imagine, I couldn't resist trying a sample and hearing about what this black bean brownie thing was all about.
Turns out, the nutrition stats on the brownie were really impressive and I couldn't even tell there were black beans in the brownie. It was just incredibly moist and gooey. Totally my kind of brownie.
Although it took me a while to get in my kitchen and replicate the black bean brownie in my own kitchen, I can report back to you that they are as easy and tasty as ever. Made with whole wheat flour, just a bit of sugar and black beans for protein, these are brownies that you can feel good about eating! In fact, each brownie contains just around 120 calories and 3 grams of protein. If you want to make them even healthier, I think you could probably cut back on the sugar even more, and perhaps sub some apple sauce for some of the oil.
Oh, and as a trial, when Joey got home I offered him a brownie and asked what he thought. He couldn't even tell there was anything healthy about these brownies. When I asked him what he thought the secret ingredient was, he said whole wheat flour. And although that's true, it wasn't exactly the answer I was looking for. He couldn't even tell there were black beans involved. I would call that a success!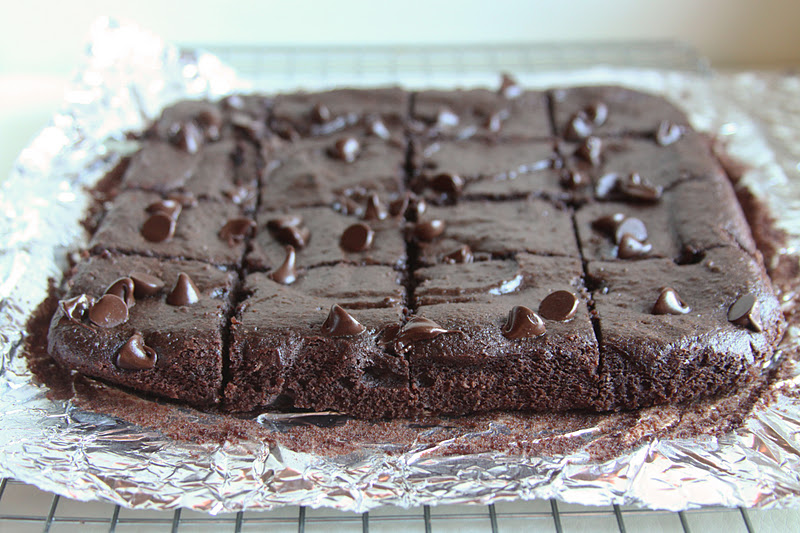 Black Bean Brownies
Adapted from FoodNetwork.com
Ingredients
*3/4 cup black beans, rinsed and drained (canned is fine)
*1/2 cup light flavored olive oil or canola oil
*2 eggs or 1/2 cup Egg Beaters liquid egg replacement
*1/4 cup unsweetened cocoa powder
*1/2 cup granulated sugar (could probably reduce to 1/3 cup if desired)
*1 tsp. instant coffee granules
*1 tsp. vanilla extract
*1/4 cup semi-sweet chocolate chips, melted
*1/3 cup whole wheat flour
*1/2 tsp. baking powder
*1/4 tsp. salt
*Additional chocolate chips (optional)
Instructions
*Preheat oven to 350°F. Line an 8×8-inch baking pan with aluminum foil. Set aside.
*In the bowl of a food processor or blender, combine the black beans, olive oil, eggs, cocoa powder and sugar. Blend until well combined and mixture is smooth, about 1 minute. Add in the coffee, vanilla, melted chocolate, flour, baking powder and salt. Blend until smooth, about 30 seconds.
*Pour batter into prepared baking dish and spread to distribute evenly. Top with additional chocolate chips, if desired. Bake in the middle rack of the preheated oven for 20 minutes. Transfer to wire rack to cool. Makes 16 brownies
Happy Baking!
Madison