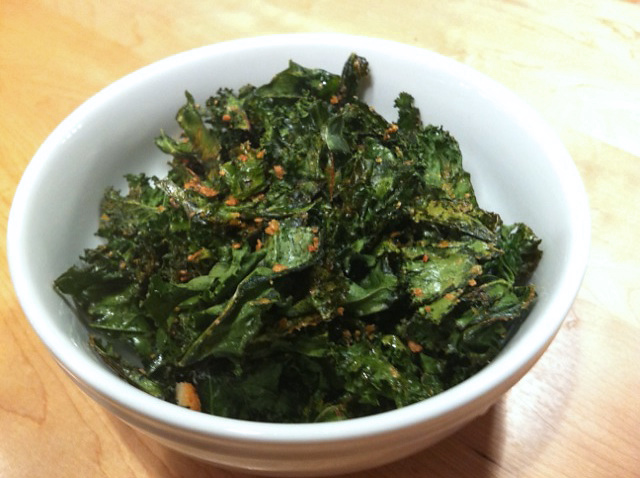 Truth be told, I've always been more of a 'quantity over quality' girl when it comes to snacks and mealtime. I would rather find a way to stretch my morning protein pancake with a little canned pumpkin, even if it means sacrificing texture, just so I can have more to eat in the morning. And I will gladly eat an entire head of steamed broccoli over a small portion of broccoli with cheese 90% of the time. Can anyone relate?
Joey and I rarely have chips or other junk food on hand except for those few boxes of Girl Scout cookies right now. So when I get a craving for something crunchy and salty, I typically have to improvise with what we have on hand.  And while I may be a little late to the game with these crispy baked Garlic Kale Chips, if you are late to the game like me, I would highly recommend you making them asap. Not only are they crunchy, salty and entirely addictive, they also deliver all the vitamin-packed goodness of kale.
My first attempt at Kale chips was anything but a success. I made the mistake of leaving the tough stems in the center of the kale intact. If you're into that sort of stringy texture, then feel free to leave the stems going through the center of the leaves. But if you're anything like me, I would recommend cutting the ruffled leaves of the kale off the stem and discarding the rest.
I ate the entire batch in one serving. But if you're slightly less greedy than I am with your kale, it could easily be a side dish for two or three people.
Garlic Kale Chips
Ingredients
*3 to 4 cups kale leaves, cut into pieces with stems removed and discarded
*1 tablespoon extra virgin olive oil
*2 tsp. Garlic Gold or 1 clove of fresh garlic, minced
*2 tsp. grated Parmesan cheese or nutritional yeast
*Salt and pepper to taste
Instructions
*Preheat oven to 400°F. Line a baking sheet with aluminum foil; set aside.
*In a small bowl, combine the olive oil and Garlic Gold. Spread kale in an even layer on prepared baking sheet. Drizzle with the olive oil mixture and toss to coat. Sprinkle with the Parmesan cheese and the salt and pepper.
*Bake for 11 to 15 minutes, or until kale is crunchy and has a slightly charred appearance, tossing once halfway through baking. Remove from oven and enjoy!
Happy Cooking!
Madison