Now that we have officially entered the month of December, I feel like I can post cookie recipes nonstop without shame. Growing up, cookie baking was a huge deal in my house during the weeks leading up to Christmas. My mom and I would scour our favorite cookbooks looking for the perfect combination of recipes. Once said recipes were chosen, we spent an entire day baking and making a mess. Usually I would bake and my mom would clean. Quite the system if I say so myself. 
Although our cookie baking has scaled down slightly in the past few years, there is still nothing I love more at Christmastime than baking. Partly because it's tradition and partly because it's delicious!
These cookies are a new addition to the holiday cookie collection I've spent years cultivating. I'll be sharing a few of our families favorites in the weeks to come, but it's kinda fun starting with something new. Chewy and brownie-like, these cookies are perfect for the real chocolate-lovers out there. They are unbelievably easy to pull together and stack well, which is important if you're planning on shipping off cookies to loved ones across the country.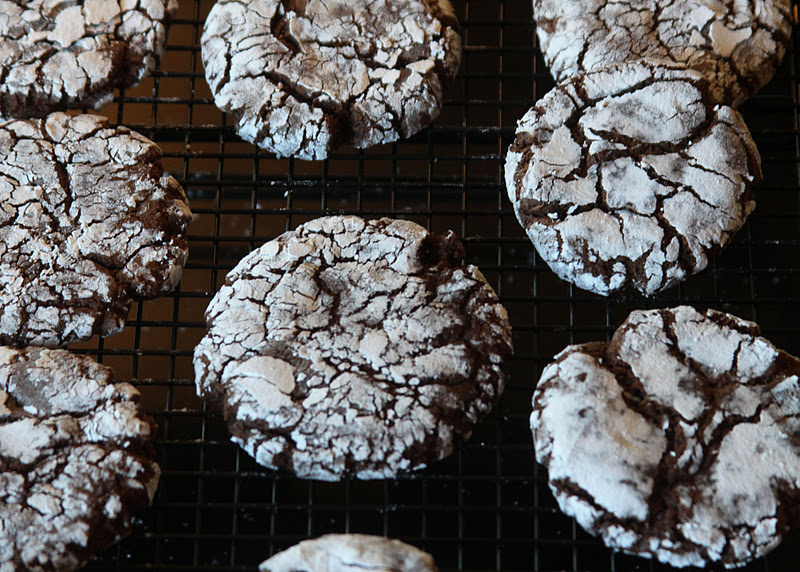 Chocolate Crinkle Cookies
Ingredients
*4 ounces unsweetened chocolate
*1/4 cup vegetable or canola oil
*2 cups all-purpose flour
*2 teaspoons baking powder
*1/2 teaspoon fine sea salt
*2 cup granulated sugar
*2 teaspoons vanilla extract
*4 large eggs
*1 cup powdered sugar
Instructions
*Place the chocolate and oil in a small saucepan over low heat, stirring occasionally until the chocolate has melted and the mixture is smooth, about 4 minutes. Remove from heat.
*Stir together the flour, baking soda and salt. Stir together until well combined. Set aside.
*Place the sugar and the chocolate-oil mixture in the bowl of an electric mixer and beat for 1 to 2 minutes until well combined. Add in the vanilla and eggs, one at a time, beating to incorporate after each addition, scraping down the sides of the bowl as needed. Mixture will be soft. 
*On low speed, beat in the flour mixture until just combined. Refrigerate dough for at least two hours or overnight. 
*Preheat oven to 350°F. Scoop tablespoon-sized balls of cookie dough into parchment-lined baking sheets or baking sheets lined with a silicone baking mats. Roll balls in powdered sugar. Flatten balls slightly with the palm of your hand. Bake for 10 to 13 minutes (10 for chewier cookies and 13 for cookies with a crispier edge). Cool slightly on the baking sheet and cool on a wire rack. 
Happy Baking!
Madison