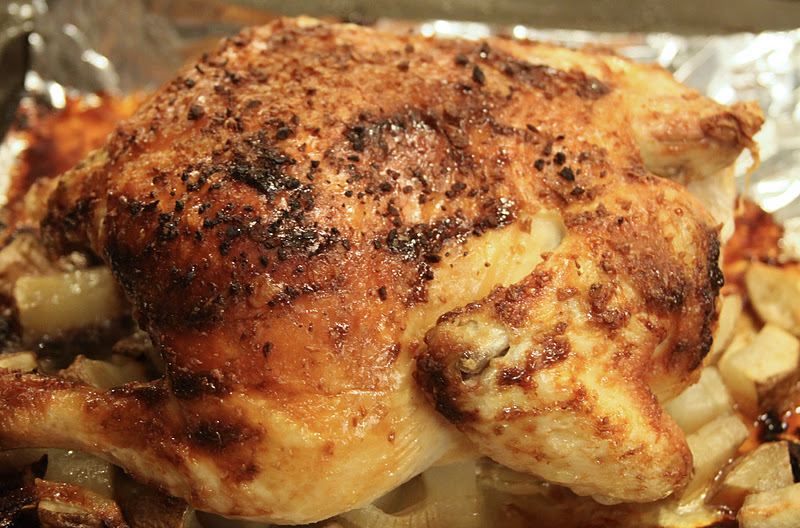 Quite often when Joey and I don't feel like cooking (well, when I don't feel like cooking), we pick up a rotisserie chicken at the store and I made a bunch of steamed and roasted veggies for me to eat and for him to pair with his chicken. As someone who knows how easy it is to roast a chicken, buying a rotisserie chicken always kills me inside because I know I could do it better.
Well this past weekend, I finally got my butt to the store and picked up ingredients for a roasted chicken meal. You know the crazy part? I picked up a whole organic roasted chicken, a pound of green beans, two large russet potatoes and an onion for just NINE dollars. Crazy, right? Anyone who says you can't eat well on very little money, or who says that fast food is cheaper than real food, hasn't spent much time at the grocery store or in the kitchen.
Food prices aside, this meal was incredibly easy to make and would be impressive enough to serve for company, or in our case, on a casual Friday night in. Sure, you need a bit of time, but 90% of the time is hands-off. We actually got a workout in while our chicken was roasting, that's how easy it is.
One word to the wise: unless you feel like cleaning your chicken or making something with the giblets, I would recommend buying a chicken that says it is 'without neck and giblets' for the easiest (and much less gross) chicken roasting experience


Easy Roasted Chicken
Ingredients
*2 medium russet potatoes chopped into large bite-sized pieces
*1 tablespoon olive oil 
*1 medium-sized whole chicken without neck or giblets
*1/4 cup mayonnaise
*Salt and black pepper
*2 cloves garlic, minced
*1/2 medium onion, sliced
*Additional salt and ground black pepper
Instructions
*Preheat oven to 425°F. Line a baking sheet with foil. Set aside.
*Place potatoes on the baking sheet and drizzle with the olive oil. Sprinkle with salt and ground black pepper. Set aside.
*Rinse chicken thoroughly making sure to clean the inside cavity. Dry with paper towels and discard paper towels. Place chicken atop some of the potatoes. Rub chicken with mayonnaise. Sprinkle with salt and black pepper to taste. Top chicken with the minced garlic.
*Place chicken in the oven and bake for 65 to 75 minutes, adding the onions halfway through cooking. Chicken's juices should run clear when pierced with a fork, potatoes should be crispy brown and the skin of the chicken should be dark golden brown.
Happy Cooking!
Madison