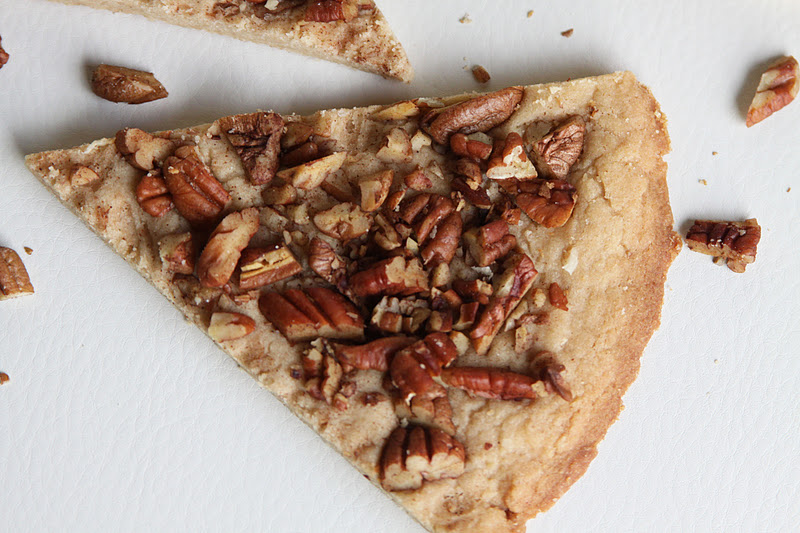 Nothing like getting a jump on December cooking making, right? I was sitting on the couch with some of my cookbooks last week when I stumbled upon a shortbread recipe in Gourmet Today. There wasn't anything different about the recipe. In fact, it was pretty simple. Straightforward and to the point is how I like my recipes.
What really got me hooked on the idea of making this shortbread was the idea that it could be a blank canvas for almost any holiday flavor my heart desired. So instead of leaving it plain, as the recipe suggested, I tossed some chopped pecans with ground cinnamon and salt for a little play on the sweet and salty.
When this cookie first came out of the oven, before I cut it into wedges, Joey was quite skeptical. However, after serving one up with a glass of milk, he was a believer. Upon first bite, he demanded they make an appearance on the blog as well as at family Christmas.
Toasted Pecan Shortbread
Recipe adapted from Gourmet Today
Ingredients
*1/2 cup pecan halves, chopped
*1/2 teaspoon ground cinnamon
*1/4 teaspoon salt
*1 stick unsalted butter, softened
*1/3 cup sugar
*1 teaspoon vanilla extract
*1 cup all-purpose flour
Instructions
*Preheat oven to 350°F. Line one baking sheet with parchment paper. Set aside.
*In a small bowl combine the pecans, cinnamon and salt. Toss together to coat. Spread nuts on an ungreased baking pan and toast in the oven for 5 to 10 minutes, until pecans are fragrant and lightly browned. Remove from oven to cool.
*Meanwhile, combine the butter, sugar and vanilla extract until smooth and creamy. Add in the flour and worth together with your hands until evenly incorporated. Mixture will be slightly crumbly. Transfer dough onto prepared baking sheet and press mixture into a disc about 6 to 8 inches in diameter. Spread the toasted nut mixture atop the dough and press lightly with your hands to get the nuts to adhere to the dough.
*Bake for 15 minutes or until edges are slightly browned and the dough is puffed up. Cool on wire rack. Cut cooled cookie into wedges to serve. Makes 6 to 8 servings
Happy Baking!
Madison