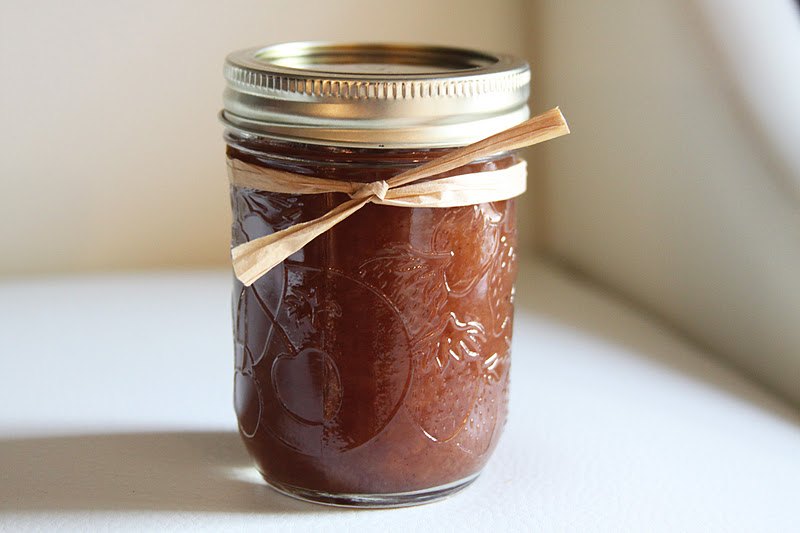 A few weeks ago I mentioned that the amazing team over at Hamilton Beach came to visit my workplace to do a product preview of their blenders, slow cookers, coffee makers and a few other appliances. Of course, they came bearing treats for us to snack on, too. And the highlight of those snacks? A homemade apple butter made in the slow cooker.
Since I'm still a slow-cooking novice, I was amazed at how easy it was to make apple butter (something that seems awfully labor-intensive in my mind) with very little hands-on time. There was also a rumor going around that making homemade apple butter makes your house smell amazing. So last weekend, our first free weekend in quite a while, I plunged deep into apple butter making and football watching. Not a bad combination at all.
The thing I love about this recipe is that it doesn't depend on more highly processed sugars, like corn syrup or granulated sugar, and instead uses agave syrup and a little bit of 100% apple juice. The results were outstanding; plenty of fresh apple taste with a little bit of texture that made it taste pleasantly homemade. However, if it's a smooth texture you're looking for, I would imagine you could put the cooled apple butter in the food processor and blend it completely smooth.
I'm planning on making more of this in the weeks to come and putting it in jars to give to friends and family over the holidays. I already passed along a jar to my mom and my cousin, Emily, to enjoy and plan on passing along another few jars when I head up to Minneapolis for the weekend. It's nice to be able to give a gift during the holidays that is healthier, and more unique, than baked goods. But now that I think of it, pairing apple butter with homemade sugar cookies would be an excellent adaptation.
Slow Cooker Homemade Apple Butter
Ingredients
*5 lbs. apples (I used Gala), peeled, cored and cut into quarters
*1 cup agave syrup or maple syrup (I used agave)
*1/2 cup apple juice
*2 teaspoons ground cinnamon
*1/2 teaspoon nutmeg
Instructions
*Place all the above ingredients into a 5 or 6 quart slow cooker set on low covered with the lid. Cook for 4 to 5 hours. Stir occasionally during the last two hours of cooking to break up the apples (they should fall apart fairly easily and form a fairly smooth butter-like consistency).
*Continue to cook for 30 additional minutes without the lid, stirring frequently, to achieve the consistency you desire.
*Transfer butter into canning jars. Store in the refrigerator until ready to use.
Happy Cooking!


Madison