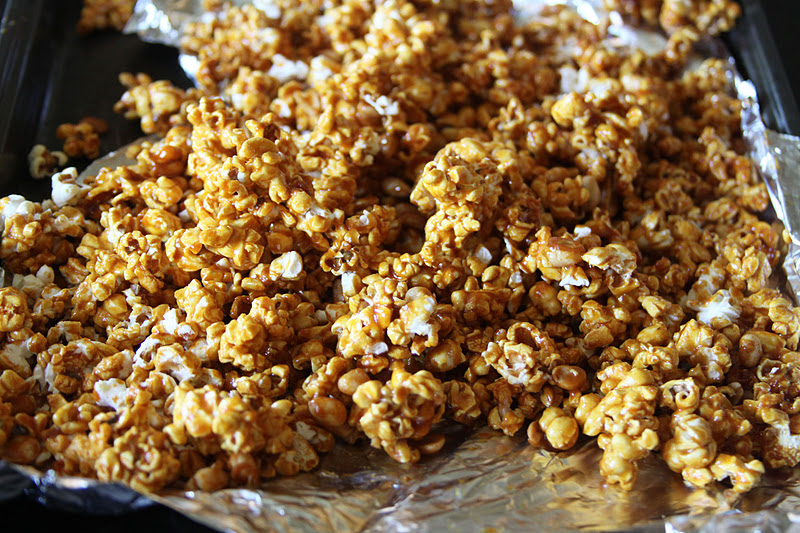 Joey and I spent a fabulous and fun-filled weekend in Minneapolis getting to meet our new nephew for the first time (!!) and watching Joey's brother play football. Since Joey's mom, Lisa, always makes amazing treats to bring to football games, I decided that it would be fun to make something to take along for the road trip up to the game. Something about popcorn and snacks during the fall just makes road trips that much more exciting. 
I've made a version of this caramel corn many times in the past but it wasn't until fall baking and pumpkin craziness hit that I thought to make a pumpkin spice version. And although I was a little nervous about swapping out the corn syrup for honey and adding in a hefty dose of pumpkin pie spice, I'm glad I did. 
I may have overdosed on the caramel corn on the car ride home, which led to Joey having to take the bag away from me and put it on his side of the car, but it was just too good to resist. 
Honeyed Pumpkin Spice Caramel Corn 
Ingredients
*1 (3 oz.) bag light butter popcorn, popped with unpopped kernels removed
*1/2 cup unsalted butter
*1/2 cup granulated sugar
*1/2 cup lightly packed brown sugar
*1/2 cup honey or corn syrup
*1/2 teaspoon pumpkin pie spice 
*1/4 teaspoon salt
*1/2 teaspoon baking soda
*1/2 cup roasted peanuts
Instructions
*Preheat the oven to 250°F. Line a baking sheet with aluminum foil. Lightly grease. 
*In a large saucepan, combine the butter, sugar, brown sugar, honey or corn syrup, pumpkin spice and salt. Bring to a boil, stirring frequently. One mixture comes to a boil, remove from heat and stir in the baking soda. Continue to stir until no longer foamy and mixture returns to a deep caramel color, about 1 minute. 
*Spread popcorn and peanuts onto baking sheet. Drizzle the caramel over the popcorn and stir until popcorn is evenly coated with the caramel. Spread into an even layer. 
*Bake for 1 hour, stirring every 15 minutes. Transfer mixture to a clean piece of aluminum foil to cool. Break up any large pieces. 
*Store in a zip top bag or storage container for up to a week.
Happy Baking!
Madison