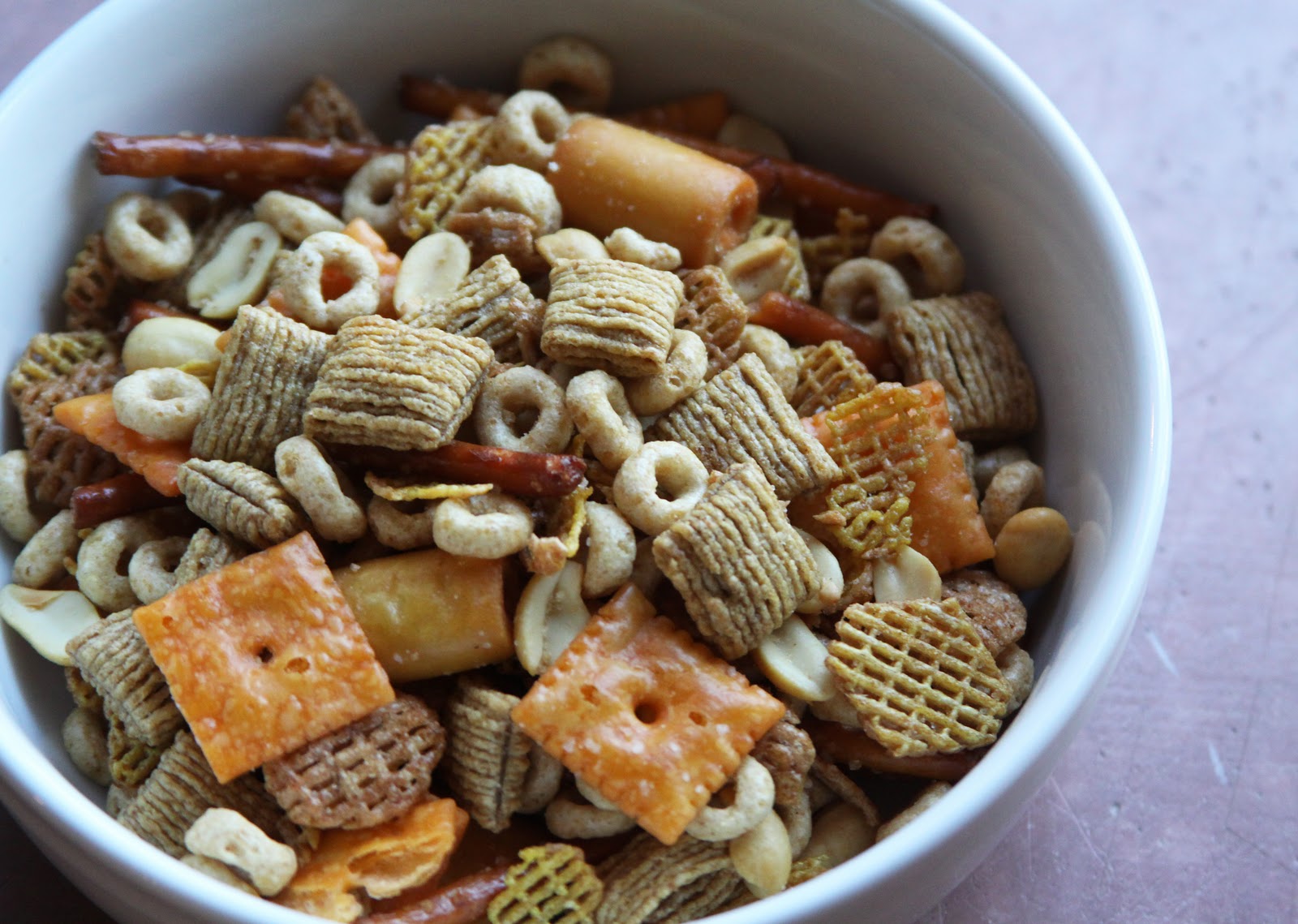 Today's recipe comes to us courtesy of my mother-in-law, Lisa! This fall we have traveled to a couple of my brother-in-law Jason's football games and every weekend Joey's mom comes armed with multiple bags of snack mix, half of the bags savory and half of them sweet. Although her sweet mix is delicious, I much prefer all things salty. And boy does this hit the spot. 
I had to chuckle a little, because when I asked for the recipe from Lisa, she sent the recipe to me in an e-mail and ended it with, "you may change your mind about posting it when you see the ingredients." 
Okay, I'll admit that I was a little horrified when I saw that the recipe calls for an entire bottle of Orville Redenbacher's Popcorn Oil, but then I reminded myself that this makes a whole lot of snack mix. Enough to feed a huge crowd for a tailgating party or a big group of friends and family. And yes, it really is made in a plastic trash bag, seeing as that its the only thing I can think of that is big enough to hold all of the ingredients.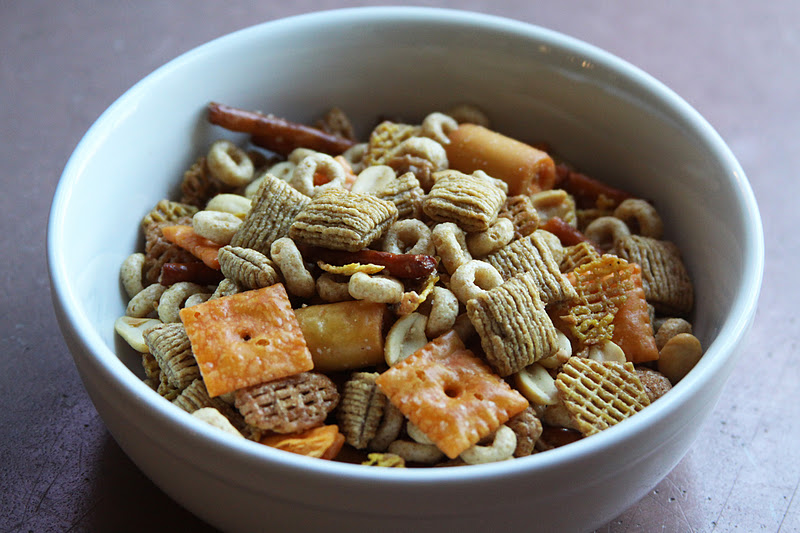 Lisa's Amazing Snack Mix aka 'Garbage Bag Trail Mix'
Ingredients
*1 family size box of Crispix corn cereal
*1 bag pretzels 
*1 (12-ounce) can cocktail peanuts 
*2 standard-sized bags of Combos or other cheese-filled cracker
*1 (12-ounce) box Cheez-It
*1 (20-ounce) box Honey Nut Cheerios
*1 (16-ounce) box Quaker Oat Squares
*1 (16-ounce) bottle Orville Redenbacker Popcorn Oil
*1 teaspoon onion salt
*1 tablespoon garlic powder
Instructions
*Add the onion salt and the garlic powder to the popcorn oil bottle. It will keep separating so you have to shake it up again right before adding it to the mix. 
*Put all the other ingredients together in a big plastic garbage bag. Gently roll the bag from side to side to mix the ingredients together.
*Add the oil mixture a little at a time while gently rolling the bag to mix together. Continue to roll a bit after all the oil is added. 
*When all the oil has been added, the mixture will be pretty oily. Do not fear! Transfer the mixture to gallon-sized zip top bags and allow to sit overnight. Mixture will store for up to two weeks in the zip top bags. 
Happy Cooking!
Madison