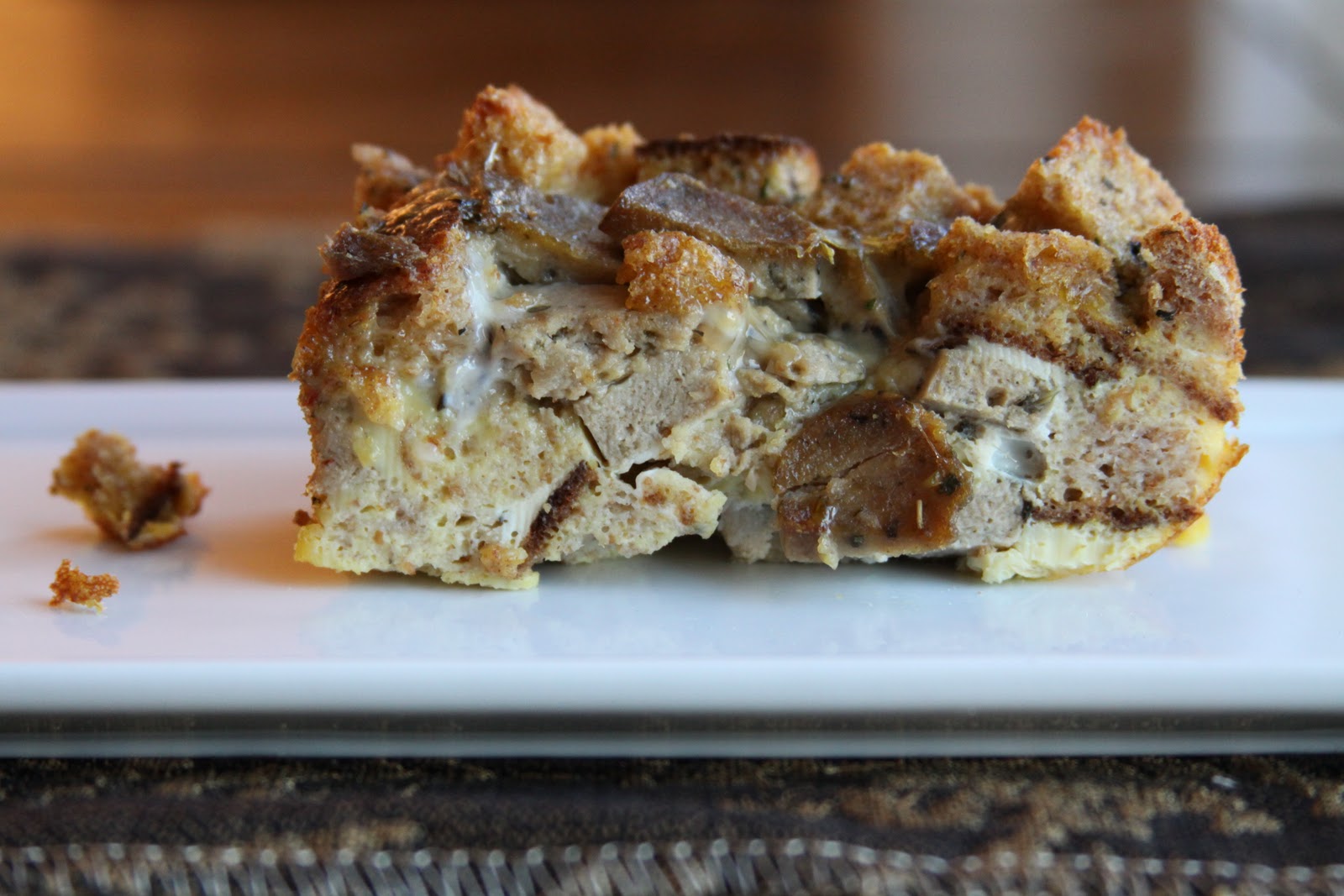 Happy Monday, everyone! I'm beginning to think that no matter how many days of vacation I take, there will always be that feeling that it was just one day too short. After looking at my piles of laundry, some clean and some not, I feel like I could use one additional day to sort, clean and lay around in my pajamas. Anyone with me?
But back to work I go, and to start off the new year and work week right, I made myself a Vegetarian Sausage and Egg Strata. Because if one thing was made apparent to me over the past week, it was the fact that cooking for a vegetarian seems to cause many people a whole lot of stress.
In my neck of the woods, the concept of vegetarianism is a little bit uncommon, meaning that putting together a meal for someone like me makes them cringe just a bit. Of course, I would gladly just have everyone make what they normally would and eat whatever I could, because having people make special arrangements for me isn't my style. But people often cook to please and delight those they love, so making something vegetarian-friendly becomes a priority.
I hardly expect anyone I visit to start making veggie-centric meals any time soon, but if you're hosting a vegetarian for breakfast anytime soon, this would most certainly be a pleasing option for all. And if you don't have access to vegetarian sausage links, go ahead and substitute a cup of chopped raw broccoli or some diced red and green peppers.
Vegetarian Sausage and Egg Strata
(Printable Recipe)
Ingredients
*2 whole wheat English muffins, cubed 
*6 large eggs
*1/2 cup milk
*1/4 tsp. black pepper
*1/4 to 1/2 tsp. salt
*1 tsp. Italian seasoning
*2 vegetarian sausages, chopped
*1/4 cup Swiss cheese (optional)
Instructions
*Preheat oven to 350°F. Grease an 8×8-inch baking dish. Place the cubed English muffins in the bottom of the dish. Set aside.
*In a medium bowl, beat together the eggs and milk until well-combined. Add in the pepper, salt and Italian seasoning, followed by the vegetarian sausages and Swiss cheese, if desired. Stir to combine.
*Pour the egg mixture into the greased baking dish. Bake for 35 to 40 minutes, until the center is set and the edges are golden brown.
*Allow mixture to set 10 minutes before serving.
Happy Cooking!
Madison