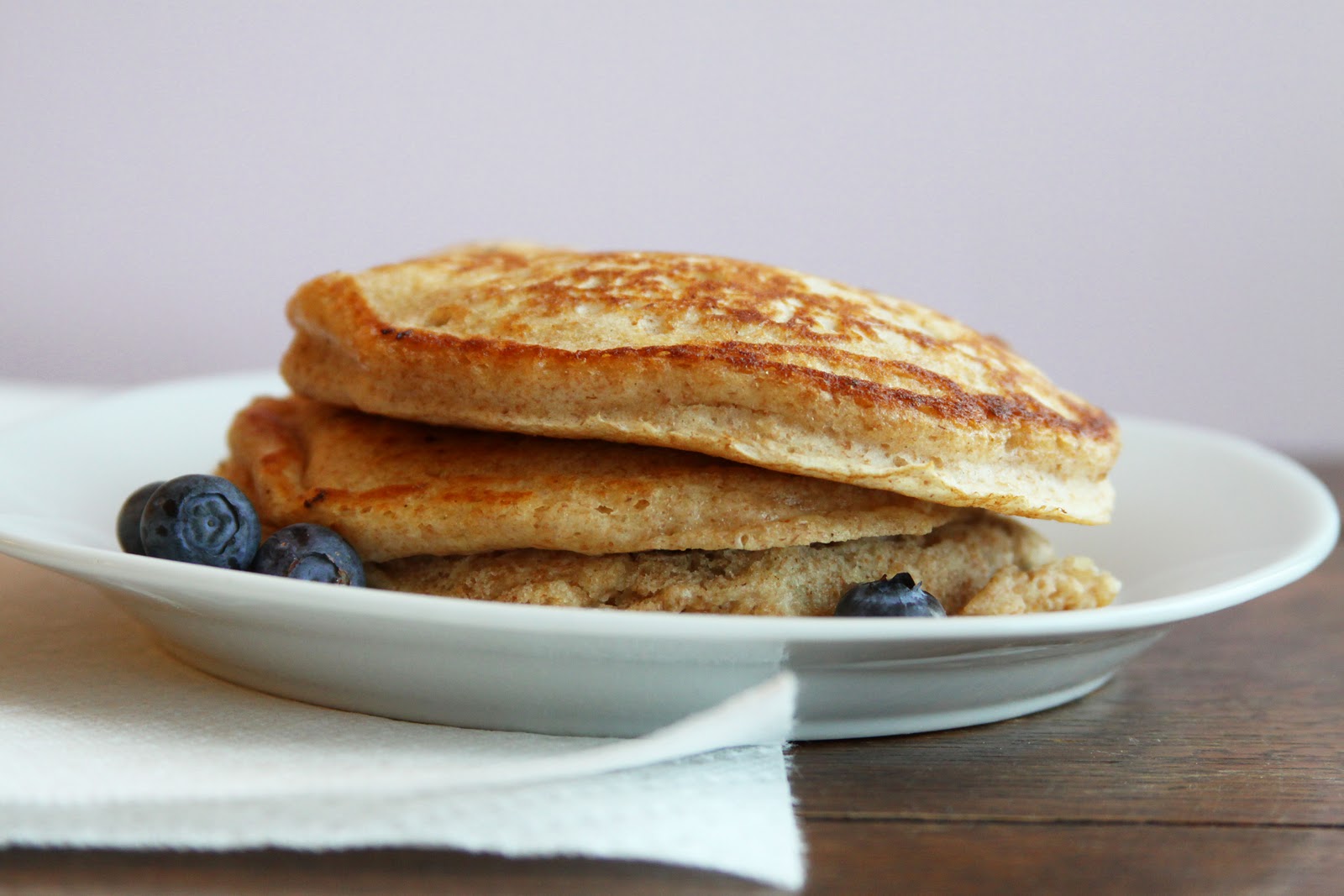 Some of you may be issuing a sigh of frustration upon the realization that I'm posting yet another pancake recipe. But if you're anything like me, there is never such a thing as too many ways to fry up a breakfast cake.
Up until this summer, I wouldn't have given a second thought to pancakes. They didn't interest me, seemed unhealthy, and couldn't hold a candle to a bowl of Greek yogurt or oatmeal. But at some point in the last few months my indifference toward the pancake shifted to like and then full-blown love.
And while I typically fall head over heels for dense, hearty hot cakes, this time I was drooling over a softer, fluffier cake. Speckled with blueberries, brightened with lemon juice and buttermilk, these little babies are enough to make even the biggest pancake skeptic take another look at breakfast.
Buttermilk Blueberry-Lemon Pancakes
Ingredients
*1 cup whole wheat pastry flour or whole wheat flour
*1/3 cup self-rising flour
*1/2 tsp. baking soda
*3 tsp. stevia
*1 1/3 cups buttermilk
*1 tsp. lemon juice
*1 large egg
*1/4 tsp. ground nutmeg
*1/2 cup fresh blueberries
*Maple syrup 
Instructions
*In a large bowl, combine the whole wheat four, self-rising flour, baking soda and stevia.
*In a second bowl, combine the buttermilk, lemon juice, egg and nutmeg. Beat until well-combined. Add the wet ingredients to the dry ingredients and beat until just combined.
*Lightly grease a nonstick skillet with butter. Heat over medium heat. Add batter, a 1/4 cup at a time, to the skillet. Sprinkle with some of the blueberries. When bubbles form on the surface of the pancakes, flip and continue to cook for about 2 minutes more.
*Serve with maple syrup.
Happy Cooking!
Madison