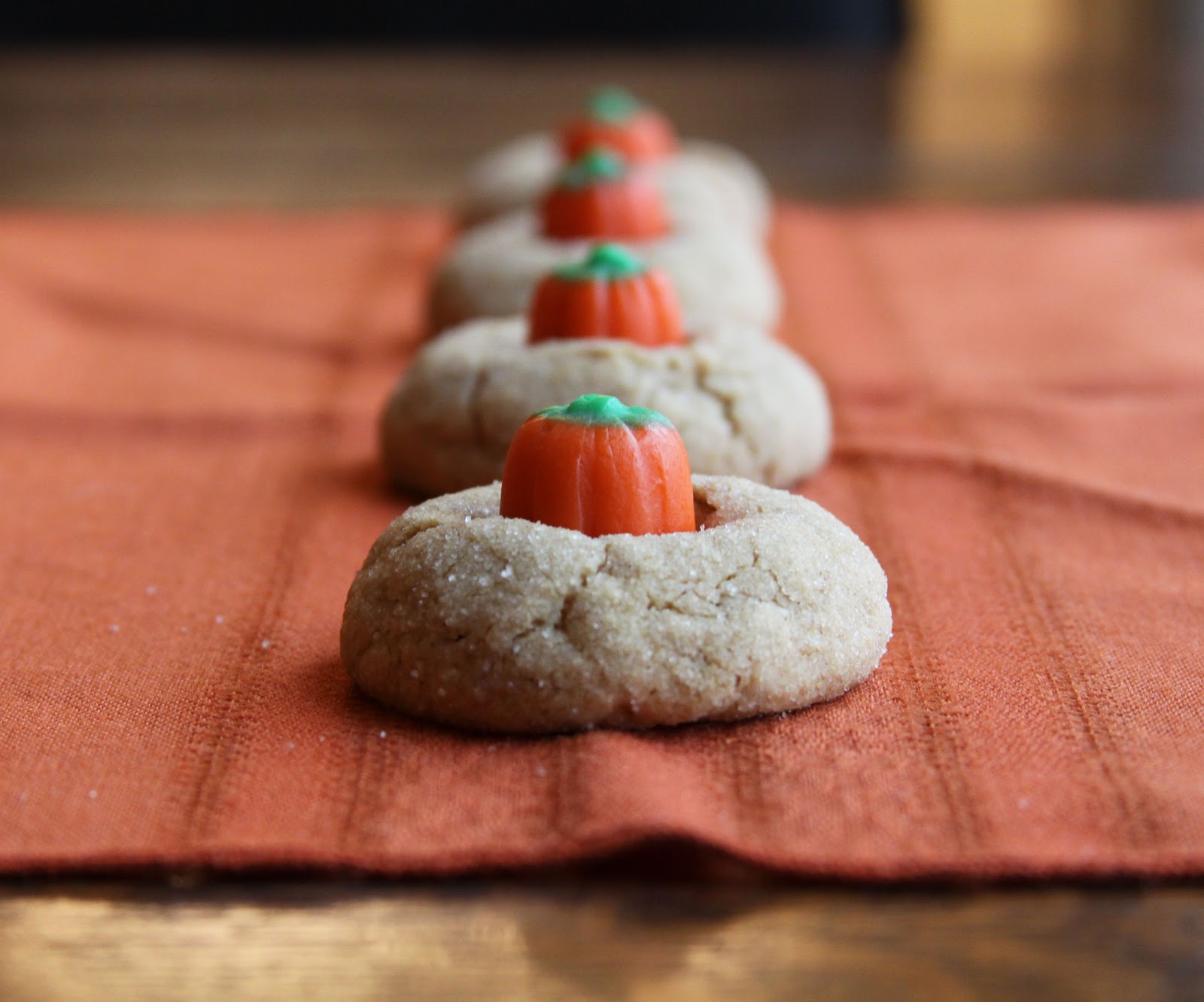 It's official. The Sunday night blues have set in yet again. Typically I consider myself a happy, positive person, but it's tough to find the joy in Sunday nights sometimes. After a wonderful weekend with two of my favorite people in the whole world I now find myself cleaning up my apartment and getting ready for the week ahead with my mom traveling home in one direction, and Joey heading home in the opposite direction.
Lately, what Joey and I have been craving more than anything is a sense of place, normalcy and tradition. We marvel at what it would be like to spend a Sunday night together, to have a tradition like eating popcorn and watching movies, or even just being together in the same room preparing for the week ahead. Until then, I'll take whatever little bits of normal we can get. For now, that comes in the form of me packing him a sandwich for the drive home and baking something sweet for snacking on. Something like these Candy Pumpkin Peanut Butter Kisses.
Last week when I posted about Halloween and Butterfinger candy bars, a number of people commented about their passionate love for candy pumpkins. Can I get an amen? These cookies have been made in your honor, to let you know you're not alone in your obsession. And just because Halloween is over does not mean we need to retire these little objects of desire just yet.  I, for one, have stocked up on enough candy pumpkins to last for at least a month.
Chances are, you've had the more traditional version of these cookies made with Hershey's Kisses in the center. I've never really been a big fan of these cookies, but the addition of candy pumpkins in the center makes all the difference in the world. Peanut butter and chocolate can go ahead and make room for the peanut butter candy pumpkin combo any day in my apartment.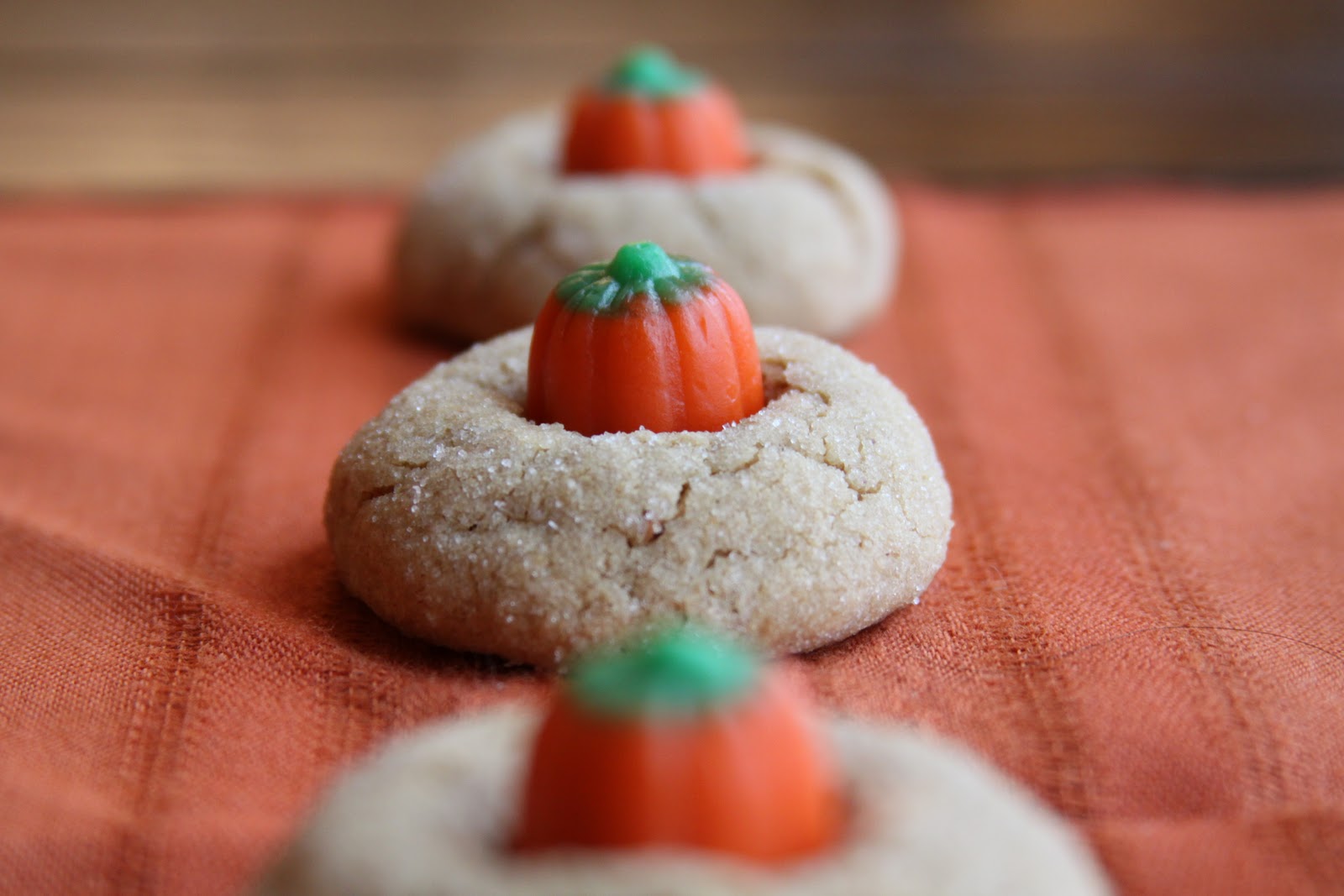 Candy Pumpkin Peanut Butter Kisses
Adapted from Better Homes and Gardens New Cookbook
(Printable Recipe)
Ingredients
*1/2 cup butter, softened
*1/2 cup creamy peanut butter
*1/2 cup sugar
*1/2 cup brown sugar
*1/4 tsp. salt
*1 tsp. vanilla extract
*1 tsp. baking powder
*1/4 tsp. baking soda
*1 large egg
*2 Tbsp. milk
*1 3/4 cup whole wheat pastry flour or all-purpose flour
*1/4 cup sugar
*Candy Pumpkins
Instructions
*Preheat oven to 350°F. Line two baking sheets with parchment paper. Set aside.
*With an electric mixer, cream together the butter and peanut butter. Add in the sugars and beat for 1 to 2 minutes, until creamy and fluffy. Add in the salt, vanilla extract, baking powder, baking soda, and egg. Beat until well combined.
*Add in the milk and the flour and beat until just combined. Roll rounded teaspoons of the cookie dough in the sugar. Place on baking sheet, about 1 inch apart, and bake for 12 minutes.
*Remove cookies from oven and immediately place a candy pumpkin in the center of each cookie. Cool on baking sheets for about 10 minutes. Transfer to wire racks and cool completely.
Happy Baking!
Madison