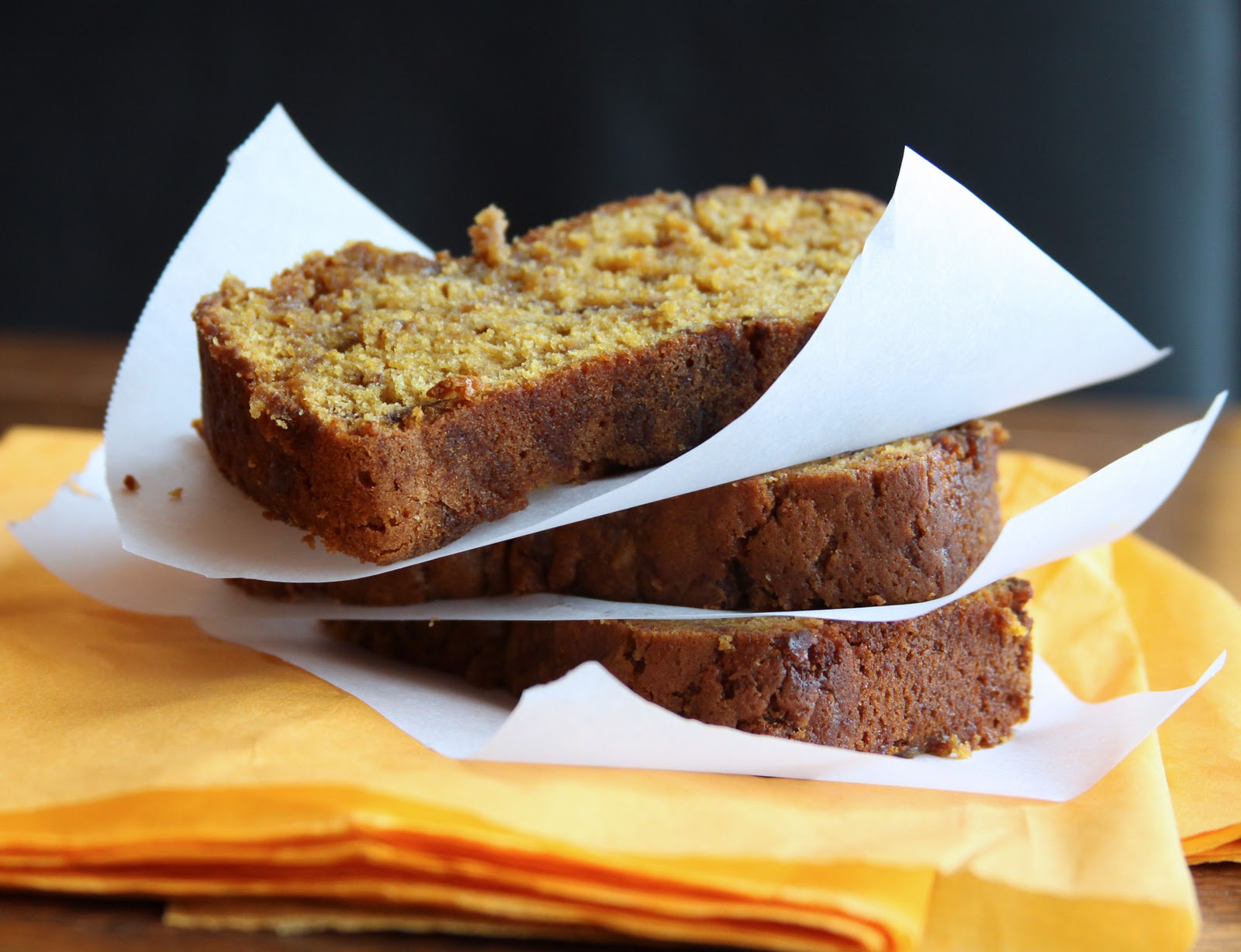 Having candy on hand in my apartment is a rarity. In fact, I rarely even have chocolate chips lying around. Some baker I am. Thankfully, I live within walking distance of Target, making it easy to go grab supplies and a whole lot less tempting than having chocolate in the house. But last week while Joey (yes, I've decided to start calling him by his real name!) and I were up in Minneapolis, his mom sent us all home with a giant bag of Halloween candy.
Knowing I needed to get that candy out of my apartment fast, I saved a few pieces for my secret stash and got to baking with the rest. A majority of said candy was mini Butterfinger candy bars, which I think really go well with the flavors of classic fall baking. And by fall baking, I mean pumpkin treats. For a few weeks now, pumpkin bread has been on my list of things to bake and those extra Butterfingers were just the push I needed.
Adapted from Baking in America by Greg Patent, this recipe is killer. Crispy on the outside, sweet, dense and moist on the inside.  And the Butterfingers? It seems that pumpkin and Butterfinger were meant to be together. Give it a try and I think you'll agree.
I'm off to get ready for the weekend. My mom and Joey are coming to stay with me and I've got cleaning to do! Do any of you have Halloween plans?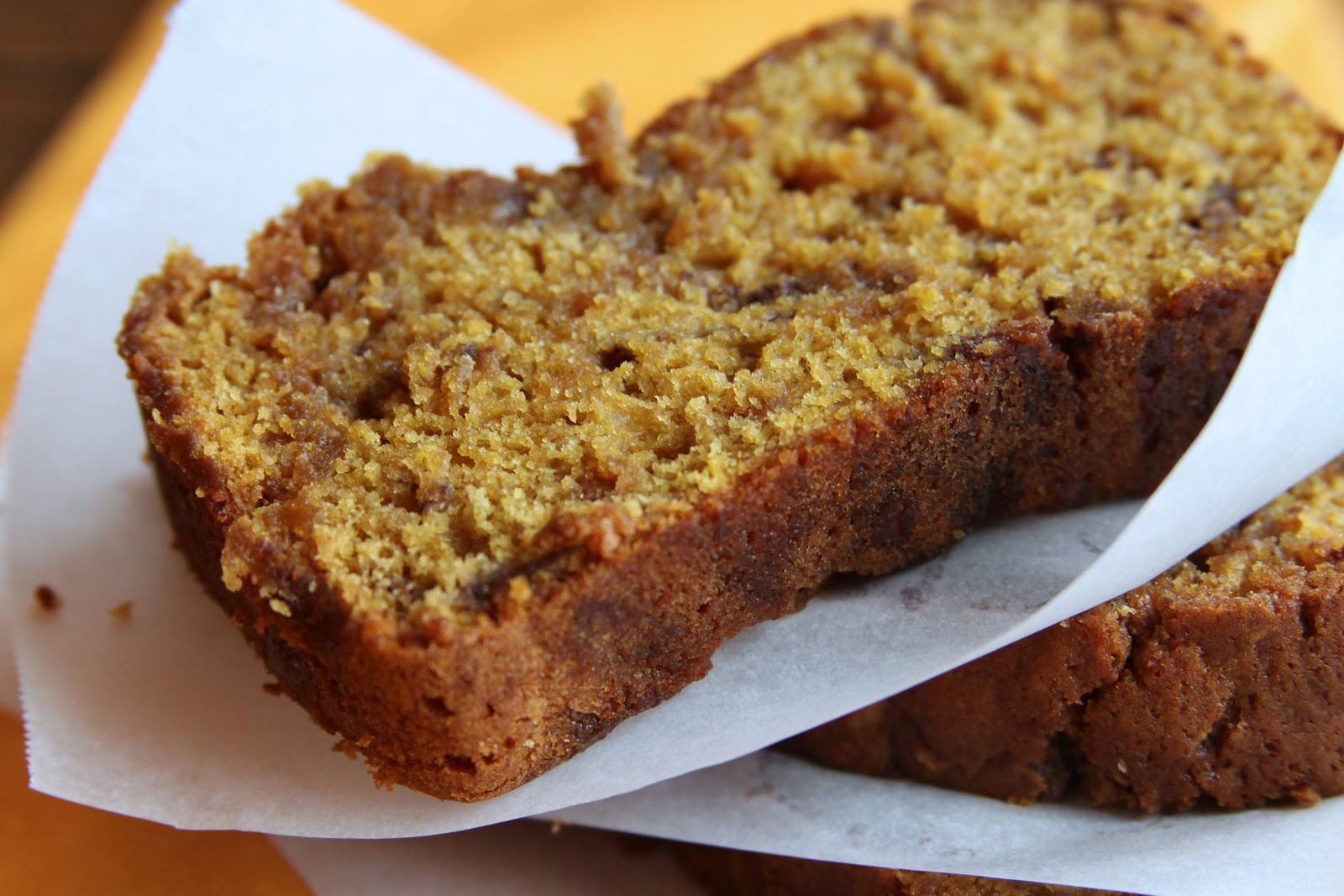 Butterfinger-Pumpkin Bread
Adapted from Baking In America by Greg Patent 
(Printable Recipe)
Ingredients
*1 3/4 cups all-purpose flour
*1 tsp. baking powder
*3/4 tsp. baking soda
*1/2 tsp. salt
*1 tsp. ground ginger
*1/4 tsp. ground cardamom
*1/2 tsp. ground cinnamon
*2 large eggs
*3/4 cup firmly packed brown sugar
*1/2 cup sugar
*1 cup canned pumpkin (not pumpkin pie filling)
*1 tsp. vanilla extract
*1/4 cup canola or vegetable oil
*1 1/2 cups coarsely chopped Butterfingers (about 14 mini candy bars)
Instructions
*Preheat oven to 350°F. Butter a 9x5x3-inch loaf pan. Line the bottom of the pan with parchment paper. Set aside.
*In a large bowl, combine the flour, baking powder, baking soda, salt, ginger, cardamom, and ginger. Set aside.
*With an electric mixer, beat the eggs for about 1 minute, until frothy. Add both sugars and beat until creamy and thick, about 1 to 2 minutes. Stir in the pumpkin, vanilla, and oil until smooth. Stir in the Butterfingers. Add the dry ingredients and stir just until combined. Scrape the batter into the prepared pan and smooth the top.
*Bake for 50 to 60 (it was more like 65 minutes for me) until the loaf is well browned and a toothpick inserted in the center comes out clean. Cool in the pan on a wire rack for 15 minutes. Remove from the pan and turn the loaf right side up on the rack to cool completely. Cut with a serrated knife.
Happy Baking!
Madison