Every year around this time, I realize I'm not a Halloween person. Candy, scary movies, haunted houses – no thanks. And don't get me started about what Halloween means when you're a college student. Not my cup of tea. But for fear of being seen as the Grinch of October, I've made an attempt at Halloween-themed baking.
Maybe it's a bit of a stretch. In fact, one of my co-workers told me the concept was lost on him, but the cupcake tasted delicious. I believe his exact words were "lose the concept, keep the cupcake". But since this is likely to be my only attempt at something themed for Halloween, I decided to keep the theme and the cupcake.
If I could do it again, I would have made the orange layer a little more neon orange with the addition of more food coloring. And instead of trying to imitate the chocolate-bottomed candy corn, the read might have been stronger if I had gone with the white, orange and yellow color combination. Either way, these cupcakes are a fun, low-commitment way to celebrate (or not) Halloween.
P.S. – I finally rounded up some photos from a couple weeks back. J and I were part of an awesome cheering section at the Chicago Marathon. It couldn't have been a more beautiful day, and Jake and Amber (J's sister and brother-in-law) did great! Maybe we'll be running it next year?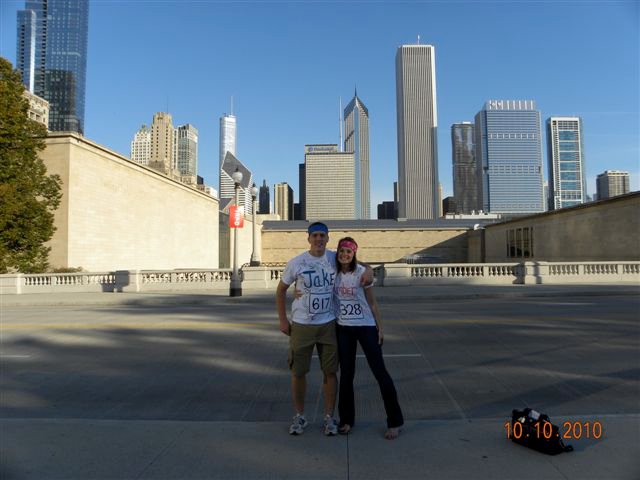 Candy Corn Cupcakes
(Printable Recipe)
Ingredients
Cupcakes
*1 box white cake mix
*2 eggs
*1 1/4 cups water
*2 Tbsp. oil
*2 Tbsp. cocoa powder
*1 tsp. orange extract
Yellow Food Coloring
Red Food Coloring
Almond Buttercream
*2 sticks butter, softened
*3 cups powdered sugar
*2 Tbsp. milk
*1 tsp. almond extract
Yellow Food Coloring
Instructions
*Preheat oven to 350°F. Line 18 muffin cups with paper liners. Set aside.
*In a mixing bowl, combined the cake mix, eggs, water and oil. Whisk together until smooth. Transfer half of the batter to a clean bowl.
*In one half of the batter, stir in the cocoa powder until combined. In the second bowl, stir in the orange extract, 2 drops red food coloring and 3 drops yellow food coloring. Stir until well combined.
*Spoon a heaping tablespoon of chocolate batter into the bottom of each prepared liner, followed by some of the orange batter.
*Bake for 12 to 15 minutes, or until a toothpick inserted in the center comes out clean. Remove from oven and cool completely.
*Meanwhile, prepare buttercream. With an electric mixer, beat butter until creamy. Add in the powdered sugar, a cup at a time, and beat until fluffy. Add in the milk and almond extract, followed by four drops of yellow food coloring.
*Pipe buttercream atop cooled cupcakes (I used a large star tip).
Happy Baking!
Madison