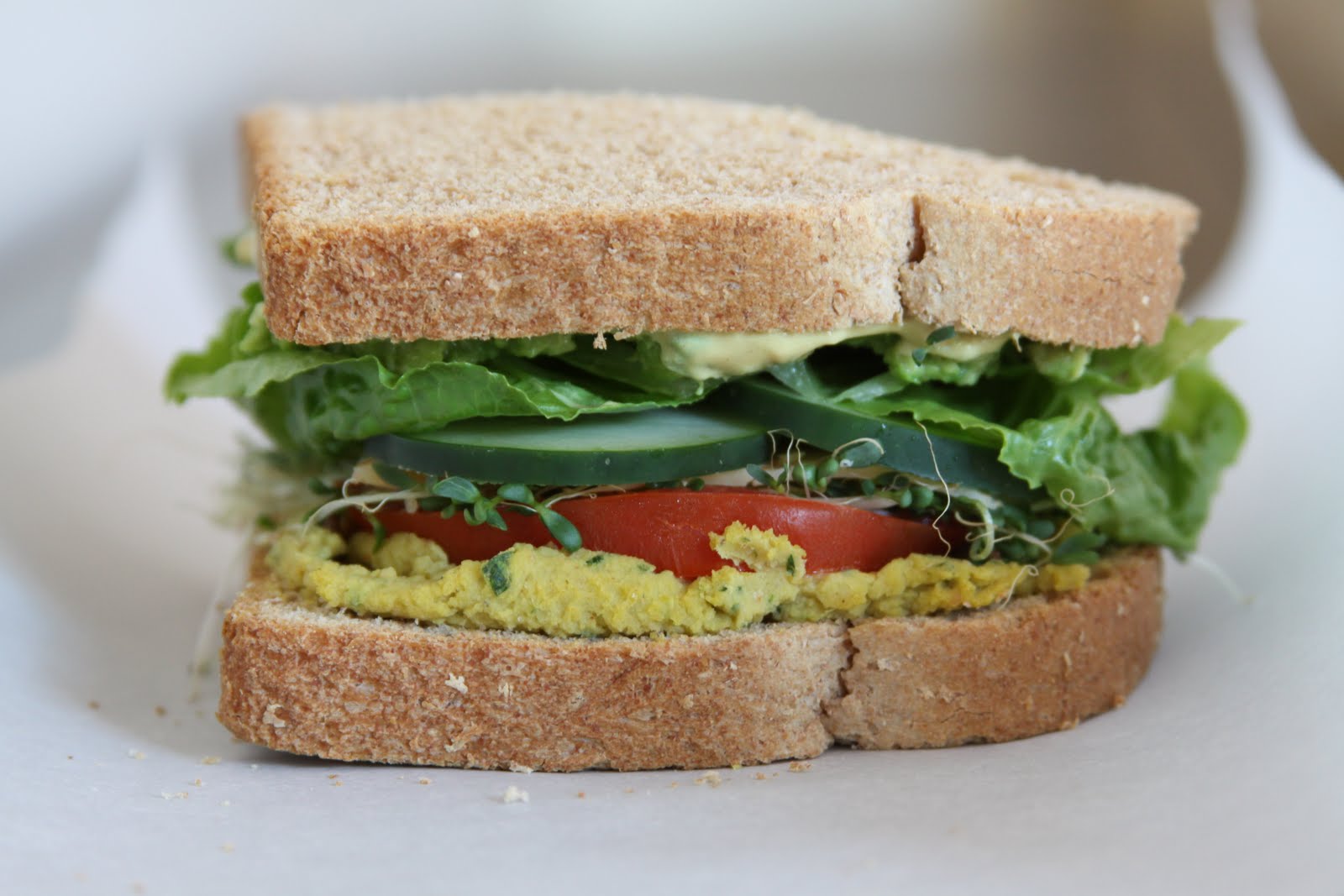 There are few things in life that bring me as much peace and satisfaction as a fully-stocked fridge. Call me weird but the ritual of cleaning out the fridge and filling it with colorful produce, milk, Greek yogurt, and yummy extras is just so settling. Maybe it's knowing that I won't starve if all the grocery stores in Des Moines abruptly close. Or maybe it's because I know that I'll be able to make sandwiches like this.
Don't let the fact that it's healthy to the max scare you away, because it's also super tasty and complex, thanks to a layer of homemade Parsley-Curry Hummus, Dijon mustard and mashed avocado. Mashed avocado makes everything divine.
While we're on the topic of sandwich spreads, let's chat hummus: it's creamy, adaptable, healthy, expensive to buy and cheap to make at home. The bulk of the cost comes from two cans of garbanzo beans, which cost me $0.79 each, and it stores well in the fridge for weeks. Once you've tried this variety, try mixing it up with roasted red peppers, jarred olives, or fresh basil in place of the parsley.
Parsley-Curry Hummus
(Printable Recipe)
Ingredients
*2 (16-oz.) cans garbanzo beans (chick peas), rinsed and drained
*1/2 cup olive oil
*2 Tbsp. milk 
*1/2 cup Italian (flat-leaf) parsley
*1/2 tsp. salt
*1/2 tsp. curry powder
*1/2 tsp. paprika
*1/4 tsp. black pepper
Instructions
*Combine all the ingredients in the bowl of a food processor. Process until smooth, scraping down the sides of the bowl as necessary, about 2 to 3 minutes.
*Refrigerate, covered, until ready to use.
Favorite Veggie Sandwich
*2 slices 100% Whole Wheat Bread
*1 Tbsp. Parsley-Curry Hummus or other hummus spread
*2 tsp. Dijon mustard
*1/2 of a medium avocado, mashed
*1/2 of a small tomato, sliced
*1/4 cup sprouts
*Lettuce leaves
*1/3 to 1/2 cup sliced cucumbers
*1 slice provolone or sharp cheddar cheese (optional)
Instructions
*Spread one slice of bread with the hummus. Spread the other side with the Dijon mustard, followed by the mashed avocado.
*Stack on the veggies and eat.
Happy Cooking!
Madison