Looking back at my childhood and thinking about the food my mom put on the table each night continually blows me away. Not because the food required complicated cooking methods or multiple-step preparation, but because it was real. Biscuits didn't come from a can, but from a mixingbowl, beef stew not in a can but from the magical process of stewing beef, potatoes, and carrots. And pizza could be found in the oven in imperfect shapes and layered with homemade goodness. Maybe it's selective memory, only proving food made from scratch is the most memorable kind.
I tend to get a little fired up about the topic of cooking, namely the importance of home cooking and teaching people to cook. Which is why I love food blogging and this little space on the internet where I can cook, share, and hopefully encourage others to get in the kitchen, too.
Since I'm taking a little trip home this weekend, eating and cleaning out my fridge was a priority. I knew immediately it was a pizza-loaded-with-ingredients kind of night. So while I let the dough rise, I got to digging through my fridge and chopping up whatever I found. Which so happened to be….
*Pesto
*Shitake Mushrooms
*Shallots
*Arugula
*Cheese
*Asparagus
Knowing that every fridge, and person, is different, I would encourage you to take the toppings I used as a guide, rather than a rule. If you happen to hate mushrooms, substitute ground beef. Swap out the asparagus for zucchini or yellow squash, and the arugula for spinach. 
But if you do decide to follow this recipe exactly, I promise you will not be disappointed. The pesto serves as your flavor-enhancing secret weapon and loading it up with veggies makes it more filling and a bit easier to stop after a slice or two. Topping the baked pizza with fresh greens tossed in a simple vinaigrette is my favorite finishing touch; it seems only natural to eat salad on top of your pizza, since pizza with salad is already a classic.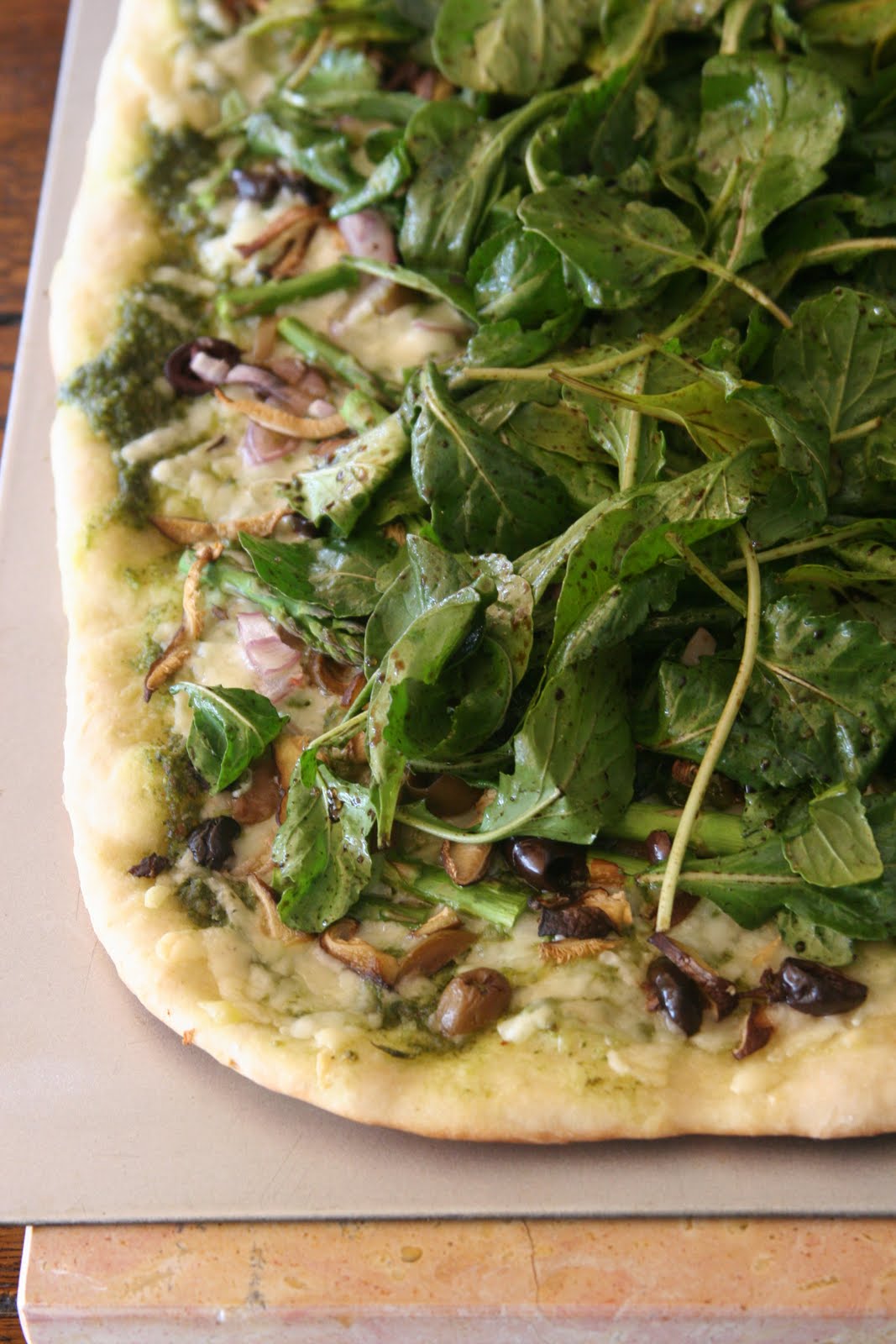 Veggie-Lovers Pesto Pizza
(Printable Recipe) 
Ingredients:
Crust
*1 cup hot water
*1 (1/4-oz.) package active dry yeast
*1 tsp. sugar
*1 tsp. table salt
*2 1/4-1/2 cups all-purpose flour
*1 Tbsp. olive oil
Toppings
*1/3 cup pesto
*1 1/2 cups shredded Manchego cheese (mozzarella can be substituted)
*1 shallot, thinly sliced or 1/2 a medium red onion, thinly sliced
*1/3 cup olives, chopped
*1/2 of a bunch of asparagus, chopped (about 1 cup)
*1 cup shitake mushrooms, sliced
*2 cups arugula or spinach
*1 Tbsp. olive oil
*1 Tbsp. balsamic vinegar
*1/2 tsp. kosher salt
Instructions:
*Preheat oven to 400*F.
*In large mixing bowl, combine the hot water, yeast, sugar, and salt. Stir until all ingredients are disolved, about 30 seconds. Allow mixture to rest 5 minutes.
*Stir in 1 cup of the flour and mix until well combined. Stir in the second cup of flour. Knead the final 1/4 to 1/2 cup of flour in with your hands, until dough is still soft, but not sticky. Form into a ball and place in a clean bowl. Drizzle the dough with the 1 Tbsp. of olive oil. Cover with a towel and place the bowl in a warm place. (I like to crack the door of the oven for this and let the dough rise on the stove top where the warm draft can reach it) Allow dough to rise until it has doubled in size, about 30 minutes.
*Once dough has risen, transfer the dough to a baking sheet and press into a rectangle, about 12×8-inches in size.
*Spread the pesto on top of the dough, followed by the cheese. Top with the shallot, olives, asparagus, and mushrooms.
*Bake for 15-20 minutes, until bottom of crust is golden brown and the toppings are lightly browned and bubbly.
*White pizza is baking, toss together the arugula or spinach, olive oil, balsamic vinegar, and salt.
*Top baked pizza with the fresh arugula mixture. Cut into slices and enjoy!
Happy Cooking!
Madison