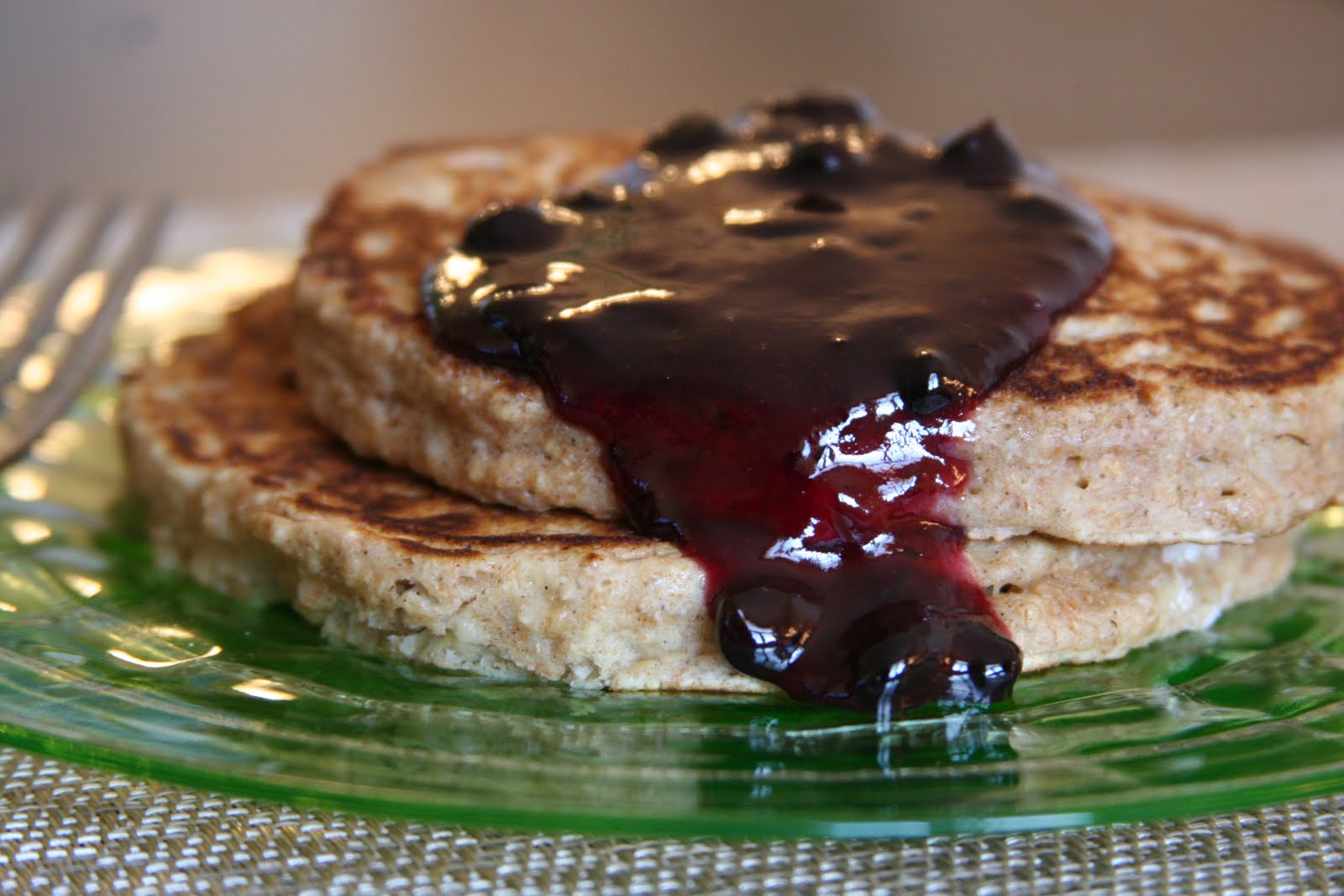 I am what you might consider one of those annoying people who likes getting up early, with the exception of some Saturday mornings when I sleep in until (gasp!) eight or nine, I'm usually up and at it around seven. And being a morning person, there is nothing I love more than a good breakfast or morning ritual. Sure, I have my own morning rituals at home, but it's when I am up in Minneapolis/St. Paul visiting J. and my best friend, Emily, among others, that I take part in my favorite morning ritual of all – breakfast at The Good Earth.
Being a creature of habit, I order the same thing every time – ten grain hotcakes served with a side of peanut butter. And despite my best efforts, I have yet to find something similar here in Des Moines, or anywhere else for that matter. They are crunchy, dense, and fulfilling in a way regular pancakes could only dream of being, and while these pecan-cinnamon oatmeal pancakes aren't a replacement for my ten grain hotcakes, they certainly are a step in the very-right direction.
This past weekend my mom commented on how much she loves pancakes, and thanks to the very timely Deb of The Smitten Kitchen, who posted a recipe for oatmeal pancakes just last week, I felt eager to put my own twist on the recipe for Mother's Day breakfast. These little hotcakes are pure gold. Despite being made with whole wheat flour and oatmeal, they don't seem overly dense, just enough to fill you up for hours to come, and the cinnamon, vanilla, and pecan flavors mask their underlying healthfulness. "Gosh these are filling," said my mom. "You should let your readers know that they probably won't be able to eat more than one!"
 My mom captured this candid moment, for those of you who ever wonder 
what blogging looks like behind the scenes at my apartment.
Pecan Cinnamon Oatmeal Pancakes
Recipe adapted from Deb of The Smitten Kitchen via Good to the Grain cookbook
Ingredients:
*3/4 cup oat flour (you can make this by pulsing rolled oats into a food processor or spice grinder until finely ground; 1 cup of oats yielded 3/4 cup oat flour for me)
*1 cup all-purpose or whole wheat flour (I used whole wheat)
*2 tablespoons sugar
*2 teaspoon baking powder
*3/4 teaspoon Kosher or coarse salt
*3 tablespoons unsalted butter, melted and cooled slightly (plus extra for the pan)
*1 1/4 cups whole milk
*1 cup cooked oatmeal (To make: 1/2 cup uncooked, microwaved for 2 minutes with 1 cup water)
*2 large eggs
*1 tsp. vanilla extract
*1 tsp. ground cinnamon
*1 cup chopped pecans
(Fruit preserves or maple syrup, if desired) 
Instructions:
*Whisk the dry ingredients (oat flour, flour, sugar, baking powder and salt) together in a large bowl.
*In a smaller bowl, whisk the butter, milk, cooked oatmeal, eggs, vanilla, and cinnamon together until well combined.
*Gently stir the wet ingredients into the dry ingredients. It is okay, even good, if the batter is slightly lumpy.
*Heat a large skillet or griddle over medium heat until water sizzles when splashed onto the pan. Lower to medium-low. (This helps pancakes cook evenly and avoid burning) Rub the pan generously with butter or spray with non-stick cooking spray.
*Working quickly, dollop 1/4-cup mounds of batter onto the pan, 2 or 3 at a time. Sprinkle batter with some of the chopped pecans. Once bubbles have begun to form on the top side of the pancake, flip the pancake and cook until the bottom is dark golden-brown, about 5 minutes total. Wipe the pan with a cloth before cooking the next pancake. Continue with the rest of the batter.
*Serve the pancakes hot, straight from the skillet or keep them warm in a low oven. We also found these to reheat surprisingly well the next morning, again in a low oven.
Happy Cooking!
Madison