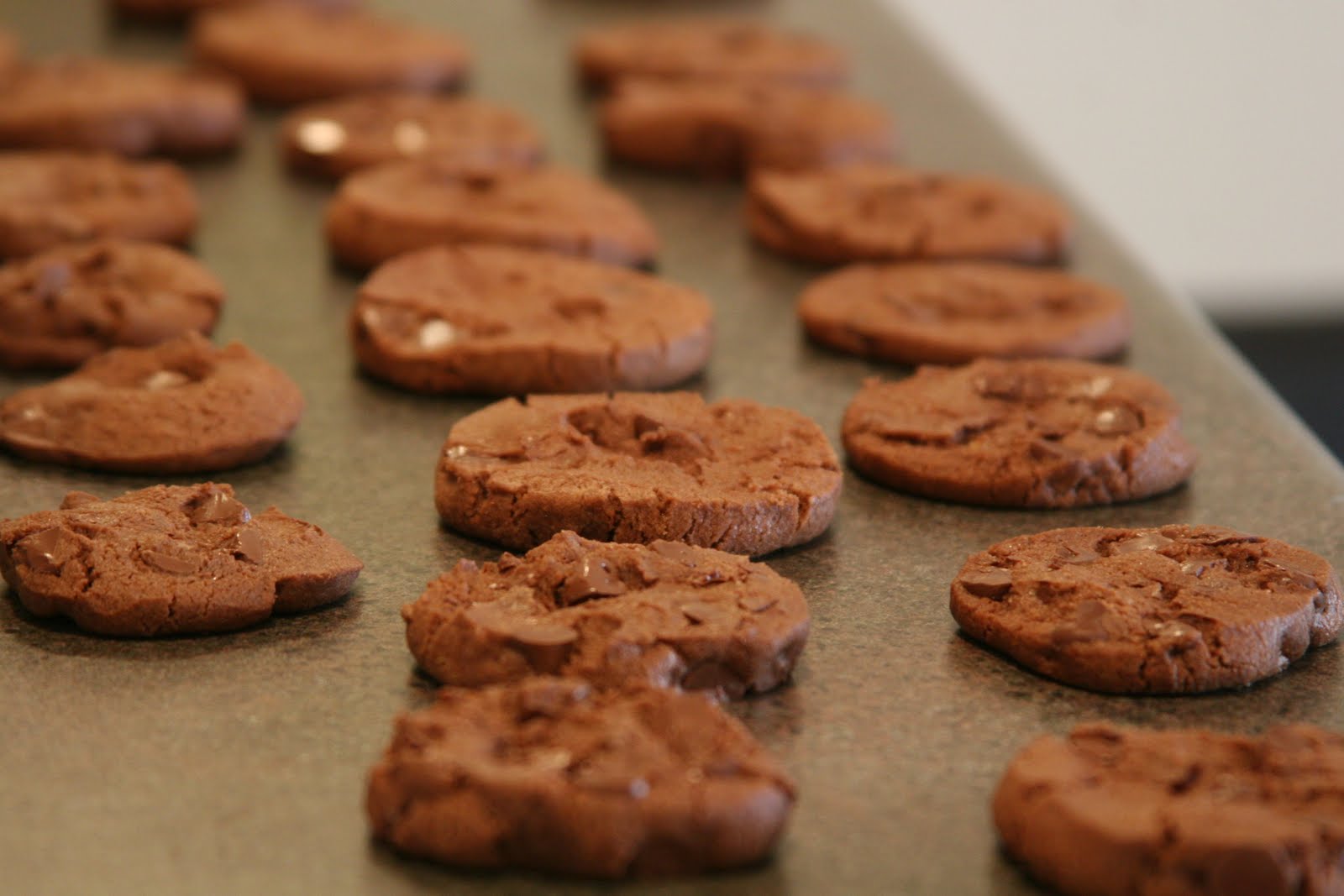 Not all that long ago, yet too long ago, I took what was the most magical, wondrous, and tasty trip of my 22 years of life. For eight blissful days, my step-mom, Andrea, and I navigated the streets and sights of Paris. Classes at Le Cordon Bleu in the morning, early afternoon naps, cups of near perfect coffee, and more beautiful artwork and architecture than one can even possibly process in eight days. Sure, it rained hard the first four days of the trip, and I did a dreadful job packing appropriate clothes for the weather, but none of that seemed to matter. I was falling in love with Paris. 
Did I mention we ate well? Armed with a list of places to see and eat from my deputy editor (this is one woman who knows her way around Paris) we hopscotched around the city, checking restaurants and bakeries off our list as the days passed by. I was told that visiting Pierre

Herme

was an absolute must. When we finally arrived I was enchanted by a tiny jewel box of a bakery with a line a mile long – patrons in search of the most amazing sweets on earth. 
Yes, I spent 6 euro (around $9.50 at the time) on a single
macaron
, but oh was it worth it. What I didn't have was one of these World Peace Cookies. And though I replicated them in my own kitchen, with the help of
Dorie Greenspan
who convinced
Pierre

Herme
to cough it up for us home cooks, I hope someday to try one from the source. Right now I can't imagine how these cookies could get any better. They are, like Paris itself, magical. Crumbly, light, rich, and chewy all at once – the kind of cookies that make you believe anything is possible. 
Follow the recipe carefully. It is by no means a difficult recipe, but the dough may prove a bit tricky to work with. Make sure the butter is very soft, refrigerate the dough for the recommended 3 or more hours, and let the cookies cool completely on the cookie sheet before moving them. Remember these tips and you should have cookies that evoke world peace, or a cookie riot, in no time.
World Peace Cookies
From
Paris Sweets
by Dorie Greenspan 
1 1/4 cups all-purpose flour
1/3 cup unsweetened cocoa powder
1/2 teaspoon baking soda
1 stick plus 3 tablespoons (11 tablespoons) unsalted butter, at room temperature
2/3 cup (packed) light brown sugar
1/4 cup sugar
1/2 teaspoon

fleur

de

sel

or 1/4 teaspoon fine sea salt
1 teaspoon pure vanilla extract
5 ounces bittersweet chocolate, chopped into chips, or a generous 3/4 cup store-bought mini chocolate chips
1. Sift the flour, cocoa and baking soda together.
2. Working with a stand mixer, preferably fitted with a paddle attachment, or with a hand mixer in a large bowl, beat the butter on medium speed until soft and creamy. Add both sugars, the salt and vanilla extract and beat for 2 minutes more.
3. Turn off the mixer. Pour in the dry ingredients, drape a kitchen towel over the stand mixer to protect yourself and your kitchen from flying flour and pulse the mixer at low speed about 5 times, a second or two each time. Take a peek — if there is still a lot of flour on the surface of the dough, pulse a couple of times more; if not, remove the towel. Continuing at low speed, mix for about 30 seconds more, just until the flour disappears into the dough — for the best texture, work the dough as little as possible once the flour is added, and don't be concerned if the dough looks a little crumbly. Toss in the chocolate pieces and mix only to incorporate.
4. Turn the dough out onto a work surface, gather it together and divide it in half. Working with one half at a time, shape the dough into logs that are 1 1/2 inches in diameter. Wrap the logs in plastic wrap and refrigerate them for at least 3 hours. (The dough can be refrigerated for up to 3 days or frozen for up to 2 months. If you've frozen the dough, you needn't defrost it before baking — just slice the logs into cookies and bake the cookies 1 minute longer.)
Getting Ready to Bake:
5. Center a rack in the oven and preheat the oven to 325 degrees F. Line two baking sheets with parchment or silicone mats.
6. Using a sharp thin knife, slice the logs into rounds that are 1/2 inch thick. (The rounds are likely to crack as you're cutting them — don't be concerned, just squeeze the bits back onto each cookie.) Arrange the rounds on the baking sheets, leaving about 1 inch between them.
7. Bake the cookies one sheet at a time for 12 minutes — they won't look done, nor will they be firm, but that's just the way they should be. Transfer the baking sheet to a cooling rack and let the cookies rest until they are only just warm, at which point you can serve them or let them reach room temperature.
Happy Baking! 
Madison