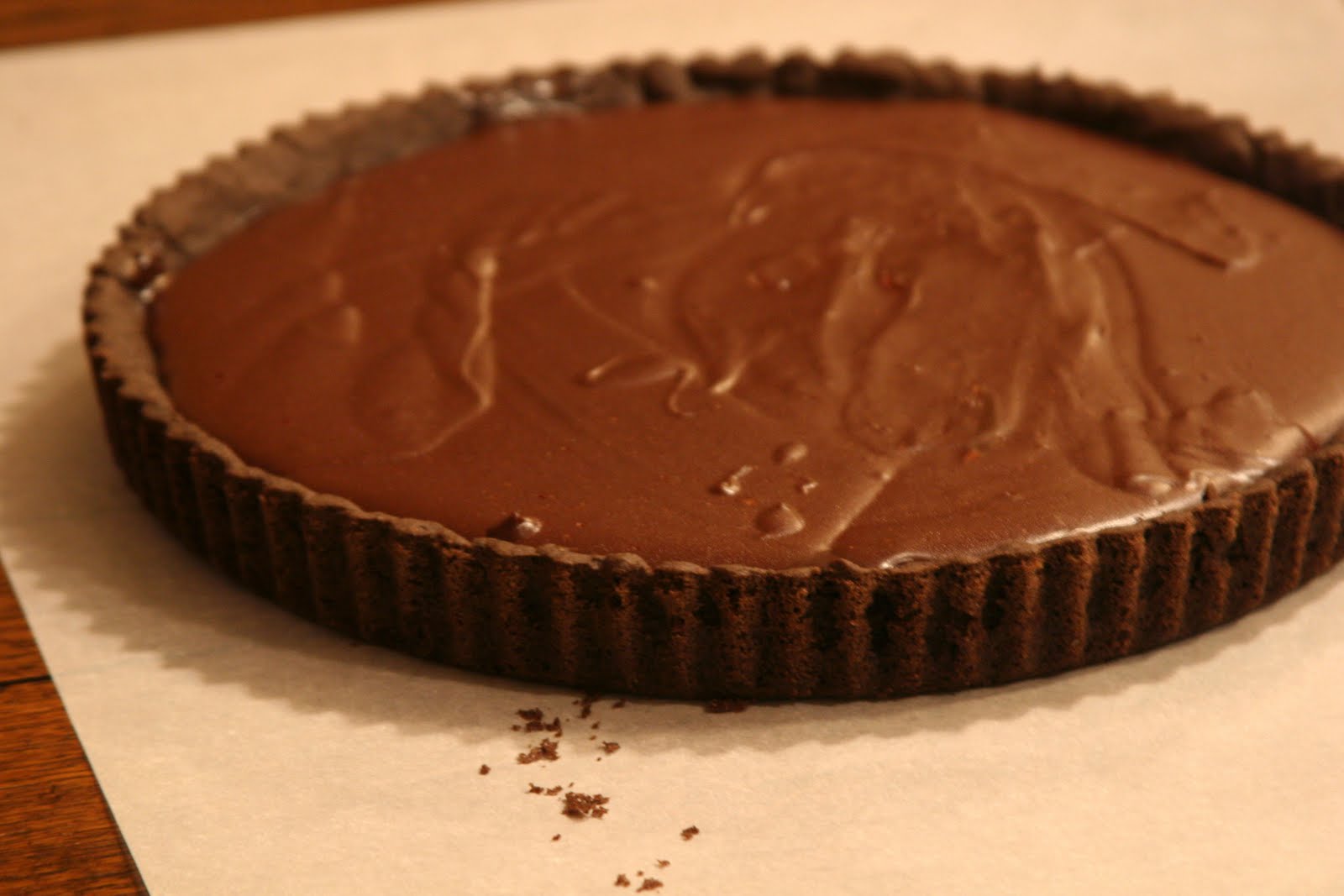 Can I confess something to you?
I have a serious case of guilt. You see, in my mind blogs are supposed to be magical, fun, creative, and above all – delicious. But after weighing you all down with my last post full of talk about fruit, vegetable, and calorie counts I figured I owed you an apology. Sure, fruits and veggies are very important, but sharing with you something as mundane as a smoothie, and then having the audacity to name it 'Fruit and Veggie Smoothie' (really? eeek!) It all makes me want to cringe
So to say I'm sorry, I'm giving you chocolate, more specifically a chocolate tart filled with chocolate ganache and homemade chocolate pudding. And oh my gosh is this thing good. It's rich, intense, and may possibly have the power to send you into a chocolate coma, but if I'm going to go, death by chocolate tart sounds like a pretty sweet way to do it.
The process looks long, but don't let that scare you. The whole thing comes together pretty quickly – it took me less than 40 minutes to assemble. Instead of the more expected, crunchy graham cracker crust, I went in the opposite direction with a cakey chocolate shell that yielded a crispy edge and spongy center. Ganache, the second layer, is a thick icing/pastry cream made of cream and chocolate. Once it cools, the texture is thick and fudgy and provides nice contrast to the lighter chocolate pudding layer.
I'm sorry for weighing you down with the practical side of life. Please accept my peace offering of chocolate – three ways. Because I'm more concerned with your taste buds than your hips. 🙂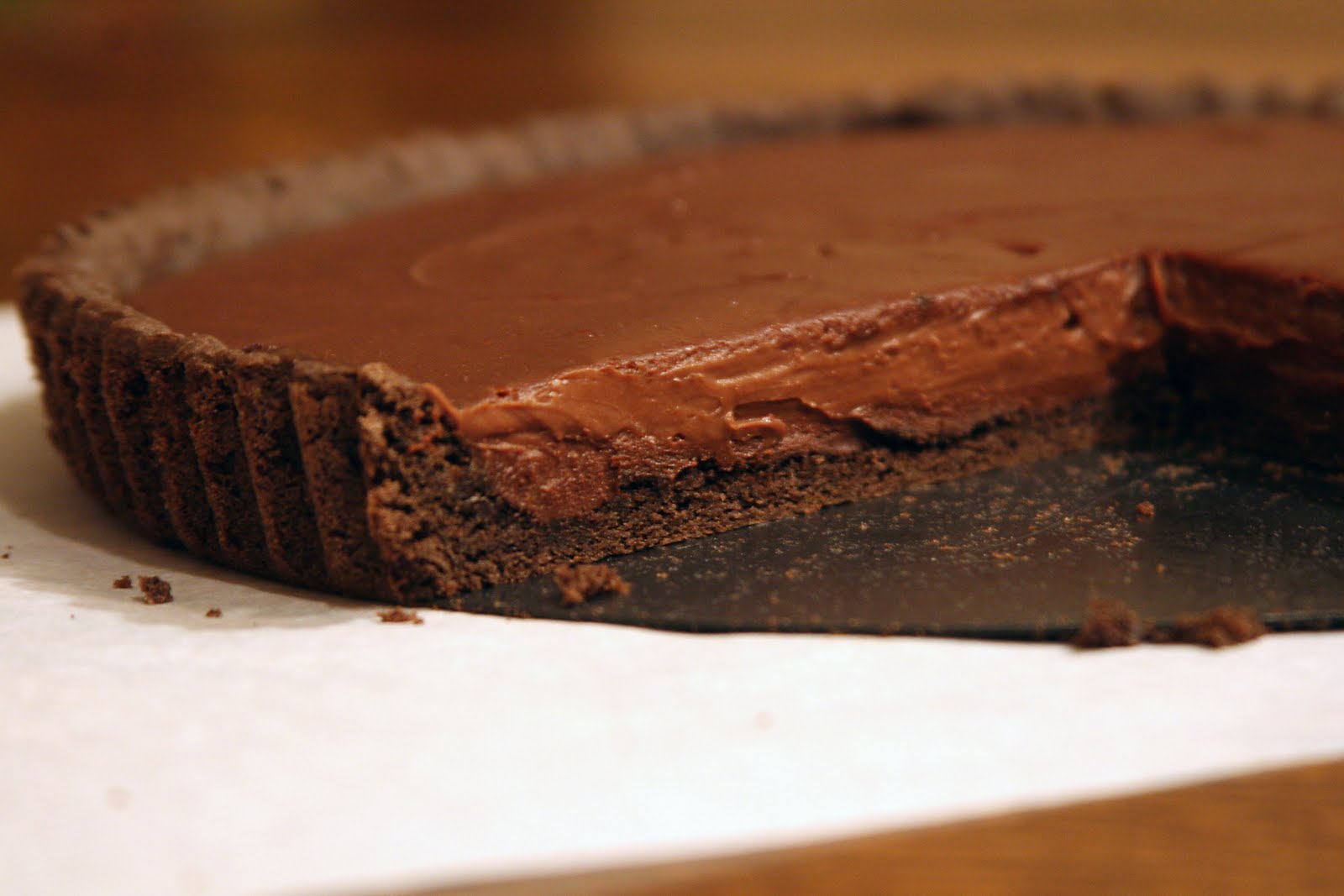 Ingredients:
Cookie Tart Shell
*1 box devil's food cake mix
*1 large egg
*1/3 cup vegetable oil
*1/4 cup water
Ganache:
*1 cup heavy cream
*10 oz. semi-sweet chocolate, chopped
*1/8 tsp. kosher salt (coarse sea salt)
Chocolate Pudding:
adapted from Smitten Kitchen via Wednesday Chef
*1/4 cup cornstarch
*1/2 cup sugar
*1/8 tsp. salt
*1 cup heavy cream
*2 cups 2% milk
*6 oz. semi-sweet chocolate, chopped
*1 tsp. vanilla extract
Instructions:
*Preheat oven to 350*F. Grease a 10-inch tart pan with cooking spray. Set aside. (if you don't have a tart pan, you can use a pie plate)
*With electric mixer, beat together cake mix, egg, oil, and water until mixture forms a dough. Press dough into tart pan. Bake 12-14 minutes, until crust is puffed up. Cool on a wire rack.
*Next, prepare the ganache. Heat the 1 cup cream in saucepan over medium heat, stirring frequently, just until cream begins to simmer (A mixture is considered to be 'simmering' when a bubble rises to the surface every 1 to 2 seconds but not more.)
*When mixture begins to simmer, remove from heat and pour cream on top of the 10 oz. chopped chocolate. Stir mixture until chocolate is melted. Pour the ganache into the tart shell. Sprinkle the top of the ganache with the 1/8 tsp. kosher salt. This is important. With all the chocoalte, a bit of salt helps to bring out the flavors and break up the sweetness every so slightly. Do not skimp on this part. Then, place tart in refrigerator.
*Then, prepare chocolate pudding. In saucepan, combine corn starch, sugar, and salt. Stir together until evenly combined. Slowly add in the 1 cup cream and 2 cups milk, stirring until smooth. Place saucepan over medium heat. Cook, whisking constantly, 15-18 minutes, until mixture is thickened. (During this process, do not let the mixture boil or bubble. It should thicken slowly, without boiling or simmering. The mixture may let off steam, which is normal. If it starts simmering, remove from heat immediately, continuing to stir, then return to heat.)
*After the pudding mixture is thickened, remove from heat and add in the chocolate and vanilla extract. Stir until chocolate is melted and mixture is smooth. Pour the pudding over ganache in tart. Refrigerate 2 hours, until pudding is cooled and ganache is set.
Happy Baking!
Madison
*Update: Because I care deeply about each and every one of you, I took it upon myself to have a sliver of this cake for breakfast. I can safely assure you that it's still good out of the refrigerator the next morning. That's just the kind of self-sacrificing person I am.