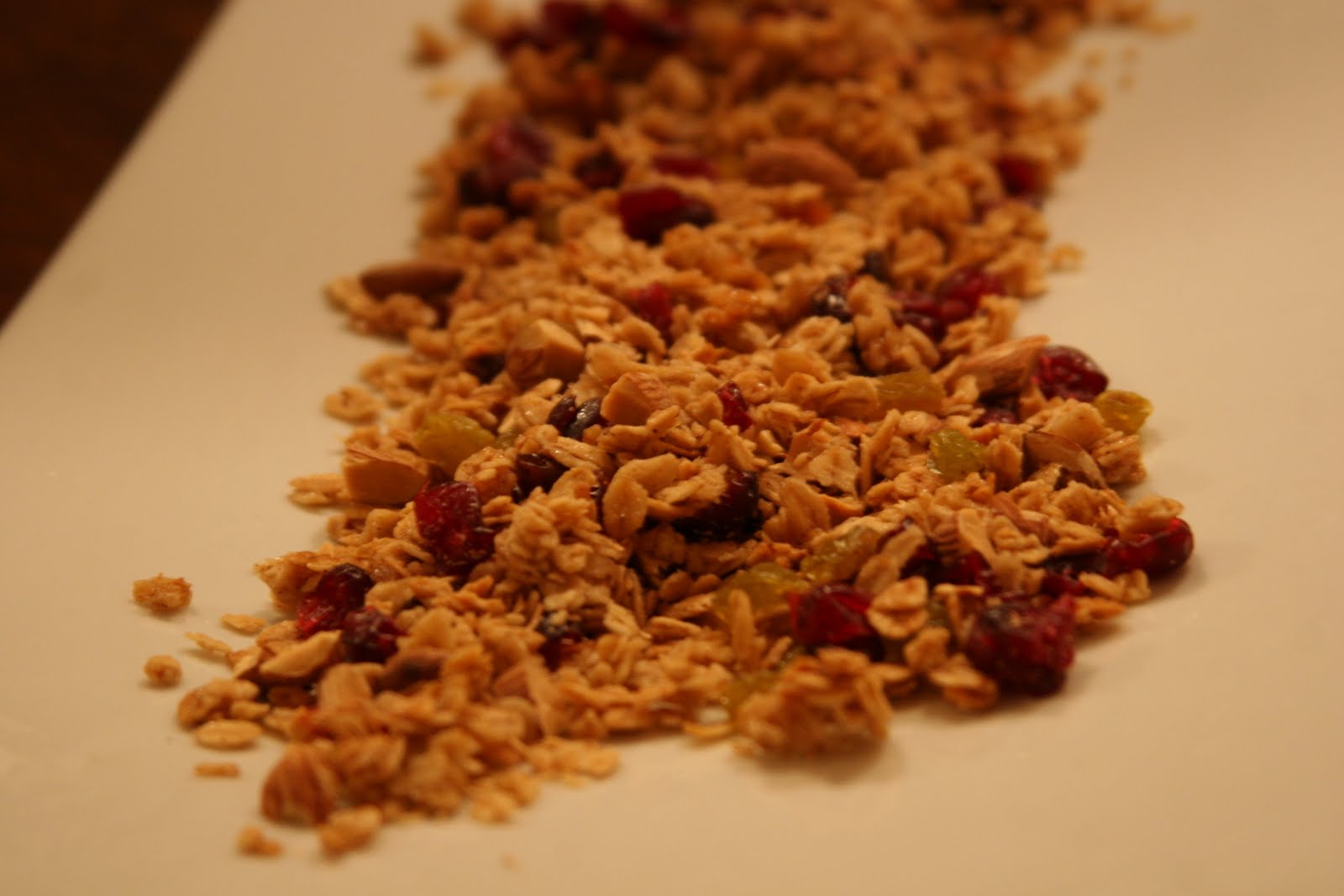 I don't know about you, but I'm a sucker for specialty grocery stores and the health-food sections of regular grocery stores. Countless hours of my life have been spent wandering through isles, transfixed by pretty packaging and obscure, high-quality ingredients. There are many instances when I believe it's worth the splurge. Cheese, seafood, olive oil, certain cuts of meat? Totally worth the splurge.
But no matter where I buy my groceries, the absurdly high price of granola (even the cheapest option) never ceases to amaze me. I mean, you're basically paying for oats, mixed with some sort of sweetener, typically honey, with a few nuts and dried fruits tossed in. Companies give this granola all types of labels: "Protein Packed" "Antioxidant Rich" "A Full Serving of Fruit!" Truth be told, if you know one basic granola recipe, you can customize it to fit your needs.
Start with the recipe listed here, but don't get caught up in the fruit and nuts I added. If you want a few more antioxidants, add some dried blueberries to the mix, for additional protein just bump up the nuts. Need a few more omega-3s in your diet? Try walnuts! (I think you get the picture) Basically, just have fun with it! And enjoy spending a whole lot less.

Homemade Cranberry-Almond Granola
Adapted from Chow.com
Ingredients:
*3 cups old fashioned rolled oats
*2 Tbsp. brown sugar
*1 tsp. ground cinnamon
*1/4 tsp. salt
*1/3 cup honey
*1/4 cup canola oil
*1 tsp. almond or vanilla extract
*3/4 cup dried cranberries
*1/2 cup golden raisins
*1/2 cup chopped almonds
Instructions:
*Preheat oven to 300*F.
*In large bowl combine oats, brown sugar, cinnamon, and salt. In another bowl, combine honey, oil, and extract and stir until well combined. Pour mixture over oat mixture. Stir until well-combine. Use hands, if necessary.
*Pour mixture into a large baking sheet or pan. Spread into a thin, even layer. Bake 45 minutes, or until golden brown, stirring every 15 minutes. Remove from oven and cool completely. Stir the mixture once or twice while it cools (it will harden as it cools). Once cooled, add in cranberries, raisins, and almonds. Store in an airtight container or zip top bag.
Happy cooking!
Madison