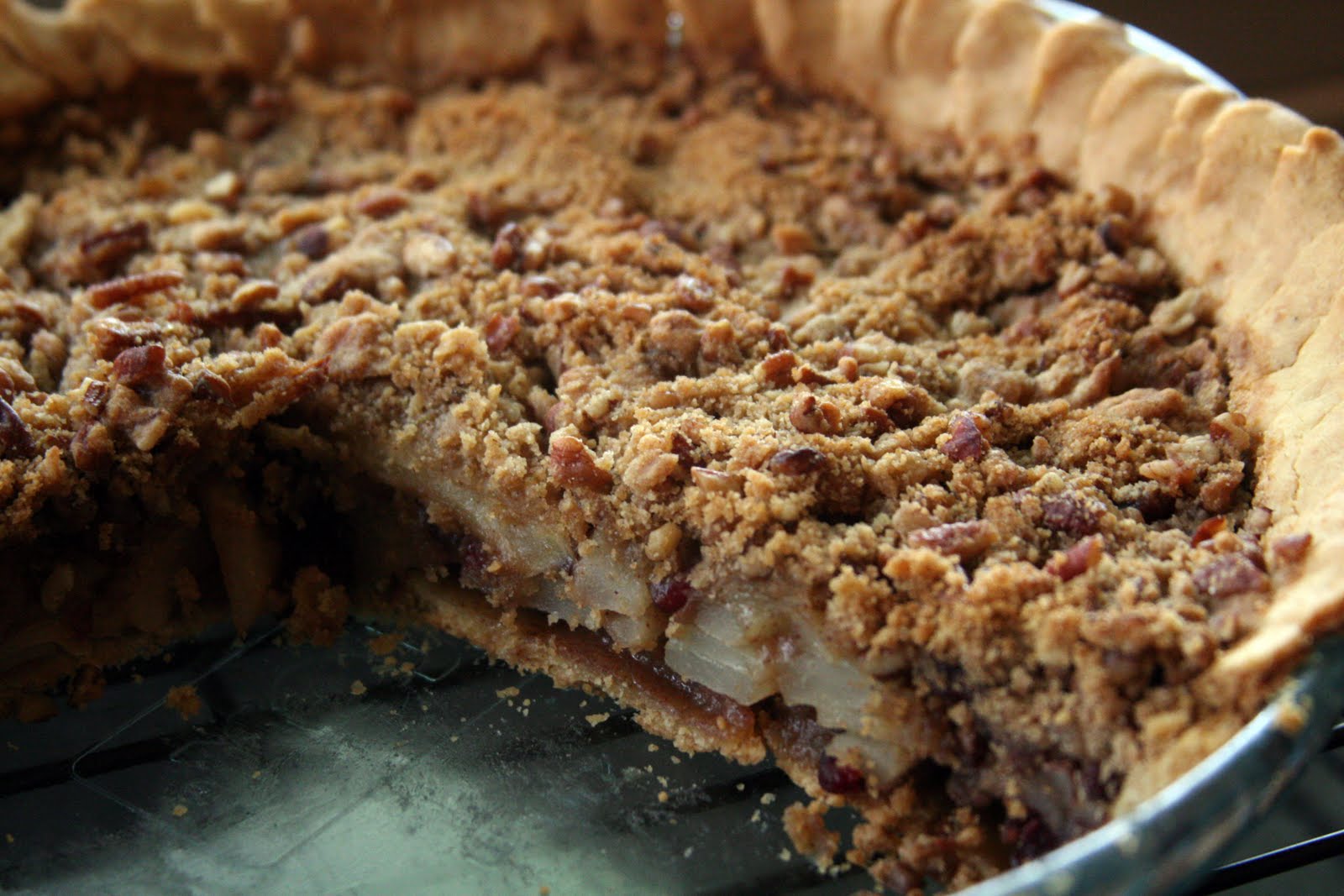 Rainy days and nights. We seem to be having a lot of rainy days in Central Iowa and lately all I've wanted to do when it's raining is to sit inside and hole up under a pile of blankets. I've found my happy place. Rainy night and howling wind, I'm hiding under the covers while watching Gossip Girl, drinking coffee, and blogging about pie. Gluten-free Cranberry-Pear Crumble Pie at that.
Disclaimer: I have very little practical knowledge of gluten-free anything. The number of times I have attempted to bake anything gluten free could be counted on one finger. Since so many people have been following a gluten-free diet lately for various health reasons, I figured I would jump on board…at least every once in a while.
If I could, I would give you the recipe for this pie, but since I was just throwing and tossing a bit of this and a bit of that into the filling, I'm afraid I don't have one. It amounted to something like 5 sliced pears, 1 cup dried cranberries, 1 teaspoon each of cinnamon and nutmeg, 1/2 cup of brown sugar, 3 tablespoons of gluten-free flour, and 2 tablespoons of butter dotted on top of the filling. The crumble on top was 1/4 cup gluten-free flour, 1/4 cup brown sugar, and 2 tablespoons butter blended with a pastry cutter or fork until crumbly.

But the filling really isn't the most difficult part when it comes to gluten-free baking. My nemesis? The crust! I picked up a package of Bob's Red Mill Gluten-Free Baking Mix, but I know there are a lot of other gluten-free flours suitable for baking. I followed a basic butter pastry recipe, but substituted my new flour.
The pie baked at 375F for around 40 minutes, or until the pears felt crisp-tender. During the last 10 minutes of baking, I covered the top of the pie with foil to prevent the crust from over-browning. After letting it cool, it was time for the taste test…..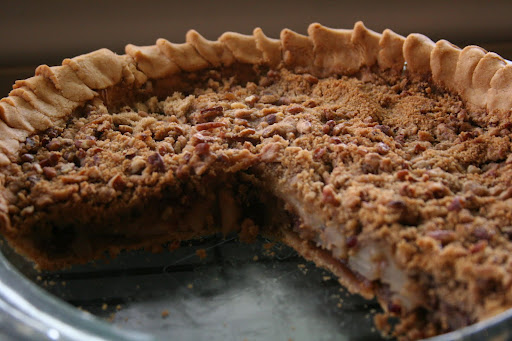 Not bad. Not bad at all. Actually, it was pretty good! The pear-cranberry combination was delicious, as was the crumble on top. The crust was noticeably different in texture and taste. It was a bit more challenging to work with, because it pulled apart easier, and was a bit more cracker-like once baked. Heather Morgan Shott, Senior Food Editor of Better Homes and Gardens online, lives gluten-free and told me the secret to gluten-free pastry is Xanthan Gum, and after looking at a few websites, it seems as if a teaspoon is all it takes to help the pastry roll out better withouth falling apart.
Do any of you follow a gluten-free diet or have you ever done any gluten-free baking?
Happy cooking!
Madison