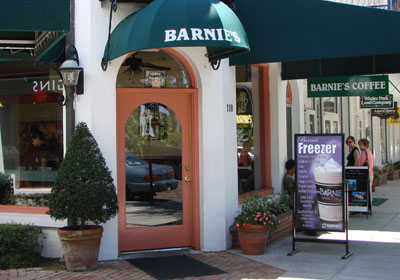 I had no intention of leaving my blog unattended for this many days, but as is typical, life sometimes goes by much too fast! Now that I am back to the weekday routine, I decided that a perfect post for Monday was one about my all-time favorite drink. I have been remiss in posting about that which this very blog derives its name… espresso of course!
While reading my daily dose of news and searching the internet this morning, I happened upon a post about the best boutique coffee shops in America from Forbes. I was, to say the least, intrigued. Although I rely regularly on Starbucks for my coffee fix, I much prefer local, boutique shops to the standard Starbucks or Caribou. Something about coffee seems to demand authenticity and creativity. Perhaps that's why I find the little coffee shops so endearing. Each has a specific personality of its own.
The only shop on this list that I had actually visited myself was Barnie's Coffee. With ten stores in the Orlando area, it isn't a completely unique experience, but it's a local favorite that only exists in Florida, so I suppose that is close enough! If any of you have been to the others on the list, I would love to hear what you thought. I'm always looking for new places to go when I travel, coffee shops being one of them.
The link below will take you to the Forbes article and the subsequent slide show. I hope you enjoy it as much as I did!
Best Boutique Coffee Shops in America
Madison