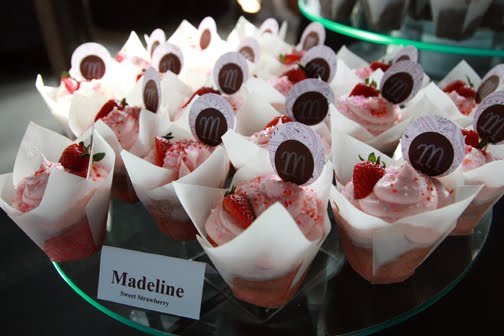 To me, the cupcake is a thing of wonder. When done correctly, it resonates of all that is right about desserts. Easier to master than an intricate layer cake, these individual cakes are more forgiving than most cakes ever dreamed of being. And if you mess one up, your entire bunch hasn't gone to waste. 
Cupcakes represent the way I think cooking and entertaining ought to be. Simple, almost childish food served in a special way that makes it fit for even the most extravagant of occasions. I've often thought about what I would serve if I were asked to cook for a group of celebrities or dignitaries. My conclusion? My mom's garden salad, chunky tomato soup, homemade lobster mac and cheese, and cupcakes! How

fun 

to be able to eat something so reminiscent of childhood in a grown up setting. 

 



These are cupcakes as God intended them to be. Oversized, devilishly sweet jewels that beg you to take

just one more bite

despite the fact that you are already beyond your quota in sugar for the day, or maybe the week! The key to achieving this state of perfection is to balance the decadent sweetness of the icing with a cake that is rather un-sweet. To serve a sweet cake with a sugary frosting is the unforgivable sin of cupcakes, because after a bite or two, it leaves everyone feeling sick. And who wants their guests to leave with only the memory of how terribly stuffed and awful they felt?
Because they are so special to me, each of my original cupcakes gets christened with a name. Lola, Eve, Maria, Madeline…you get the idea. The star of today's post is Madeline, who was created for an American Cancer Society event to benefit breast cancer research. Appropriately pink, these strawberries and cream cupcakes were a big hit. 
Madeline Cupcakes
(adapted from Magnolia Bakery's cupcakes) 
1 1/2 cups self-rising flour
1 1/4 cups all-purpose flour
1 cup (2 sticks) butter, softened
2 cups sugar
4 large eggs, at room temperature
1 cup buttermilk 
2 tsp. strawberry extract
2 tsp. red food coloring

1. Preheat oven to 350 degrees
2. Line 2 12-cup muffin tins with cupcake liners
3. Mix flours together and set aside
4. With an electric mixer, cream together butter and sugar; gradually add in eggs, one at a time.
5. Add in flour mixture, alternating with buttermilk, beginning and ending with four. Mix in extract and food coloring.
6. Spoon batter into muffin tins and bake for 20-25 minutes.

Many have since asked me where I got the liners for these cupcakes. While they can be made by hand with parchment paper, if you are thinking of producing a large quantity, I would strongly suggest buying them online. I bought a large box online through Kitchen Crafts. I hope you enjoy these cupcakes as much as I do. Here's to making life a little sweeter.