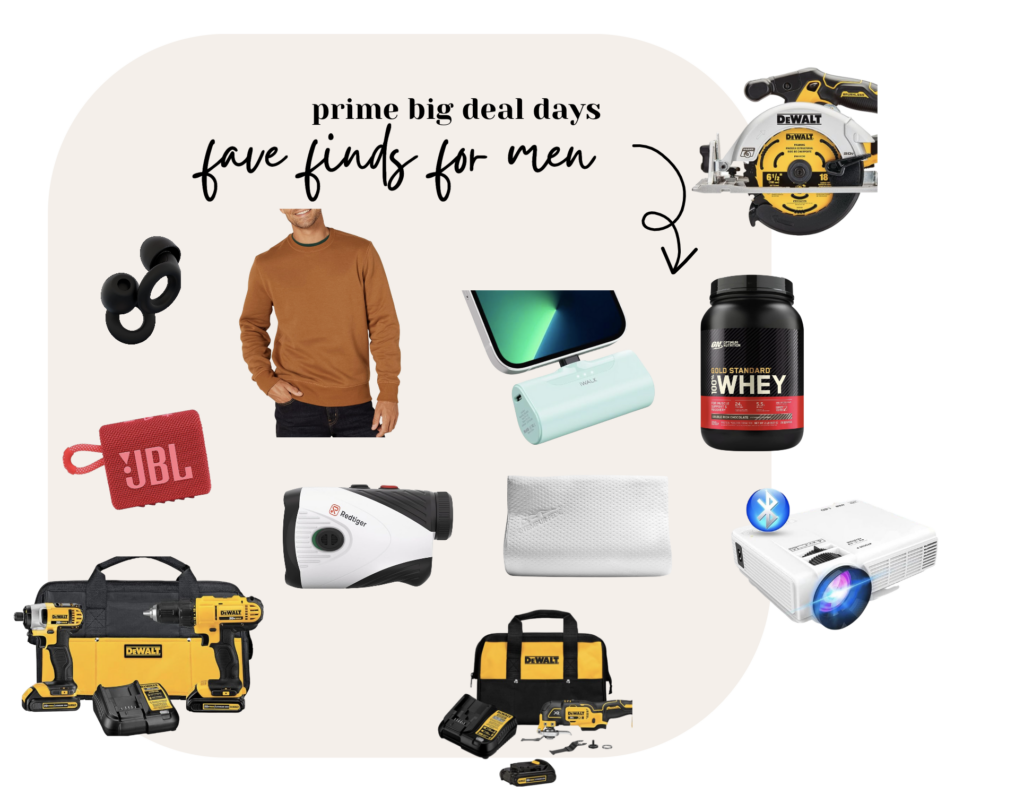 Me again! Checking in with some deals for the men in our lives. Men are, in my opinion, hard to shop for but there are some great finds over the next couple days!

First, there are some amazing deals from DeWalt on tools – I'm getting Joe the oscilating tool because it's been on his list forever and he already has the other two DeWalt products listed that he uses regularly.
Here are a few fave finds we either are buying or already own!
DeWalt Circular Saw
https://amzn.to/48JaxY0
JBL Portable Speaker
This is a fave in our house! We have two and they are so easy to take with us + have great sound quality!
https://amzn.to/3Fb82QO
Dewalt Drill/Impact Driver 
https://amzn.to/3PRihyz
Men's Solid Colored Crewneck Sweatshirt
So many great colors! I always think a solid crew neck sweatshirt is such a "dad" wardrobe item and I love it!
https://amzn.to/3PMMZca
Resistance Bands
https://amzn.to/3Q6v0i2
DeWalt Oscilating Tool
https://amzn.to/3RV20Lx
Portable Charger
Because Joe's phone is always nearly running dead and he isn't due to update his phone for a little while yet. Would also be a good gift for someone like me who never remembers to have their phone charged. 😉
https://amzn.to/45nLuGY
Tempurpedic Pillow
Our favorite! We both have Tempurpedic Pillows and love them so much!
https://amzn.to/3FaAX7m
Optimum Nutrition Whey
Joe's favorite protein! Not necessarily one I enjoy but he loves it for after workouts.
https://amzn.to/45jEnzm
Projector 
This is actually going to be our "family" gift but I think Joe is just as excited about it as the kids will be. We hope to use it for outdoor movie nights!
https://amzn.to/45jEnzm
Loop Noise Canceling Ear Plugs
This isn't really men or women specific. Basically for any parent who needs a little break from super loud noises. 🙂
https://amzn.to/3rQKRYH
Range Finder
For the golfers in your life!
https://amzn.to/3QehadO