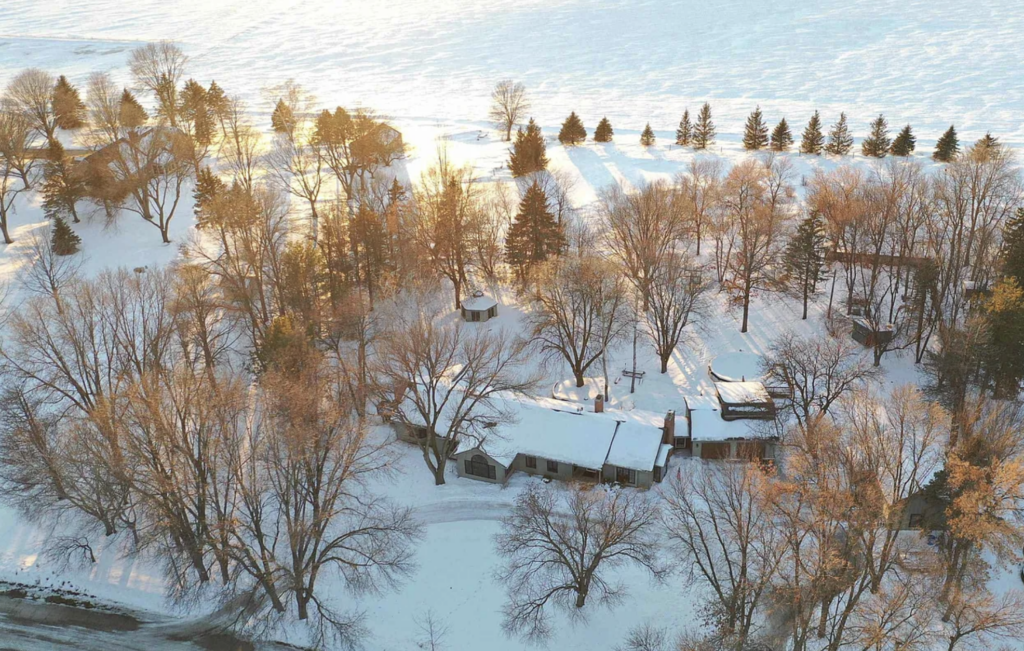 Today we are talking about some big changes ahead for our family. As many of you have seen over the last few weeks on Instagram – we are moving! AND we are selling our lake house. I've gotten a lot of questions about all of the changes and thought I would share all the frequently asked questions here in a single post.
A few years ago I was feeling the strong desire to find a house in a very specific neighborhood in our little community. We wanted to find a couple acres for the kids to run around and grow up on, but as someone who grew up in town, I didn't think I could truly live "out of town" and wanted the feel of a neighborhood and paved streets. As someone who tends to work really hard to "make things happen" I had a strong sense God was telling me to lay that dream down at His feet.

I put it in a "God box" and left it out of my mind, believing that if it was something that was meant to be for our family it would find us rather than me hustling super hard to "make it happen" like I'm prone to doing.
About two months ago our realtor texted us saying they had a house on nearly two acres (in town) going up for sale in the very area of our community I had always dreamed about moving. While there were a handful of reasons that the timing seemed a little crazy, I couldn't deny it felt that God was truly putting this property in our lap and saying, "Go, and trust my timing."
So, that's what we are doing! I feel so thankful for this gracious gift from God. I see the land, and the potential in this home to be an invitation from God to use this property to bless others through hospitality, our time, and the ways that this extra land and space might provide.
Q&A

Why are you selling the lake house? I thought you loved it!
We DO love the lake house! It's such a peaceful spot, it's designed to my idea of perfection, it's a space that I think will only go UP in value over the years, and it's been a sweet spot to make family memories. All that said, we felt this property was a call for our family to simplify in the ways we use our time and financial resources. With our kids at such a young age, taking on both more land at this new house PLUS managing a lake house property an hour and fifteen minutes away felt like it would be stretching us too thin in this stage of life.
What are you most excited about in the new house?
Oh my, how many things can I list? I guess I'm most excited to live out some of the dreams we have had about animals! For the kids to get a cat and a big dog and to fill the chicken coop with chickens for eggs! And, in general, for the kids to have so much space to play, explore and be kids.
How do the kids feel about it?
They are sad to be leaving our sweet neighbor friend in the backyard and Truett was worried about leaving all his things until we explained that we will be taking our furniture, clothes and toys with us. 😉 But in general they are SO excited!
Will you be taking on any projects at the new house?
Yes. We have a lot of projects ahead to make this house work for our family and fit our life and style. Joe's also got his eyes on some work outside – the type of work he LOVES to do. I'm thankful we are still relatively young and energetic.
Is this your forever home?
I've never loved the phrase "forever home" but gosh this feels like a place we will stay for a very long time.
Have you sold your home?
Yes! We have an accepted offer on our home. We are so thankful for the sweetest family moving into this home because we LOVE it so much and it's nice to know it will be loved well by someone else. I have such an attachment to this home and will be sad to leave.
Will you be moving your outside buildings?
We are working on getting the work house moved but we will be leaving the play house and swing set for the next family! The new home has a gazebo building we are hoping to make into a play house for the kids on the new property.
When will you begin renovations at the new house?
We won't be able to begin the main renovations until later this year (most contractors don't want to take on an inside project during the small handful of months in Iowa that you can do outside work!) but we will use that time to tackle outside projects and make plans for the inside. Unfortunately that means we will be living in renovation chaos but we're going to see it as an adventure!
Will all the kids have their own room?
We have the bedrooms for each kid to have their own room but Collins and Truett have decided to share a room. 🙂